At least 132 killed in bombing as ex-Prime Minister Nawaz Sharif is arrested amid political turmoil in Pakistan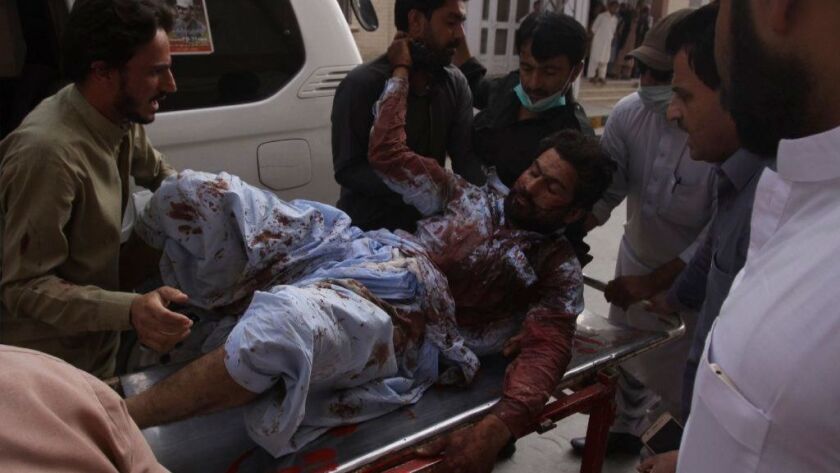 Reporting from Islambad, Pakistan —
At least 132 people were killed and dozens more critically injured Friday, in a bombing at an election campaign rally in a remote region of Pakistan, an attack that hurled the country deep into political chaos.
Officials blamed a suicide bomber for the killings and said the death toll could rise further.
The bombing happened on the day former Prime Minister Nawaz Sharif made a dramatic return to Pakistan aboard a commercial plane and was immediately taken into custody along with his daughter on corruption charges.
Critics accused the army of failing to provide security after the bomber blew himself up at the election event in southwestern Pakistan.
Two of Pakistan's most popular political figures, Sharif and his daughter Maryam — his political heir — were arrested by anti-corruption police at the airport in the eastern city of Lahore moments after they arrived from London, where Sharif's wife is in a hospital receiving treatment for lymphoma.
As hundreds of their supporters confronted anti-riot police half a mile from the Lahore airport, the Sharifs were flown aboard a small plane to the capital, Islamabad, where a judge ordered them transferred to prison.
The Sharifs were sentenced last week for failing to disclose the assets the family used to purchase four London apartments, whose ownership was revealed in the leaked Panama Papers in 2016. Sharif, who was ordered to serve 10 years in prison, vowed to return to Pakistan to appeal the verdict.
The disclosure of the apartments at London's posh Avenfield House prompted a furor that led to Sharif's removal from office last year. Sharif's party — the Pakistan Muslim League-Nawaz — has described the case against him as politically motivated, arguing that the country's powerful military establishment is using the pliable courts to punish him for challenging its supremacy while in office.
In a video statement recorded aboard their Etihad Airways flight before it took off from Abu Dhabi in the United Arab Emirates, Sharif said he knew he would be arrested but cast himself as a defender of democracy.
"I am making this sacrifice for the future of Pakistan," he said. "Please support me. Let's change the fate of our country."
Most of the major roads leading to Lahore were sealed on Friday ahead of the Sharifs' arrival, while thousands of police officers and army rangers deployed to keep a lid on unrest. Authorities reportedly took several hundred party activists into custody late Thursday.
Still, about 1,000 stone-throwing protesters marched to within about half a mile of the Lahore airport, where police fired tear gas canisters to disperse them. Dozens of police officers and demonstrators suffered minor injuries, authorities said.
"We have come out because our leaders have set an example for us," said Usman Khalifa, a 37-year-old businessman who joined the demonstrations in Lahore. "I am out for Nawaz Sharif, Maryam Nawaz and my future."
Sharif supporters accuse the military establishment of attempting to tilt the playing field to ensure his party does not return to power in July 25 elections. In recent weeks, media outlets critical of army interference in politics have faced a clampdown, and several candidates from Sharif's party have suddenly defected in pivotal Punjab province, which includes Lahore.
Earlier Friday, a group of Pakistani and international academics issued a statement condemning intimidation and harassment of Sharif's supporters, saying that the crackdown threatened the country's ability to hold free and fair elections.
The statement urged Punjab's caretaker leader, Hasan Askari Rizvi, a noted political commentator, to end the restrictions or step down.
"Upon taking office, you had pledged that you would ensure free and fair election in the province," the statement read. "As your fellow scholars, collaborators and colleagues, we would like to remind you of that commitment and urge you to take urgent steps to create the conditions conducive to such a vote before July 25."
In the bombing Friday, at least 150 people were wounded, as a candidate addressed his supporters in Mastung, in troubled Baluchistan province near the Afghan border, the provincial home affairs minister said.
Four others were killed and scores wounded earlier Friday when a bomb planted in a motorcycle went off at an election rally in the northern district of Bannu. The attacks came days after Islamist militants claimed responsibility for a suicide blast at an election rally in the northern city of Peshawar that killed 22 people.
The bombing in Mastung occurred as Nawabzada Siraj Raisani, a candidate for the local legislature, was addressing supporters. Raisani is the younger brother of the former chief minister of Baluchistan, where separatist militants have waged a long-running insurgency against the Pakistani state.
The Islamic State militant group, which has conducted numerous attacks against political targets and religious minorities in Pakistan, claimed responsibility for the bombing.
Salim Shahid, a resident of the provincial capital, Quetta, said by phone that an emergency had been declared in all the city's hospitals as critically injured patients were being brought in from Mastung. The blast was one of the deadliest to target civilians in Pakistan all year.
Special correspondent Sahi reported from Islamabad and Times staff writer Bengali from Los Angeles. Special correspondent Zulfiqar Ali contributed to this report from Peshawar.
Shashank Bengali is South Asia correspondent for The Times. Follow him on Twitter at @SBengali
---
UPDATES:
2:50 p.m.: This article was updated with additional details that include the death toll rising to at least 132.
This article was originally published at 9:05 a.m.
---
Must-read stories from the L.A. Times
Get the day's top news with our Today's Headlines newsletter, sent every weekday morning.
You may occasionally receive promotional content from the Los Angeles Times.