There's just one country other than the Vatican where divorce is illegal — and some want to change that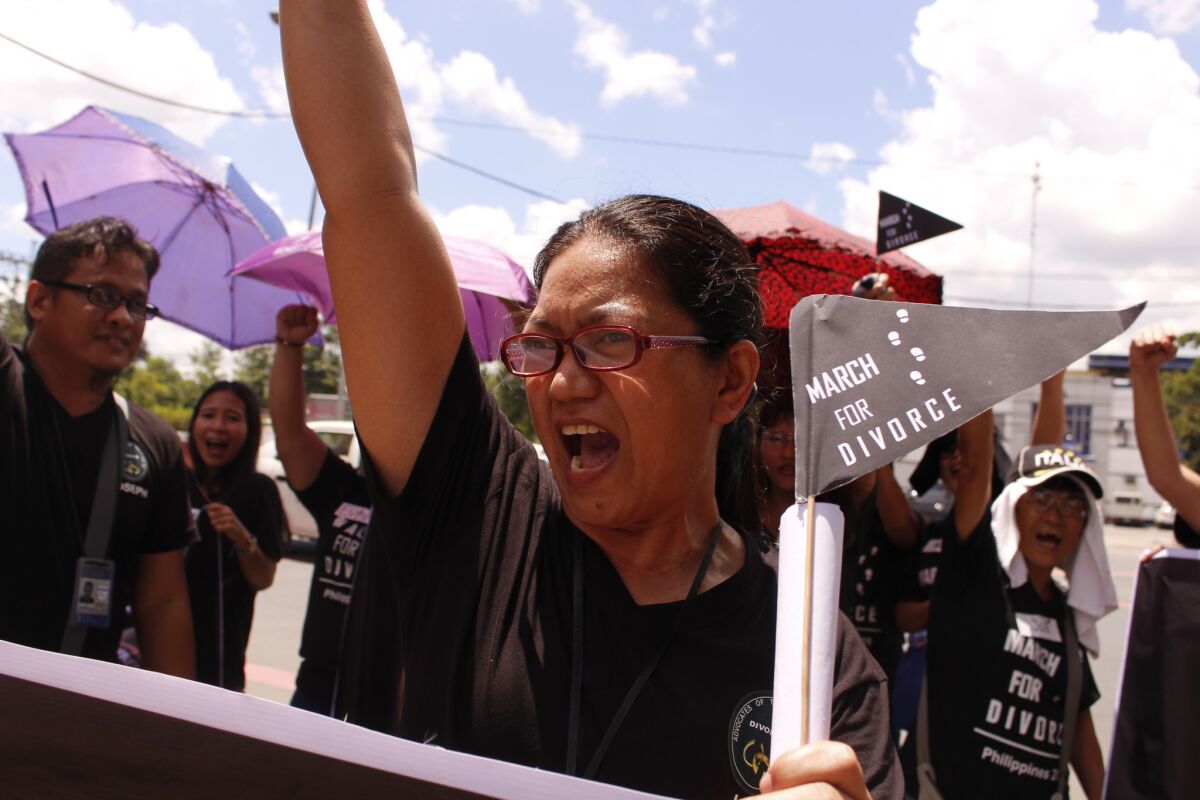 Reporting from Manila —
What do you do when you find yourself in an unhappy marriage but live in a country where there is no divorce?
You go on Facebook and hope to find others like you.
"I didn't have anyone to talk to," said 45-year-old Maviv Millora. "I was sure there were others like me who wished there was divorce in the Philippines, I just had to find them."
After being married for more than 20 years, Millora separated from her husband in 2011. Since then, it's been a vicious cycle of survival. She supports the two youngest of her four children with her earnings as an English teacher. She cannot claim child support since she is still technically married, but she also can't afford the considerable legal costs of separation proceedings.
Online, she found Divorce Advocates of the Philippines, a Facebook group of more than 5,000 people. The group has since spun off into two other divorce groups, Pro-Divorce Philippines and Divorce for the Philippines Now International.
Some members were depressed and wanted to talk; some were angry and wanted to vent; and some just wanted legal advice without going to a lawyer who would charge by the hour – but they all wanted to demand the legalization of divorce.
In this devout Catholic country with deeply conservative views on marriage and family, Millora and others like her were expected to hide any cracks in the marital union and simply suffer in silence.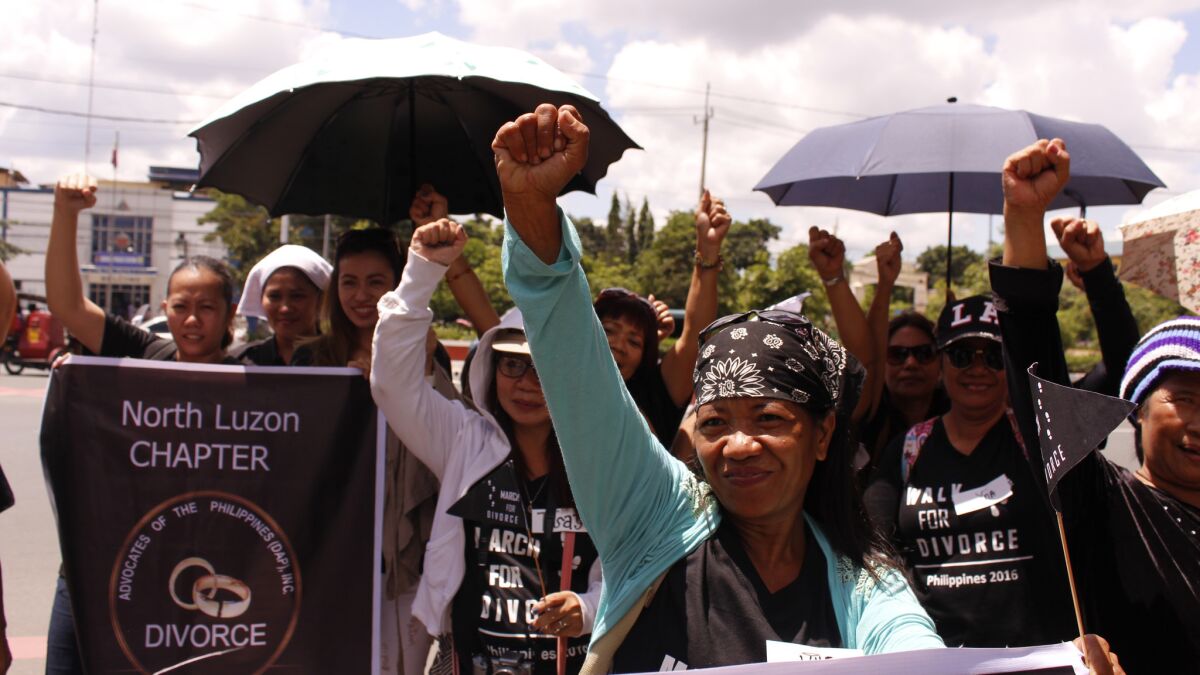 This month, Millora (who is now secretary general of Divorce Advocates of the Philippines) and other members decided they were tired of being quiet. Together with their supporters, they took their online movement to the Philippine congress.
One fist in the air and the other hand waving a small flag, each of them chanted: "It's time for divorce in the Philippines! Legalize divorce in the Philippines now!"
The march was timed to coincide with the filing of a divorce bill by the Gabriela Women's Party, a nationwide network of grass-roots organizations advocating for women's issues. It is the fifth time a divorce bill has been filed in Congress since 2005.
A representative of Gabriela, Emmi de Jesus, expressed hope that this time the bill would get more support from lawmakers.
"This is the first time that stakeholders are coming forward to make their voices heard. Before, divorce was downplayed by male legislators as an issue of bitter, vindictive women abandoned by their husbands," De Jesus said.
The Philippines holds the distinction of being one of two places in the world where divorce is not legal – the other being the Vatican.
Under Philippine law, two people who want to dissolve their marriage can file for legal separation, which will allow them to separate their possessions and live apart. However, it will not sever the marital bond.
Exceptions in the law allow divorce for foreigners who are married to Filipinos, and for the 5% of the population that is Muslim.
For everyone else, the only loophole is an annulment – a notoriously agonizing process that is both financially and emotionally draining.
An annulment ends a marriage, but unlike divorce, the parties must prove that the marriage was never valid to begin with. Among the accepted reasons are that one or both parties were under age, or that there was a case of mistaken identity or fraud. Or the petitioner can try to prove that the spouse is "psychologically incapacitated" to perform the duties of marriage — and be ready to substantiate that claim with a psychological evaluation.
The usually acceptable reasons for ending a marriage such as infidelity, physical abuse or "irreconcilable differences" cannot be cited as grounds for annulment.
It takes an average of about four years — sometimes longer — for an annulment case to make its way through the clogged judicial system and even then, some annulment petitions are denied.
Those desperate for freedom sometimes slip the judge a "professional fee" to ensure a decision in their favor.
Annulments have become a lucrative sideline for judges whose courtrooms have earned the reputation of being annulment mills that manufacture the decisions in bulk, changing only the names of the petitioners to cope with the demand.
"Corruption is widespread in the annulment courts," said Noel Segovia, senior prosecutor of the Office of the Solicitor General. "It is like a cancer."
Even without bribes, legal fees associated with annulment come out to about $5,000. Add on the grease money, experts say, and the totals can shoot up to $10,000, far out of reach for the average Filipino who earns about $300 a month.
Annulment and the second chances that come with it become a luxury for the rich, while the poor and the middle class are left with little choice but to remain in a bad marriage.
"We're not against good marriages," said Cecil Jueco, the administrator of Divorce for the Philippines Now International. "If you are not in favor of divorce, then do not get one. Thank God you have a happy married life, but please understand the situation of people suffering in their existing marriages. Every Filipino should have the right to divorce."
Some legislators continue to think otherwise and the
church has reiterated its stance, saying that divorce weakens the institution of marriage and "spawns a host of problems, especially for children."
Yna Vertudazo has heard it all before.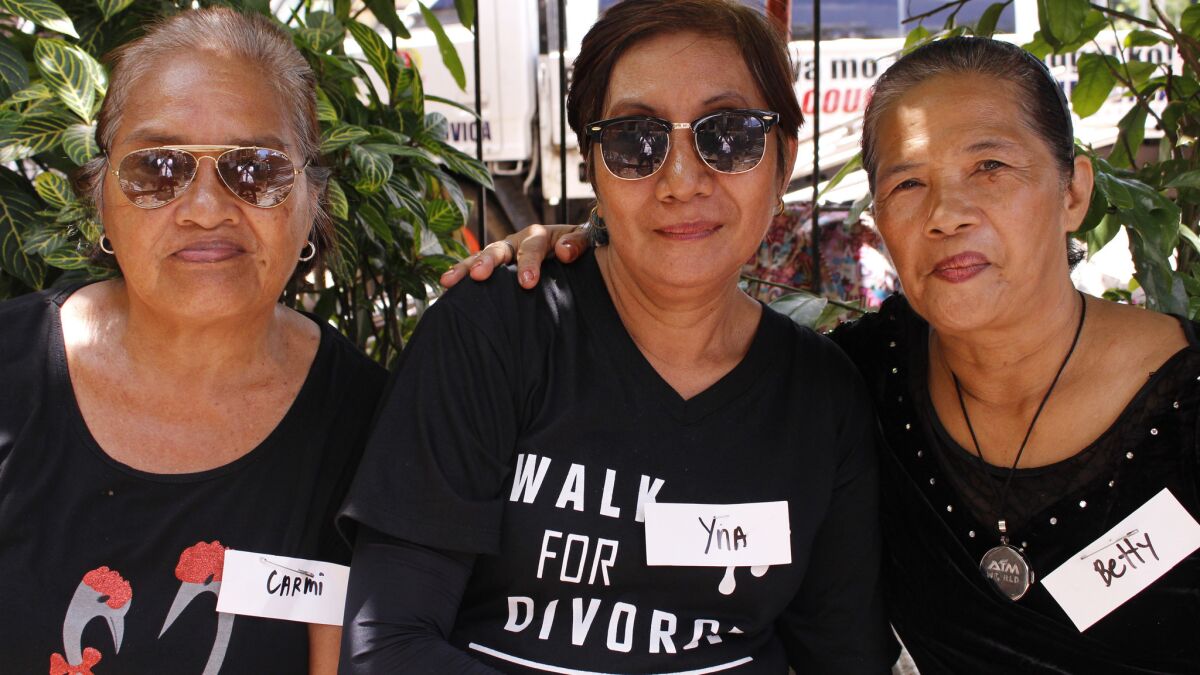 A retired overseas worker, the 60-year-old said that if divorce had been an option, she would have left her philandering husband instead of giving in to the pressure to stay married for their children.
She finally left him in 2005 after she walked in on him and his mistress. At her age, she said, Vertudazo is not looking for a fresh start, but she joined the march so younger people would have choices she did not.
"Everyone should have another chance at happiness. Enough with playing the martyr already," Vertudazo said.
The divorce groups are hoping they have an ally in recently elected President Rodrigo Duterte. During his campaign, Duterte initially said he would not support legalized divorce, but later said "maybe there needs to be refinement of the law."
His predecessor, Benigno Simeon Aquino III, an unmarried Catholic, categorically ruled out support for divorce. But Duterte, 71, has a different history and outlook. His first marriage ended in annulment. There is no official first lady, but his girlfriend, who is the mother of his 12-year-old daughter, is widely referred to as his common-law wife.
And Duterte makes little effort to hide his disdain for the Roman Catholic Church. The tough-talking president has called the church a "hypocritical institution" and openly supports birth control for the poor, calling the church's stance against it "nonsense."
His words give divorce supporters encouragement.
"We are currently collecting signatures from members and supporters through an online campaign," said Jueco. "At our next march, we will present the signatures to the president. We hope he will listen."
Santos is a special correspondent.
ALSO
Her husband was killed in the Philippines drug war. No one would help her find answers
Kurds clash with Syrian government forces, blurring lines of friend and foe in civil war
Singer who added 'all lives matter' to Canadian anthem finds himself on the sidelines
Must-read stories from the L.A. Times
Get the day's top news with our Today's Headlines newsletter, sent every weekday morning.
You may occasionally receive promotional content from the Los Angeles Times.