In South Korea's hypercompetitive job market, it helps to be attractive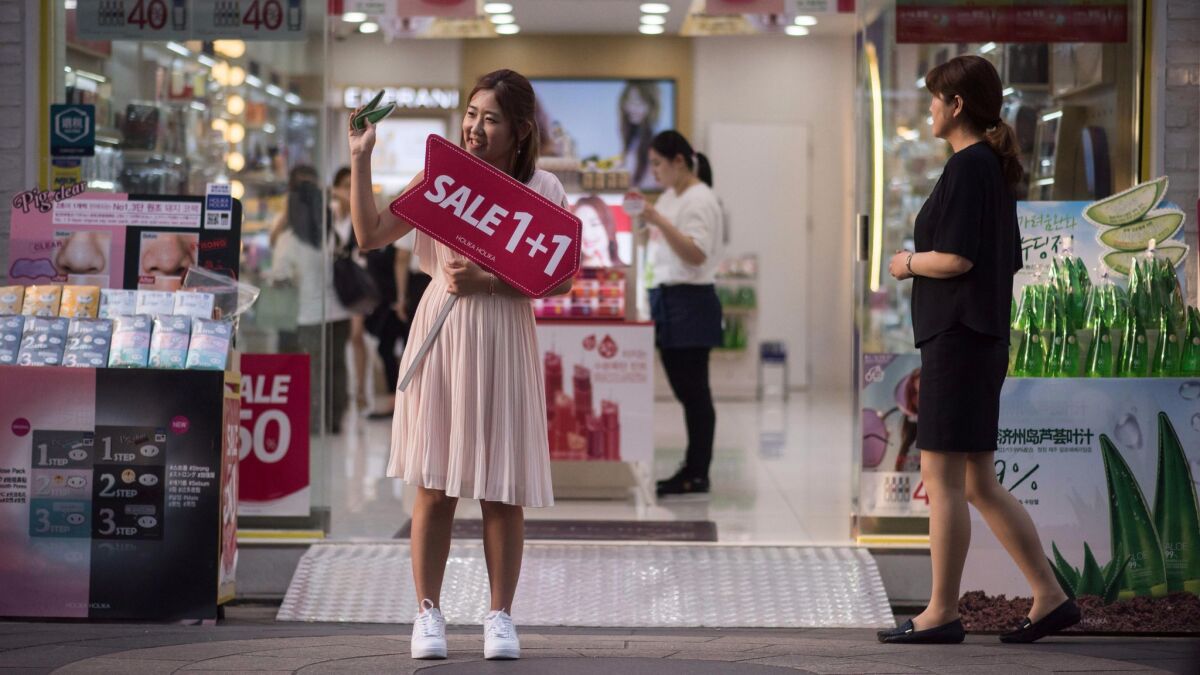 Reporting from SEOUL —
Nicky Kim wasn't applying for work as a model.
But that didn't matter to potential employers. In addition to a resume and references, they all wanted a head shot.
Kim, who grew up in England and graduated from college there, had just moved back to her native South Korea. She chalked it up to cultural differences and submitted a no-frills, passport-style snapshot.
Then came the real shock: Prospective employers weren't impressed.
"You don't look like this photo," one told her. "Why did you choose this photo?"
Blatant discrimination based on looks is banned or at least discouraged in many countries. But in South Korea, oemo jisang juui — which translates to "look-ism" or "looks are supreme" — is standard practice in many workplaces.
Facing intense competition for jobs with benefits, many applicants feel compelled to enhance their appearances for an edge. Some resort to dermatology or plastic surgery.
Han Jeong-ae, a member of the National Assembly, recently introduced a bill that would fine employers who ask for a photograph or inquire about appearance, birthplace, marital status or the education of family members.
She said job applicants should be judged solely on their skills — and not be forced to endure the cost and stress of getting that perfect photograph.
"Attaching photos to resumes instigates look-ism and leads to burdening expenses for job applicants," she said. "The bill must be passed without delay for fair employment to take place."
The bill passed a legislative committee late last year, but it is stalled amid opposition from a key business trade group, the Korea Employers Federation. The group argued that appearance matters in the workplace.
Indeed, white-collar firms, government offices and the service industry routinely ask applicants for photographs. A recent survey of more than 900 businesses by the South Korean job website Incruit found that about 60% required one.
The National Human Rights Commission of Korea recently studied 3,500 recruitment posts and found that on average each included four "discriminatory" questions, including queries about age, appearance, gender, birth region, marital status, religion, military service records and pregnancy.
The authors of the report recommended legislative changes to increase "fairness" for applicants.
South Korea's job boards are filled with listings that instruct applicants to attach photographs. They sometimes use terms like "neat" to describe ideal candidates, or explicitly outlaw mustaches or tattoos.
One recent advertisement that drew media attention here specified "C" as the ideal bra cup size. A post on a jobs blog said that big firms prefer "pretty eyes" and that government bosses like "high noses."
Even the Ministry of Employment and Labor once tweeted a link mentioning plastic surgery that also encouraged job seekers to mind their looks. The tweet was later deleted, and the agency said it only meant applicants should "practice smiling in front of the mirror" to prepare for interviews.
Many young South Koreans already feel enormous pressure to find work at top companies so they don't miss out on career trajectories that can be critical to long-term financial security. Although unemployment rate here is low, the rate for people younger than 29 is in the double digits.
"I don't think it's fair that employers judge someone for their looks or anything unrelated to work efficiency," said Yoon-ha Cha, 21, an economics major at Seoul's prestigious Yonsei University. "Of course, being good-looking or beautiful is great, but in relation to work, it should be their professionalism and skill that should be judged."
But reality being what it is, she visited a dermatologist in hopes of improving her chances of landing a good job.
Such concerns would be troubling at workplaces in the United States, said Tom Spiggle, a Virginia-based employment lawyer.
In the United States, there is no federal law banning employers from asking for an application photo, but California prohibits it in most cases.
Even where it is allowed, it's almost unheard in the United States, except for hiring models or actors.
"That is because it's just asking for a lawsuit," said Spiggle. "Physical appearance is too closely tied to protected categories, like sex and age, that can generally be easily discerned from looking at a photo."
In South Korea, though, photography studios catering to job applicants are common.
One such business, known as Newface Studio, has opened near Sungshin Women's University in Seoul. The business features a spacious photography studio and in-house styling, wardrobe and makeup services.
Customers watch as technicians remove blemishes or make facial features more symmetrical. Eyes shift ever so slightly. Scars and other dry skin patches disappear. Faces narrow to resemble movie and pop music stars that are held up as exemplars of beauty here.
The business, which has 12 employees and two locations, is busiest during South Korea's two recruiting seasons: March to May and August to October.
"Even if putting photos on resumes is banned, [employers] will still consider looks during interviews," said co-founder Kim Kwang Min, who operates the touch-up software while his business partner handles hair and makeup.
Looks should matter, he said: "There's a saying that you can tell someone's personality by their looks. … I don't think people can be judged only based on what's written on their resume, especially if they work in the service industry."
Nicky Kim, 24, went to a professional photography studio, which digitally touched up her skin, nose and eyes and stray hair. "I looked gorgeous," she said. "It's funny. If I look at my photo taken in Britain and compare it with the one taken in Korea, they look like two different people of a different era."
"You need a photo good enough to get you the interview, but not something that is too overdone," she said.
Hers worked. Suddenly she suddenly got more interviews, landing internships and jobs, including a stint as a host on an English-speaking radio program.
After two years in South Korea, however, Kim concluded that professional life for women there was too difficult and decided to move back to England.
"My decision was a result of being exposed to Korean women who were smart, young, attractive, successful — but innately unhappy," she said.
Stiles is a special correspondent.
ALSO
South Korea faces political crisis, nuclear threat, economic fear and Trump's history lesson
South Korea's presidential election could change its relationship with the United States. Here's why
Must-read stories from the L.A. Times
Get the day's top news with our Today's Headlines newsletter, sent every weekday morning.
You may occasionally receive promotional content from the Los Angeles Times.