Taiwan finds a lot to like about its former colonizer, Japan
Reporting from TAIPEI, Taiwan —
Elia Yeh of Taipei grew up reading Japanese comic books, with their hair-raising adventure tales and sweet teen love stories. By the time she reached middle school, she was a fan of all things Japanese.
Japan happens to be Taiwan's former colonizer of 50 years. But Yeh's story is the story of modern Taiwan.
Whereas Japan left a painful legacy in many of its former colonies, including mainland China and the Korean peninsula, it is generally admired in Taiwan, which it ruled with a somewhat lighter touch from 1895 until 1945, when it surrendered to end World War II.
Yeh's admiration for Japan followed her into adulthood. Now a 28-year-old high school teacher, she reads Japanese novels instead of cartoons. She has traveled three times to Japan, once mainly to see a free art exhibit at a university campus in Tokyo. She eats Japanese food at least twice a month at one of the five restaurants that serve it within half a mile of her apartment.
Although Taiwanese trace their ethnic heritage to China, along with their language, religion and holidays, Yeh feels no such affinity for mainland China, which considers Taiwan to be a breakaway province that will one day be reunited with the People's Republic.
The Japanese, she said, "pay very detailed attention to a lot of specific elements, like the sushi — it fits comfortably into your mouth. China, I don't like it so much. Japan is friendlier toward us."
Taiwan, an island of 23 million people, has taken such a fancy to its super-modern neighbor to the north that a walk down almost any Taipei street reveals Japanese lettering even though few people can read it. Ramen and sushi are as common as Chinese food. Taiwan's fashionable pet dog this year: the tan and white Shiba Inu breed from Japan.
Taiwanese follow Japan partly as a symbol of perfection in Asian culture, from the exact size of a sushi cube to the overemotive expressions of cartoon characters, scholars say. They find it more fitting than Western culture because of similarities in Asian taste.
Like Yeh, Taiwanese may also feel warmer toward Japan because relations with China are tense. The militarily more powerful Chinese government insists on eventual reunification with Taiwan, although opinion polls show that most Taiwanese object. Taiwan has been self-ruled since the 1940s and democratic since the 1980s.
Japan's cultural appeal to Taiwan "is based in its cross-strait conflict with mainland China, its relatively positive, nostalgic view of Japan's colonial period and a true admiration of Japan's culture," said Stephen Nagy, a political science professor at International Christian University in Tokyo.
Older Taiwanese often see the Japanese colonial era as helpful to their island's development. They credit the Japanese for leaving behind railways, agricultural know-how and durable Baroque-style architecture, which was the trend in Japan then.
Despite resistance among Taiwanese in the first years of colonization, Japan improved its reputation by fighting malaria and cholera and squelching opium addiction as well as building roads and railways.
Taiwanese people's appreciation of Japan and distaste for China may stem from the sense that Japanese care more about quality, as in the case of chefs who fuss endlessly over the seasonings in a ramen recipe.
Younger Taiwanese seldom link Japan to colonialism but instead see a "psychology of perfection" in Japanese culture, said Yoshihisa Amae, associate professor at the Graduate Institute of Taiwan Studies at Chang Jung Christian University in Taiwan. Koreans fixate on Japan for the same reason, Amae said, although their feelings are decidedly more ambivalent.
He called Japan "a cultural powerhouse."
Taiwanese also appreciate that Japan, unlike China, is another democracy. "We will keep trying to chase quality stuff, not going back into the past to a more closed society," said Lee Cheng-an, a Taipei travel agent. "Japan is the most advanced and open society in Asia."
Lee, 23, eagerly reads Japanese literature and watches Japanese films, because he sees the country's entertainment industry as Asia's best, with an emphasis on details in plot or character. "Any book or film, it won't be too bad, at least an 8," he said. "It might not be a 9, but at least it's of quality."
About 30% of children's titles in Taipei's public libraries were written by Japanese, said Tseng Shu-hsien, who now runs the National Central Library. Local libraries get their collections from Taiwanese publishers, which prefer Japanese titles.
Children's titles from China are rare because the country produces relatively few, especially illustrated books for children, Tseng said. "The impact of the children's collection from Japan is very deep," she said.
The Japanese-authored Crayon Shin-chan comic books, which star an eloquent yet risque 5-year-old, particularly captivate children in Taiwan. Novels by mystery writer Kotaro Isaka sell briskly to Taiwanese adults.
At department stores, restaurants, a commercial airline and even a hospital in Taiwan, more than 200 licensees are posting icons of Hello Kitty. The Japanese cartoon cat appears most often on apparel and household goods, said a representative of its owner, Sanrio.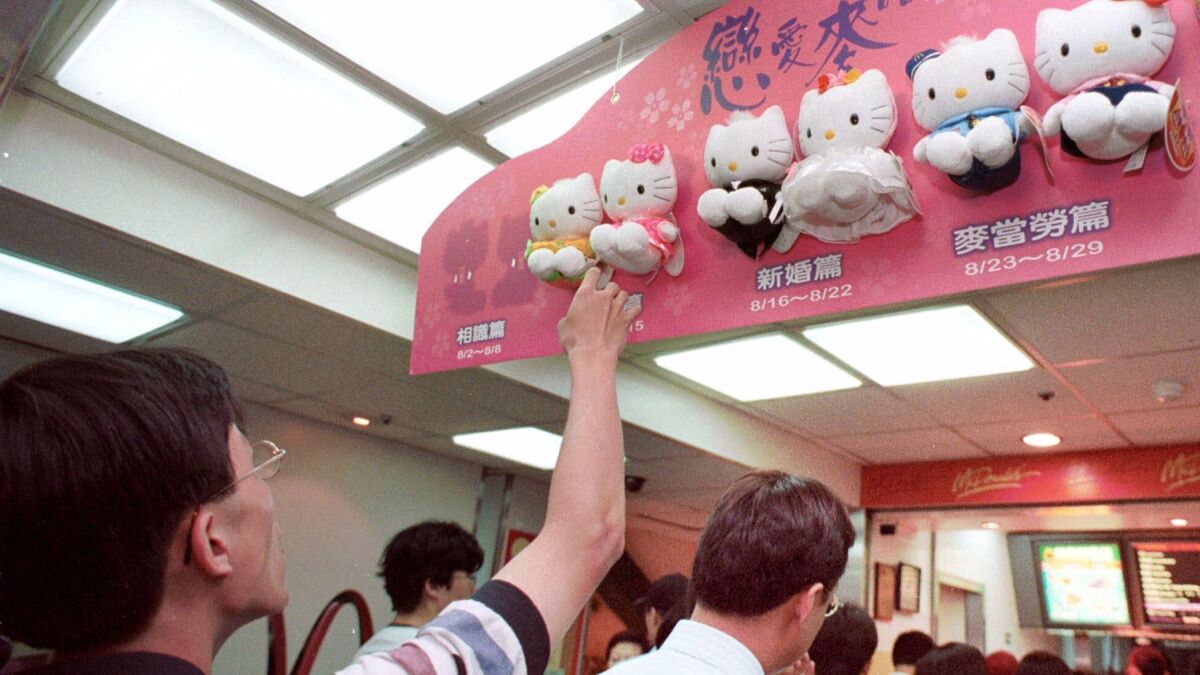 Sanrio earned $580 million from Taiwan in 2016, but the representative would not say how that figure compared with other world markets.
Travel is another commercial hot spot, with 4.17 million Taiwanese entering Japan last year, up from 3.67 million trips in 2015. Taiwan was Japan's third biggest source of foreign tourism both years.
Lee has made eight trips to enjoy the clean environment and wide streets. A boom in budget airlines has brought down the price of the three-hour Taiwan-Japan flights, while Airbnb offers cheaper lodging than hotels in a country that tends to be more expensive than Taiwan.
Back in Taiwan, locals are as likely to be seen wearing kimonos as traditional Chinese-style garments. Women in Taipei may also be seen walking down the street in fake blonde hair and brilliantly colored dresses, the getup of people trying to imitate storybook characters — a 20-year-old trend in Japan known as costume play.
"At the geopolitical level, tying itself to Japan ... helps sustain Taiwan's de-facto independence," Nagy said. "At the cultural level, tying Taiwan to Japan rather than China inculcates a distinct identity that is different from the [Chinese] mainland. That identity is democratic, liberal, steeped in tradition and modernity."
ALSO
China once welcomed refugees, but its policies now make Trump look lenient
With a landslide win, Shinzo Abe could be ready to rewrite Japan's pacifist constitution
Two criminal cases — one in China, one in Taiwan — show a deeper rift between the political systems
Jennings is a special correspondent.
---
Must-read stories from the L.A. Times
Get the day's top news with our Today's Headlines newsletter, sent every weekday morning.
You may occasionally receive promotional content from the Los Angeles Times.