As an angry China watches, Taiwan president takes a risky trip to the Americas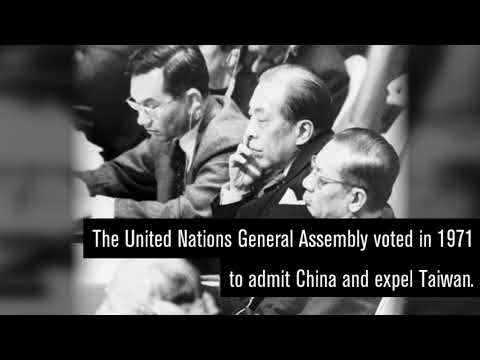 After World War II drew to a close, Chinese leader Chiang Kai-shek, of the Nationalist Party, met with Communist leader Mao Tse-tung. The Nationalists fled to Taiwan and set up a government there, severing the island from the Communist-ruled mainlan
Reporting from Taipei, Taiwan —
Taiwanese President Tsai Ing-wen, who rattled mainland China by phoning President-elect Donald Trump last month, leaves Saturday for a trip to the United States and Central America that will be closely watched for any further breaches in the delicate diplomatic protocol with Beijing.
The journey is seen as a chance for Tsai to prop up relations in a region that has historically been friendly to Taiwan but faces pressure from the mainland.
Because her government is not formally recognized by the United States, Tsai will only make "transit stops" of about a day apiece in Houston on Saturday and in San Francisco at the end of the nine-day trip. Most of her time will be spent in El Salvador, Guatemala, Honduras and Nicaragua.
The president's travels offer prospects for stronger foreign relations that would bulk up Taiwan's self-rule despite counter-pressure from China, which has claimed sovereignty over the island since the Chinese civil war of the 1940s and has threatened to take it by force if needed.
"For Tsai, the pro would be getting closer to America, a key foreign policy goal of hers," said Bill Sharp, an East Asia scholar and author based in Honolulu. "The con has to be straining relations with China."
A splashy meeting with Trump or one of his future Cabinet members would probably anger Beijing to the point of retaliation, analysts say.
China already passed an aircraft carrier through waters near Taiwan in the last two weeks, and the government in Taipei suspects Beijing last month paid the African island nation of Sao Tome and Principe to recognize China instead of Taiwan. Both moves came after Tsai telephoned Trump on Dec. 2.
China might respond to the trip with more military displays or by offering aid money to win over the Central American countries Tsai hopes to impress on her trip, some argue. China does not allow its diplomatic allies to have separate, formal ties with Taiwan.
Tsai has played down prospects of high-level meetings on her U.S. stopovers but has not ruled out meeting any specific people. "The outside world has a lot of imagination regarding my transit stops," she said at a news conference on Saturday. "But the outside world's ideas are sort of over the top. Transit is just transit."
U.S. officials regularly allow transit stops, for refueling and comfort, to Taiwanese presidents bound for Latin America because the United States is located along the shortest flight path. China protests some of the stops – including the two scheduled this month – as signs that the United States is giving Taiwan too much attention.
The U.S. is Taiwan's strongest informal ally, though it established formal ties with the mainland in 1979.
Tsai's transit is "consistent with the unofficial nature of our relations with Taiwan," said Sonia Urbom, spokeswoman with the U.S. mission in Taipei.
The president will meet James Moriarty, the U.S. mission's chairman, on both stops, which Urbom described as "private and unofficial." Past presidents have used the layovers to meet Taiwanese business groups in the United States.
In an apparent bow to China, the United States is not letting Tsai transit in New York or Washington, where she could more easily see U.S. politicians. She may still meet Republican Party leaders, who could later help Tsai deepen military or trade exchanges.
Taiwan's president calls China a 'threat,' predicts turbulent 2017 »
If Tsai met Trump or someone on his team, Taiwanese would initially rejoice at the exposure and the chance for Taiwan to improve relations after Trump takes office Jan. 20, analysts say.
"We will see if we can meet someone from the government and someone from the Trump camp," said Lo Chih-cheng, a legislator with Tsai's party. "If there's any direct contact, that would be very important because it would send a message directly to the [new] president."
But since the Tsai-Trump phone call, which broke diplomatic protocol aimed at sustaining Sino-U.S. ties, many Taiwanese have worried Trump will use Taiwan as a bargaining chip to get trade concessions from Beijing. China said last month its claim to Taiwan was nonnegotiable; it wants the two sides eventually to unify.
Tsai, a 60-year-old law scholar and former professor, has irked Beijing since taking office in May by declining to see Taiwan and China as parts of a single country and hold talks. Her Democratic Progressive Party favors more distance from China.
"I think Tsai is likely alarmed by the fact that Trump proposed using Taiwan as a bargaining chip to extract trade concessions with China," said Bonnie Glaser, a senior advisor with the Center for Strategic and International Studies in Washington, referring to comments in December. "I doubt [Tsai] sees benefits in poking Beijing by meeting members of Trump's team."
Once in Latin America, Tsai plans to visit officials in the four countries, including heads of state.
"We will use our normal approach to talk with those countries about what we can do together to let both sides see substantive benefits in carrying out our diplomacy," Tsai said at Saturday's news conference.
Taiwan's Foreign Ministry declined this week to give amounts or describe the purpose of recent aid for Central America. Under former Taiwanese President Chen Shui-bian through 2008, Beijing and Taipei vied to buy off each other's allies. Tsai takes a more moderate stand toward China than Chen, and her government will not practice "money diplomacy," her foreign minister said last month.
But most of Taiwan's 21 allies in the Americas, Africa and the South Pacific expect aid in return for giving Taiwan a voice in the United Nations, where China blocks Taiwanese participation.
"You don't have to put the money straight to the pockets of politicians in those foreign countries," said Huang Kwei-bo, associate professor of diplomacy at National Chengchi University in Taipei. "If it builds an airport or a harbor or whatnot, then that's in the range of fairness. But you've got to raise the amount."
Tsai should also convince the Central American countries that the quality of its aid beats "shoddy" programs offered by China, Sharp said. Taiwan, which sees typhoons every year, has offered hurricane relief to the Americas, he said.
China, with more than 170 allies, including the world's most powerful countries, hopes to minimize Taiwanese foreign relations to convince the world of its position that Taiwan is not an independent country.
"If she can enhance friendships with Central American countries, that would be an indicator [Tsai] has scored points," said Lo, the legislator from Tsai's party.
Many remaining allies have "undoubtedly already indicated to Beijing that they would like to switch their diplomatic allegiance," Glaser said.
In Honduras for a day, Tsai will meet President Juan Orlando Hernandez and lead a group of Taiwanese business people to scout out possible investments in farming, fishing, tourism and infrastructure, said Victor Alvarado, an attache in the Honduran Embassy in Taipei. The two presidents have met before, and Honduras is pushing to sell local goods in Taiwan, Alvarado said.
"Relations have been getting better," he said. "The two ambassadors have been working at it pretty hard."
Jennings is a special correspondent.
ALSO
Nuclear experts to Trump: More than tweets are needed to stop North Korea
As Khmer Rouge guerrillas in the '70s, they took part in genocide. Now, as Christians, they ask for forgiveness
The children of Mosul talk about life under Islamic State. They saw things no child should see
Sign up for Essential California for the L.A. Times biggest news, features and recommendations in your inbox six days a week.
You may occasionally receive promotional content from the Los Angeles Times.