Warrants issued for two Americans in Thai body parts case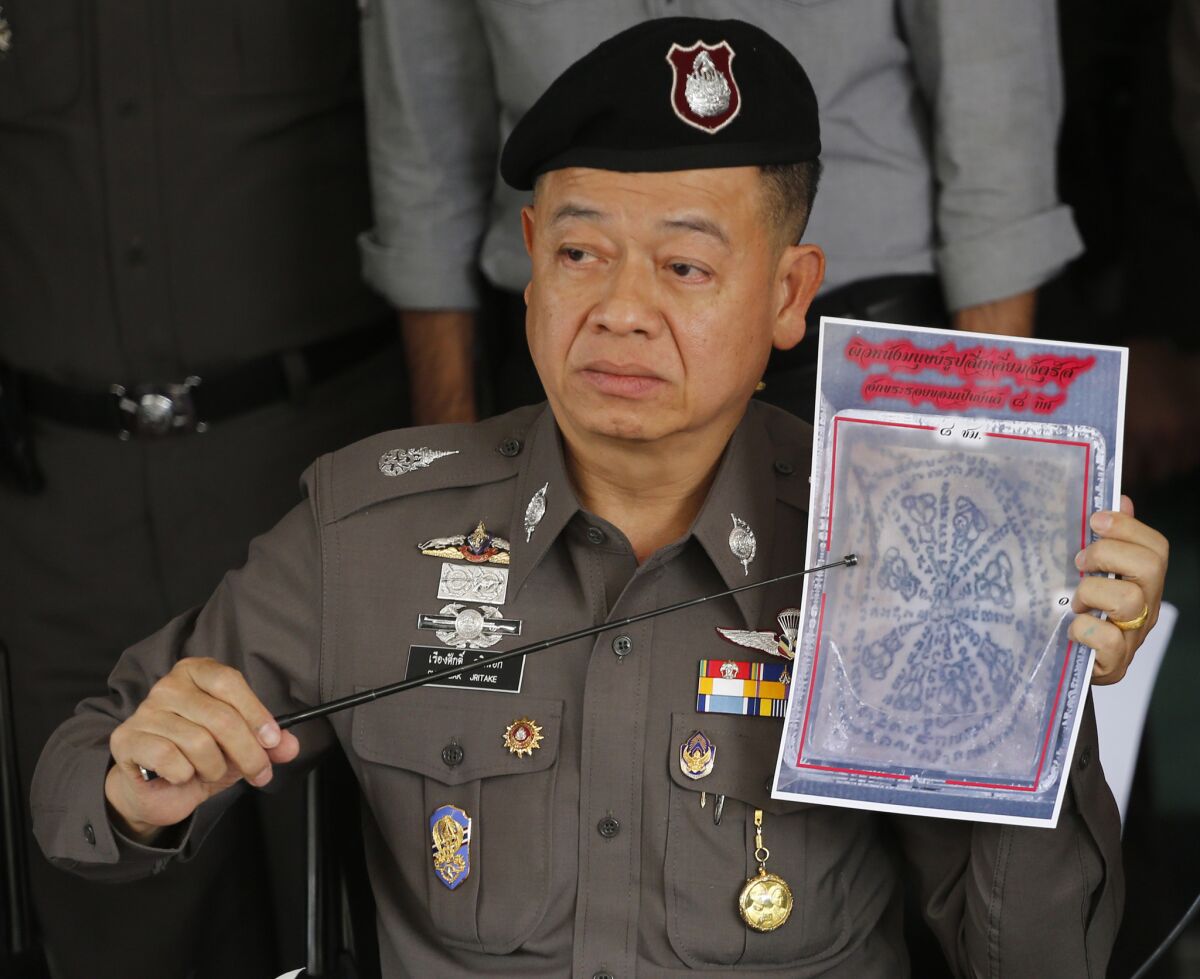 Reporting from Bangkok, Thailand —
Thai authorities issued arrest warrants Tuesday for two Americans who police say tried to mail preserved human body parts -- including a baby's head, sheets of skin and a heart -- from Bangkok to Las Vegas.
The macabre case expanded to neighboring Cambodia, where Ryan Edward McPherson, 31, and Daniel Tanner, 33, are believed to have traveled after leaving Thailand on Sunday. Thai police said they had asked Cambodian authorities to locate the men, who are wanted on charges of theft and lying on customs forms, on which they had declared the organs as toys.
The body parts were discovered by the courier company DHL on Saturday when it conducted routine X-rays of the packages and found the grisly delivery preserved in formaldehyde and sealed in acrylic boxes.
Police tracked down McPherson and Tanner and were told they had bought the body parts at a night market in Bangkok and planned to ship them to friends in the United States to shock them. The pair were released after background checks came up clean, authorities said.
Bangkok deputy police chief Ruangsak Jaritek said the warrants were issued after investigators determined that the organs had been stolen from a forensic science museum at Bangkok's Siriraj Hospital. The two Americans were seen on closed-circuit video cameras recently visiting the museum, authorities said.
The museum, which is open to the public and nicknamed the "Museum of Death," features an array of morbid exhibits: a liver with stab wounds floating in formaldehyde, severed penises and the preserved bodies of serial killers.
It isn't the first time that suspects have tried to ship human body parts out of Thailand. In 2012, a British citizen of Taiwanese origin was arrested after police discovered six human fetuses stuffed into luggage in Bangkok's Chinatown, reportedly bound for Taiwan to be used in black magic rituals.
Authorities did not say why they believed McPherson and Tanner would have wanted the grisly items.
The two men reportedly were part of the team that in 2002 created "Bumfights," a 50-minute video featuring homeless people fighting each other in parking lots, getting their faces tattooed and performing dangerous stunts in Los Angeles, San Diego and other cities.
Civil rights groups and others blasted the film, which sparked several imitators, as exploitative.
A spokesman for the U.S. Embassy in Bangkok said they were aware of the reports but could not offer details due to privacy concerns.
Paluch is a special correspondent. Staff writer Bengali reported from Mumbai, India.
For more news from Asia, follow @SBengali on Twitter
---
Must-read stories from the L.A. Times
Get the day's top news with our Today's Headlines newsletter, sent every weekday morning.
You may occasionally receive promotional content from the Los Angeles Times.