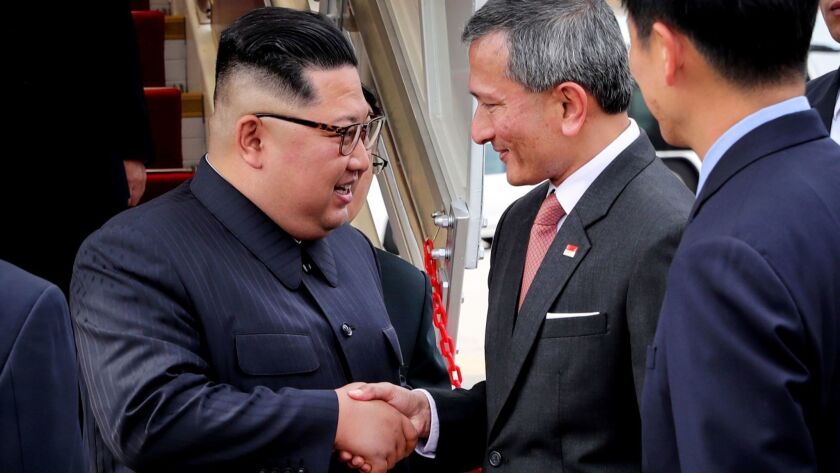 Reporting from Singapore —
North Korean leader Kim Jong Un arrived Sunday afternoon hours before President Trump was due to touch down on this bustling Southeast Asian island nation for a historic summit that is as improbable as any moment in the Trump presidency.
Crowds thronged the street for a glimpse of the reclusive dictator as Kim's limo drove to a protected area at the luxury St. Regis Hotel, where he is staying.
Adding to the drama, Trump is expected to hold his initial meeting with Kim face-to-face on Tuesday with only translators in the room, leaving top advisors to wait outside, according to a senior administration official.
Trump's advisors expect a brief encounter but do not know how long the president, who likes to improvise, will stay alone with Kim, keeping out Secretary of State Mike Pompeo and other key administration figures.
That portion of the summit could be crucial, however, as Trump told reporters Saturday that he believes he will size up within the first minute whether Kim is seriously considering giving up his nuclear arsenal.
"It's unknown territory, in the truest sense," Trump said Saturday as he departed for the Singapore meeting, following a contentious gathering of economic allies in Quebec.
Worldwide anticipation for Tuesday's summit between the most unconventional American president in modern times and an autocrat who is perhaps the world's most isolated leader has grown exponentially since the arms control talks were put together at lightning pace, amid persistent uncertainty, over the past few weeks.
Singapore's Prime Minister Lee Hsien Loong was set to meet with Kim on Sunday afternoon, and then with Trump at midday Monday. Lee told local press Sunday that hosting the summit will set back the island nation $20 million, which he said was "a cost we are willing to pay."
Trump plans to visit the U.S. Embassy staff Monday after meeting with Lee.
Singapore, famed for its litter-free streets, lush gardens and strict regulations, raced to spruce up. Skyscrapers were asked to keep their lights on at night to present a more dazzling skyline, and bouquets of tropical flowers decorated the 60 old cannons at Fort Siloso, near where the two leaders will meet on Sentosa Island, in honor of the summit.
About 2,500 members of the media have registered, the largest contingent ever hosted in Singapore, according to the Singapore Straits Times. That's on par with the most recent Olympics held in South Korea, an event that took years to plan and lasted for weeks.
Network crews have sent their anchors and star reporters, all hoping to capture a moment in history that could reset Asian geopolitics and security after decades of failed attempts to restrain North Korea's nuclear capabilities.
The trip itself is also monumental for Kim, the third member of his family to rule, on a personal level.
The flight out of his country is only his second since he assumed power in 2011 after the death of his father, Kim Jong Il. Kim was reportedly traveling on an Air China flight that radars showed stayed far inland, in Chinese air space.
The Kim government, which rules by repression and has jailed hundreds of thousands of its citizens, is intensely worried about assassination and coup attempts, making Kim especially anxious when he leaves his rigidly controlled nation.
Some North Korea watchers wondered whether his Soviet-era Illyushin aircraft could reliably ferry Kim to Singapore, given its age. Two additional North Korean planes were tracked making their way from Pyongyang, expected to be carrying his entourage as well as food and other supplies for Kim.
Singapore's foreign minister, Vivian Balakrishnan, confirmed in a tweet Sunday afternoon that Kim had arrived. The minister circulated a photo in which he gave a welcoming handshake to Kim, who was dressed in his customary pinstriped Mao-style suit.
Trump has embraced the hype, telling reporters he's on a "mission of peace" and "we're going to be carrying the hearts of millions of people" into the negotiations.
Yet he has conceded that even the most successful one-day summit is unlikely to achieve his ambition of convincing Kim to give up his nuclear arsenal all at once, if at all. His early talk of immediate celebrations and Nobel Peace Prize nominations has cooled as he has acknowledged the initial meeting is more likely to determine whether more fulsome negotiations can be set in motion.
Indeed, Trump said Saturday in Canada that he would decide how to handle Kim on the "spur of the moment" after they lay eyes on each other in the Capella Singapore Hotel, the summit site. "This is a leader who really is an unknown personality."
As a result, pageantry, symbolism and body language are expected to take a central role.
Even as the stakes are sobering — given North Korea's cache of nuclear and biological weapons and its universally condemned human rights record — the atmosphere in Singapore has taken on a bit of a carnival-like atmosphere.
Dennis Rodman, the eccentric former NBA player who calls Kim a friend, announced plans to attend while promoting a digital currency for the cannabis industry. Reporters covering the summit were given swag bags with cardboard fans, water bottles and notebooks showing stylized likenesses of Trump and Kim.
Some of the images of Trump and Kim around town were even more lifelike.
At a crowded downtown shopping mall here this week, dozens of people waited through a snaking line to take photos and get handshakes with Trump and Kim impersonators. The smiles on the two men's faces, and the customers willing to fork over $11, hardly betrayed the grave issues at stake.
"Kim Jong Um" and "The Ultimate Donald Trump Lookalike" played up the leaders' funny hairdos and most recognizable features. Kim wore dark sunglasses, Trump a red tie. Both had unusual haircuts.
Singapore authorities, on high security alert for the event, were less than amused. The Hong Kong-based Kim impersonator, Lee Howard Ho Wun, wrote in a Facebook post that he was questioned at the airport for two hours when he arrived Friday. He said they asked him about past involvement in any political protests, searched his bags and told him to stay away from Sentosa Island, the site of the summit.
Any public gatherings without a police permit are illegal in Singapore — making it ideal for a high-security event with a pair of world leaders but less so for nudging Kim toward open democracy.
Authorities here have designated areas around the summit hotel and the hotels where the two leaders are staying as "special event areas," where no bullhorns or large flags or banners are allowed.
A swarm of camera crews and reporters were stationed around the St. Regis hotel, where Kim is expected to stay, less than half a mile away from Trump's quarters at the Shangri-La hotel. Traffic barriers were put up on the eve of Kim's arrival, cordoning off the street in front of the hotel and a police checkpoint set up for all vehicles approaching the hotel.
A North Korean delegation was seen boarding a bus there early Sunday, including a camera crew for the Korean Central News Agency, North Korea's state-run media.
At the mall, a girl squealed to her friend upon spotting the pair of impersonators through the crowds. "It's him! Trump!" she said.
Sophia Lai, a 31-year-old bank worker, said she briefly thought the U.S. and North Korean leaders were at the shopping mall, until she looked around at the sparse security and realized they couldn't be real.
"It's a big thing in Singapore," Lai said, referring to the summit, as she waited in line with her husband for about 15 minutes for a photo with the impersonators. She said she hoped the real pair would be as chummy as the lookalikes. "We hope they'll have peaceful talks and everything will go smoothly," she said.
noah.bierman@latimes.com | Twitter: @Noahbierman
---