Germany's Angela Merkel sits during national anthems, raising more health concerns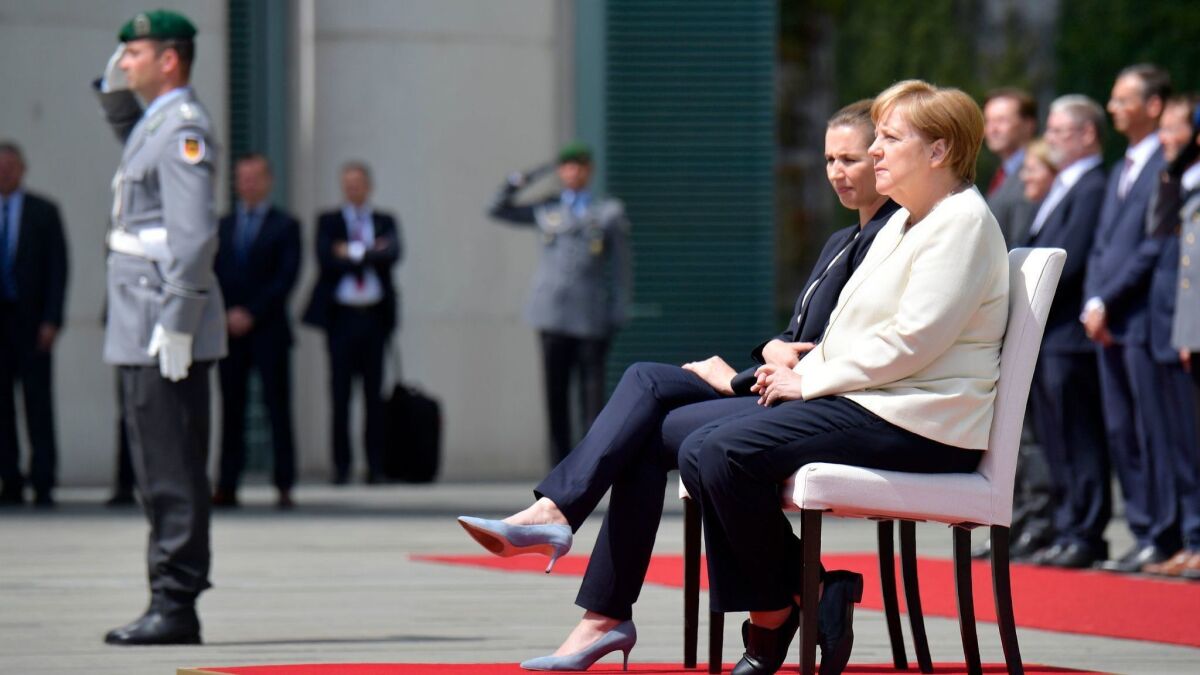 Reporting from Berlin —
German Chancellor Angela Merkel opted to sit for the playing of national anthems during a ceremony Thursday in Berlin, a day after she trembled in public for the third time in the last few weeks.
Merkel and visiting Danish Prime Minister Mette Frederiksen sat for about four minutes while a German army honor guard played the national anthems of both countries outside the chancellor's office. It is customary for the leaders to stand.
Concerns about Merkel's health have increased in recent days after she appeared trembling while standing at three similar ceremonies in Berlin during the last few weeks.
On Wednesday, Merkel's body shook as she stood at the same grounds outside her offices while she and Finnish Prime Minister Antti Rinne listened to the playing of their countries' national anthems.
The first of the three public trembling episodes occurred June 18 when Merkel was standing alongside newly elected Ukrainian President Volodymyr Zelensky. Days later she started trembling while standing during a speech by German President Frank-Walter Steinmeier at the president's offices in Berlin.
Merkel, who turns 65 next week, told journalists Thursday that she is taking care of her health.
"You can, first of all, rest assured that I'm aware of the responsibilities of my office and act accordingly as far as my own health is concerned," Merkel said at a news conference alongside Frederiksen after the ceremony Thursday. "And, secondly, you can also rest assured that as a human being I've also got a considerable personal interest in being healthy and taking good care of my health."
Merkel, who became Germany's first female chancellor in 2005, was reelected to a fourth term that ends in 2021. She has said she will not seek another term.
Merkel and her spokesman have said the trembling June 18 was due to dehydration on a hot summer day and the second episode was a psychological reaction to the first one.
"I'm doing fine," Merkel said Wednesday at another news conference with Rinne when pressed about her health. "I have been making progress and I have to live a while with this. But I'm fine and no one should be worried."
Christoph Specht, a physician and medical correspondent for several German TV networks, said many people in Germany and across Europe are understandably worried about Merkel's condition.
"We don't know exactly what it is because there is no information coming out of her office on it and no medical bulletins are issued like there would be in the United States," Specht said in an interview. "But that's not the way it works in Germany. Merkel is not especially known as an extrovert in the first place and when it comes to her health she has every right to remain silent and people generally respect that."
Several of Merkel's predecessors were able to keep health issues out of the public spotlight. Helmut Schmidt, who served as West Germany's chancellor from 1974 to 1982, had heart problems and was found unconscious in his office repeatedly, but journalists did not write about that until after he left office. Helmut Kohl, who ruled from 1982 to 1998, was able to keep secret from the public a painful prostrate swelling while fending off an attempt by party rivals to remove him from office in 1989.
Julius van de Laar, a political campaign consultant who has worked for several parties in Germany, said the days are gone when political leaders could conceal serious health issues.
"We're not living in the '60s or '70s anymore and everything like this is going to be feeding the news cycles," Van de Laar said in an interview. "It doesn't matter where you get your news: The image of Merkel shaking is the image that's going to be getting attention for a long time and it's the image people are going to remember."
Kirschbaum is a special correspondent.
---
Must-read stories from the L.A. Times
Get the day's top news with our Today's Headlines newsletter, sent every weekday morning.
You may occasionally receive promotional content from the Los Angeles Times.