Suicide bomber attacks Afghan clerics gathered to condemn the war, killing at least 7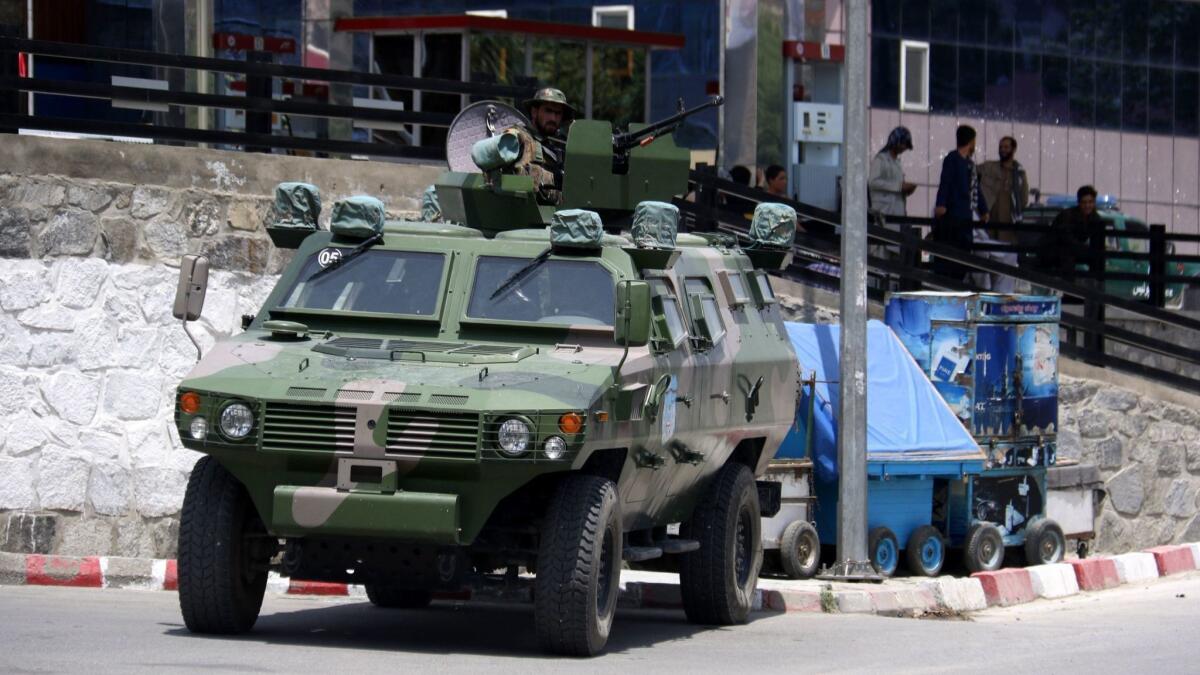 Reporting from Kabul, Afghanistan —
Hundreds of Afghanistan's leading religious scholars met under a tent in Kabul on Monday to deliver a sharp antiwar edict, condemning suicide bombings and other attacks as "unforgivable sins" under Islamic law.
As the clerics were leaving the assembly, a suicide bomber detonated his explosives outside the tent, killing at least seven people and wounding 20, Afghan officials said.
"The meeting finished successfully, but the ruthless committed their cruel deed," said Qasem Halimi, deputy justice minister and a member of the religious body, known as the Afghan Ulema Council, who was at a hospital identifying injured clerics.
The identities of the dead were not immediately known, but officials said that at least one police officer had been killed. Taliban insurgents denied involvement.
"There were many Ulema Council members leaving the compound and many security forces guarding them," said Safiullah, owner of a bakery near the blast site, who has only one name. He said he saw "a huge blast" that left at least two policemen and more than a dozen council members and civilians lying on the ground.
The attack, coming during the Muslim holy month of Ramadan, was yet another sign that Afghanistan's long war shows little sign of abating.
The Ulema Council had gathered at the site near Kabul Polytechnic University that is used for the traditional Loya Jirga, or grand assembly, that has issued key political and religious rulings in the past.
The council's fatwa, or Islamic ruling, called on the Afghan government and Taliban-led insurgents "to stop this war which has no other outcome than killing of more innocent people."
The council endorsed Afghanistan President Ashraf Ghani's February offer of amnesty for Taliban insurgents who renounce violence, the most significant move by the government to end a war now in its 17th year.
Ghani's overture was meant to pave the way to peace talks that could lead to Taliban leaders gaining positions in the government and for the militant organization to become recognized as a political party.
But the Taliban's fractured leadership has failed to respond to the government's offer. Bombings blamed on insurgents have continued, and experts say the militant group is active in nearly all 34 Afghan provinces while threatening several provincial capitals.
"We believe sitting face to face for peace talks will be the beginning of solving disputed issues between both sides," the Ulema Council's statement said.
If the warring parties ignore the fatwa and continue fighting, the council said it "would call on all Muslim nations, especially religious scholars, to step forward to broker a peace deal."
Militants loyal to Islamic State have also carried out deadly attacks, primarily targeting the Shiite Muslim minority.
Officials at the Pentagon, which has sent thousands more U.S. troops to bolster struggling Afghan forces, have said they are making progress against the insurgency. But a Pentagon inspector general's report released last month noted "few signs of progress."
Also Monday, Kabul police said that a bomb exploded about two miles from the Ulema Council meeting, wounding three people. No group immediately claimed responsibility.
Special correspondent Faizy reported from Kabul and Times staff writer Bengali from Jodhpur, India.
Shashank Bengali is The Times' South Asia correspondent. Follow him on Twitter at @SBengali.
---
UPDATES:
6:45 a.m.: This article was updated throughout with staff reporting.
This article was originally published at 4:15 a.m.
Sign up for Essential California for news, features and recommendations from the L.A. Times and beyond in your inbox six days a week.
You may occasionally receive promotional content from the Los Angeles Times.