Peru's ex-President Alan Garcia kills himself as police try to arrest him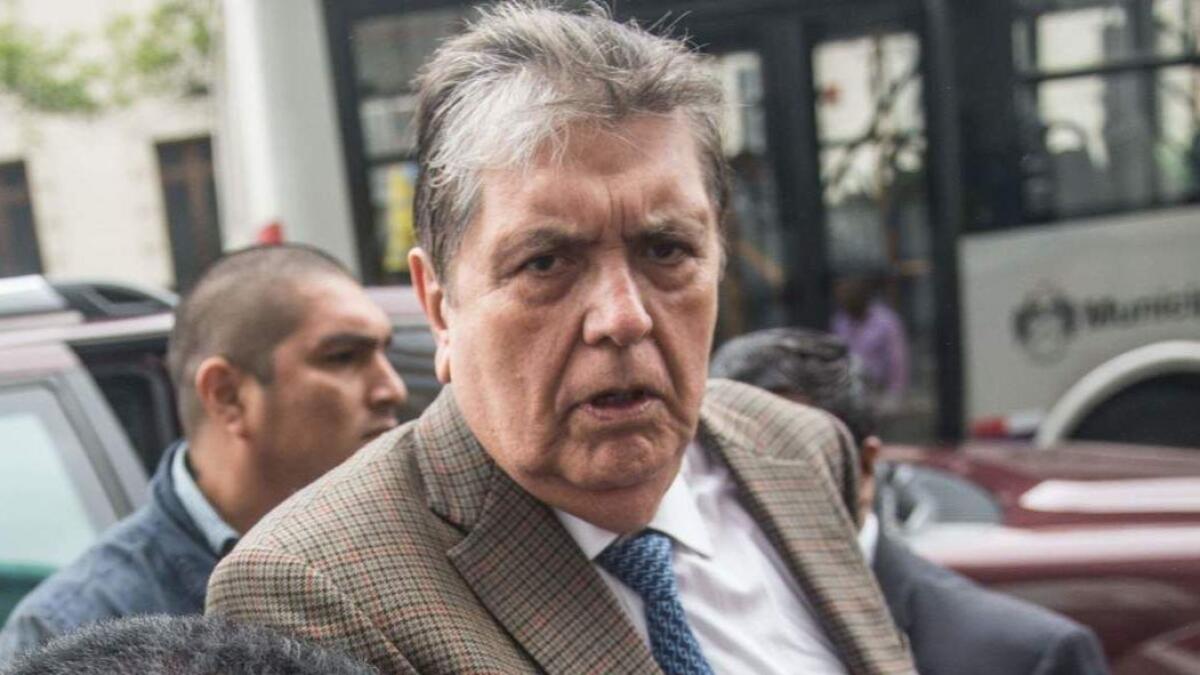 Reporting from LIMA, Peru —
Former Peruvian President Alan Garcia died after shooting himself as police waited Wednesday to arrest him on corruption allegations involving a massive Latin American bribery scandal.
Garcia, 69, who served two terms as Peru's president, from 1985 to 1990 and from 2006 to 2011, shot himself in his bedroom at his home in Lima, the capital, as police waited outside his door to take him to jail. He was rushed to a hospital, where he died despite emergency surgery.
Peruvian President Martin Vizcarra wrote on Twitter: "Dismayed over the death of ex-President Alan Garcia. I send my condolences to his family and loved ones."
Prosecutors had ordered Garcia's arrest over allegations that he took payoffs from a construction company. Scandal involving the same Brazilian-based firm has led to the arrest of, or extradition requests for, all of Peru's living former presidents save one.
At the center of the controversy is the construction giant Odebrecht, whose officials have admitted paying hundreds of millions of dollars in bribes to secure lucrative public works contracts. Investigations surrounding the global firm set off investigations that have ensnared officials across South America.
The order to arrest Garcia came from Jose Domingo Perez, a special prosecutor in charge of Odebrecht investigations. He said money from the construction firm illegally helped finance Garcia's 2006 election campaign.
Perez was also investigating a bank account in Andorra believed to be controlled by Garcia that held $1.3 million in funds from Odebrecht. Prosecutors have said Garcia's government may have accepted up to $14 million in illegal payments during his latter term in office.
Interior Minister Carlos Moran told reporters that Garcia met officers who appeared at his doorstep early Wednesday morning to take him into custody. But he refused to go, and turned and walked upstairs to his bedroom.
Sources close to Garcia criticized the prosecutor's arrest order. Garcia's personal secretary, Ricardo Pinedo, said his boss understood that the police were coming Wednesday morning to search the ex-president's house, not to arrest him.
Garcia's attorney, Erasmo Reyna, confirmed that Garcia's shooting was a suicide, telling reporters that the arrest order was "arbitrary."
"These acts of injustice must stop now. People should know that this can happen [as a result of] arbitrary acts such as these," Reyna said.
Garcia last year requested political asylum at the Uruguayan Embassy in Lima, arguing that he was the victim of political persecution. Uruguay denied his request in December.
Word of Garcia's suicide came after the arrest last week of former President Pedro Pablo Kuczynski. He was sentenced to 10 days in jail over allegations that a consulting firm he co-owned accepted nearly $1 million in payments from Odebrecht while he served as a Cabinet minister under President Alejandro Toledo.
Toledo, who governed from 2001 to 2006, is also wanted on charges that he received $20 million from the Brazilian firm. The ex-president is fighting extradition from the United States, where he holds citizenship.
The other former Peruvian president implicated in the Odebrecht scandal is Ollanta Humala, who is under house arrest with his wife over allegations that he accepted $3 million in bribes during his term from 2011 to 2016.
A money-laundering inquiry known as Lava Jato, or Car Wash, that started in 2014 in Brazil quickly spread. And Peru is far from alone in having its leaders caught up in the scandal involving Odebrecht.
The governments of former Presidents Juan Manuel Santos of Colombia and Rafael Correa of Ecuador have also been tainted. Correa's former vice president, Jorge Glas, is in prison on corruption charges. Venezuelan President Nicolas Maduro has been accused in the scandal, as has jailed former Brazilian President Luiz Inacio Lula da Silva. And officials in Argentina and Uruguay were accused of facilitating the laundering of Odebrecht bribes.
Garcia's two terms in office were dogged by controversy and corruption allegations.
Upon completion of his first term in 1990, the Peruvian economy was a shambles, suffering from hyperinflation and a raging war that pitted government troops against militant groups, notably the leftist Shining Path.
That insurgency was brought to heel by Garcia's successor, Alberto Fujimori, who is now in prison after being convicted of crimes against humanity over actions taken during his presidency.
Keiko Fujimori, the ex-leader's daughter and a former presidential candidate, sent condolences to Garcia's family via Twitter. "I will pray for him and his loved ones," Fujimori wrote. The younger Fujimori is herself in prison on corruption charges stemming from more than $1 million in funds prosecutors allege her campaign received from Odebrecht.
Garcia was able to remake his public image as a fiscal conservative in the 2006 election, when he positioned himself as the preferable alternative to his opponent, the socialist Humala.
Garcia appeared to distinguish himself in the latter term with several important highways and other public works, although the luster dimmed as it became known that many of the projects were awarded to Odebrecht.
Special correspondents Leon and Kraul reported from Lima and from Bogota, Colombia, respectively.
Sign up for Essential California for the L.A. Times biggest news, features and recommendations in your inbox six days a week.
You may occasionally receive promotional content from the Los Angeles Times.