British Prime Minister Theresa May survives no-confidence vote, pledges to press on with controversial Brexit deal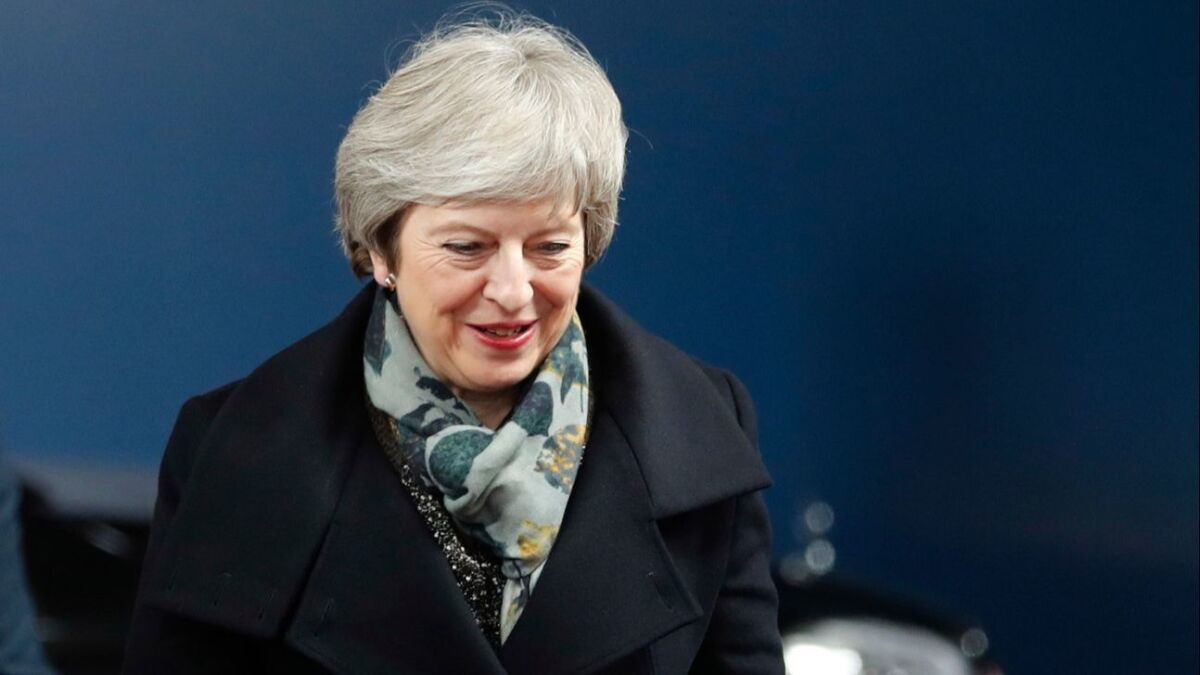 Reporting from LONDON —
Embattled British Prime Minister Theresa May late Wednesday survived a no-confidence vote by Conservative Party legislators challenging her leadership, a result that reaffirmed her authority to press forward with her heavily criticized proposed Brexit deal.
May, who has struggled in working out Britain's planned exit from the 28-nation European Union, received 200 votes from party lawmakers who supported her leadership versus 117 who voted against her. The result of the two-hour secret ballot means she will not be forced to step aside either as party leader or prime minister and cannot be challenged as party leader for a year.
May had told lawmakers before they began to cast their votes that she had heard their concerns, and while she would see through Brexit if she won, she would not stand as party leader for the 2022 election.
Shortly after the results were announced in Parliament, May spoke briefly outside her Downing Street residence for the second time in 12 hours.
She said it was a "long and challenging day" and acknowledged that a significant number of colleagues had voted against her, but reiterated that she was committed to delivering Brexit and uniting the divided country.
May urged members of Parliament on all sides of the political divide to begin "coming together and acting in the national interest."
The prime minister said she would travel to Brussels on Thursday for a European Council meeting where she will seek legal and political assurances from EU leaders regarding Brexit in the hopes of allaying the concerns of members of Parliament.
She said her focus was threefold: "Delivering the Brexit that people voted for, bringing the country back together and building a country that truly works for everyone."
But one of her main critics, lawmaker Jacob Rees-Mogg, who had been pushing for a vote of no confidence for several weeks, said the vote was a "terrible result for the prime minister" because more than one-third of her party had not backed her. He continued to call for her to step down.
"She clearly doesn't have the confidence of the House of Commons," he said. "She should make way for someone who does."
The vote capped off an intense day in British politics in yet another tumultuous week. Early Wednesday it was announced that at least 48 letters of no confidence had been submitted to Graham Brady, chairman of the 1922 Committee of backbenchers, which was enough to spark a no-confidence vote.
Before the vote, May had appeared outside her Downing Street home vowing to fight the leadership challenge with "everything that I've got."
May has seen fierce criticism of her handling of Britain's plans to exit the EU, which 52% of voters approved in 2016. Britain is expected to leave the bloc March 29.
Citing her 40 years as a member of the Conservative Party, May said she has, and always will, put the national interest first. The country was on the cusp of a "bright future" as it worked to forge a new deal with the EU, she said.
She also delivered a warning to those pro-Brexit lawmakers who seek to topple her: Removing her as leader would not improve the chances of getting a deal through Parliament and will probably delay or even stop Brexit from happening altogether.
"A change in leadership in the Conservative Party now will put our country at risk and create uncertainty when we can least afford it," she said. "Weeks spent tearing ourselves apart will only create more division just as we should be standing together to serve our country."
Parliament is expected to vote on the proposed Brexit withdrawal agreement before Jan. 21 and the timeline is already incredibly tight for ensuring everything is in place by March 29.
But appointing a new party leader — and therefore a new prime minister — could take up to six weeks, and her successor would probably seek to pursue a different strategy and reopen negotiations with EU leaders.
May made clear she feels any leadership challenge would only divert attention from making Brexit happen and could also play into the hands of the opposition Labor Party or those who are campaigning for a second referendum in the hope of overturning the 2016 decision altogether.
"I have devoted myself unsparingly to these tasks ever since I became prime minister, and I stand ready to finish the job," she said.
On Monday, May caused an uproar by delaying a crucial parliamentary vote on a proposed deal because it became clear she did not have enough votes for it to pass.
EU leaders had already agreed to the terms of the deal, which were hashed out during 19 months of intense and fraught negotiations, but it must also win the majority support of Britain's Parliament.
The plan looks to secure the rights of EU citizens living in Britain and British nationals living in the EU, while also ending the free movement of people. It sets out a divorce bill Britain must pay to extricate itself from the other 27 EU members.
But the most crucial point of contention is over how to avoid a hard border emerging between Northern Ireland, which will leave the EU, and the Republic of Ireland, an EU member.
A so-called backstop plan has been proposed in the event of no new trade deal being reached. That plan has been fiercely criticized.
Euroskeptics feel it keeps Britain too closely tied to the EU and object that neither side can unilaterally withdraw from the arrangement.
After delaying Monday's vote, May jumped on a plane to Brussels, Berlin and The Hague to meet key EU leaders and try to secure assurances that the wording of elements of the deal could be tweaked to reassure skeptics back home.
But she is facing an uphill battle as both pro- and anti-EU camps feel the deal isn't good enough.
May needed to win the no-confidence motion by a simple majority to remain as party leader — and therefore as prime minister.
In 1990, Prime Minister Margaret Thatcher won a vote of no confidence but still stepped down as leader because she no longer felt she had adequate backing from her party.
The news that a no-confidence vote was to happen was announced by Brady, who received the requisite 48 or more letters (15% of the parliamentary Conservative Party) required to trigger a vote.
Several key Conservative party members publicly expressed their support for May on Wednesday morning.
Home Secretary Sajid Javid said a leadership contest would be seen as "self-indulgent and wrong" and was the "last thing our country needs right now."
He was widely considered to be a leadership contender if May lost the vote.
Environment Secretary Michael Gove said he was backing the prime minister 100%.
"I urge every Tory MP to do the same," he said.
After the vote, Transport Secretary Chris Grayling, who backed May, said the day had hardly been ideal for the Conservative Party.
"But the party has voted very comfortably that it wants her to stay," Grayling said. "We've got to unify and make sure we deliver Brexit in March."
Boyle is a special correspondent.
---
Must-read stories from the L.A. Times
Get the day's top news with our Today's Headlines newsletter, sent every weekday morning.
You may occasionally receive promotional content from the Los Angeles Times.