China's new 'Long March': Digging in for a struggle bigger than trade war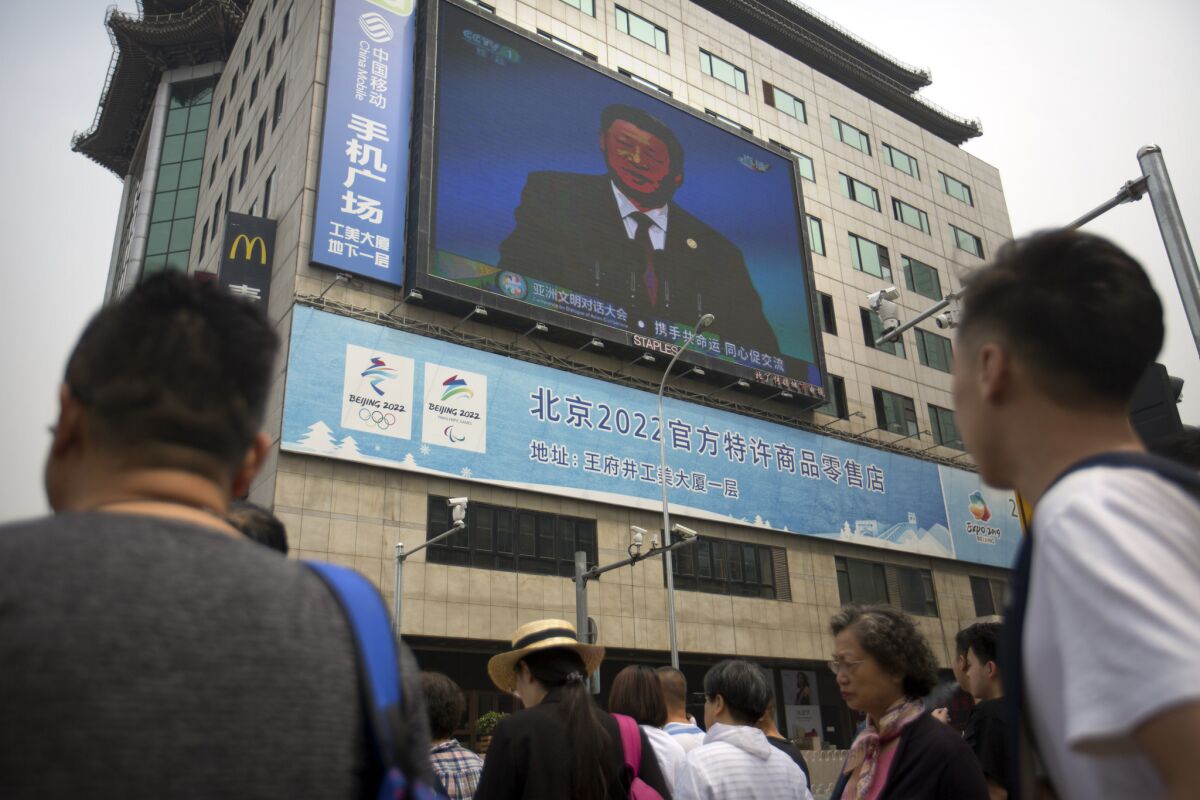 Reporting from Beijing —
The 10-minute segment that ran on Chinese state television this week showed cadet trainees of the People's Liberation Army scrambling over towering walls, dragging enormous tires, crawling through mud and shouting motivational slogans as President Xi Jinping exhorted the academy to be ready to fight and win a modern war.
The trade war with the United States went unmentioned.
But the message was clear: Beijing is ready not only for a protracted battle over trade but also for what could be a much larger geopolitical struggle.
Chinese media coverage of the trade war turned sharply nationalistic over the last week. References to national dignity and the willingness of the Chinese people to suffer any burden in the confrontation with the U.S. underscore how bad the situation has become.
Some analysts have warned that a Cold War 2.0 has already started in the wake of the break in U.S.-China trade talks this month and Washington's moves to hike tariffs on $200 billion in Chinese goods to 25% from 10% and ban U.S. suppliers from selling to Chinese tech giant Huawei without government permission.
Huawei, the world's biggest telecommunications manufacturer, is dependent on U.S. chips and software. A U.S. Department of Commerce decision Tuesday to allow component sales until Aug. 19 was seen less as a reprieve for Huawei than as a cushion for American companies that do business with Huawei.
The province that Xi toured this week — Jiangxi — carries potent symbolism in China: It was the starting point for the Red Army's Long March in 1934, a storied odyssey in the history of the Communist Party, leading to the ascent of Mao Tse-tung, and is often used in propaganda to urge Chinese people to show grit and endurance.
Xi told the cadets and their officers that China was facing a new "Long March," signaling that Chinese authorities are preparing for a protracted trade war and increasing military and geopolitical rivalry between the world's two largest economies.
"We are now embarking on a new Long March, and we must start all over again," he said to rapturous applause.
A day earlier, Xi visited a firm that produces rare earth elements, which are crucial in high-tech manufacturing, provoking speculation that China, the world's dominant source, could ban their export to the U.S. should the trade war worsen.
Jin Canrong, a professor of international relations at People's University in Beijing, wrote this month on the state-owned news website Guancha that a ban would give Chinese chip makers the chance to catch up and compete with American ones — and have dire consequences for U.S. markets.
"Once the high-end chips in the United States are finished, Wall Street will be finished," he wrote.
Another threat in an all-out trade war is that U.S. companies such as Apple could face nationalist boycotts.
Hu Xijin, the editor of the state-owned Global Times, tweeted Monday that he had switched from an iPhone to a Huawei phone "because Huawei is being unreasonably suppressed by the U.S. government and I wish to support Huawei."
Chinese state media coverage of the trade war, which began in July when the Trump administration imposed tariffs on $34 billion in Chinese goods, had long been restrained in its criticism of the United States in hopes of not aggravating the fraying relationship. That is no longer the case.
Last weekend Chinese state television changed its regular programming and aired three anti-American movies about Chinese victory over the U.S. in the Korean War.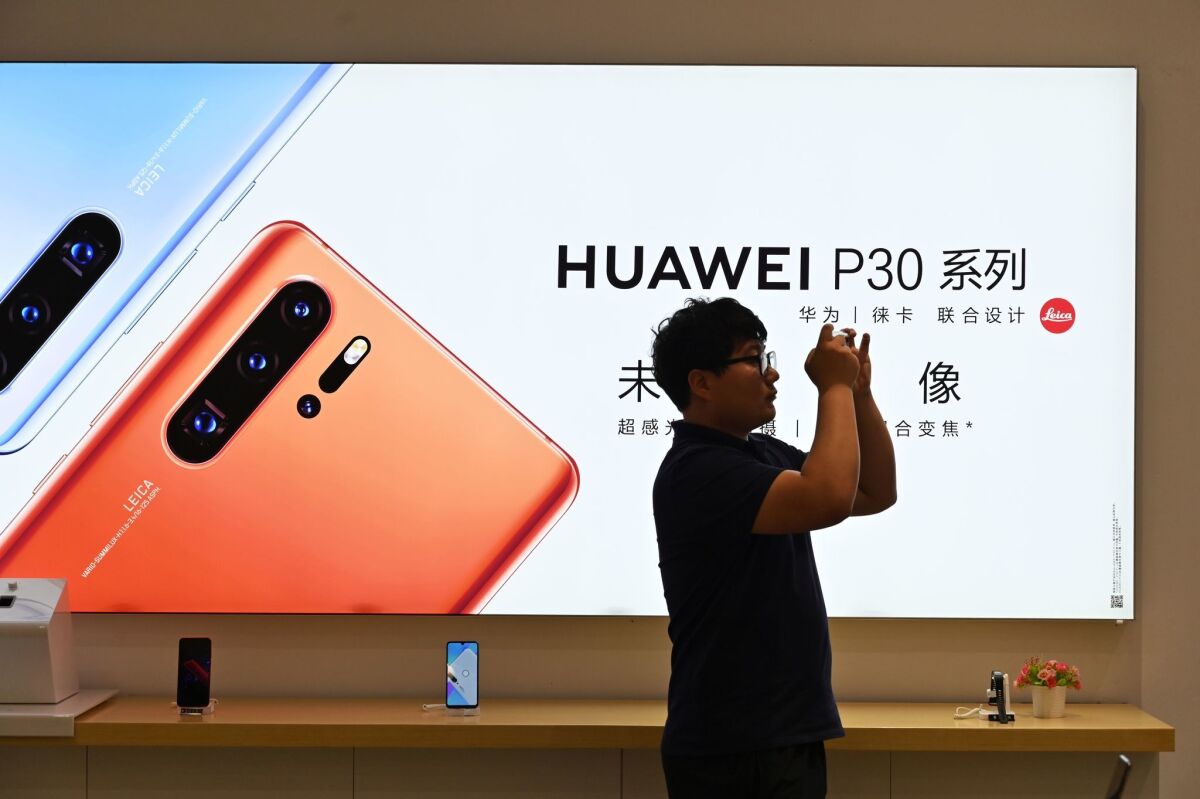 The state-owned People's Daily warned Monday that U.S. actions threatened to return the relationship between the two countries to a "barbaric era."
An editorial Tuesday by the state-run New China News Agency said that the United States has been using "trade bullying," "the logic of gangsters" and "the law of the jungle" and that Washington had disgraced itself internationally.
A front-page editorial in the People's Daily last week said the Chinese people were "at one in their conviction to protect the interests of our people and the dignity of the nation."
Bill Bishop, an American who authors the Sinocism newsletter, which offers political analysis of China, wrote this week that he could not remember feeling so pessimistic about U.S.-China relations.
"If I were still living in China with my family, I would be far along with my exit plan and ready to execute it at very short notice," Bishop tweeted Sunday. "The U.S.-China trajectory is clear and looks like there is now much more sudden, downside risk than there was even a month ago."
What remains murky is the Trump administration's objective in dramatically upping the ante with its action against Huawei.
Is it a negotiating tactic aimed at securing a deal that would see America continue to engage economically with China from a more advantageous position? Or does it signal determination in Washington to decouple the U.S. economy from China's and hinder China's inexorable rise?
Either way, analysts said, the risk is a new cold war.
The next chance to escape the dangerous spiral will come next month at a meeting between Trump and Xi at the Group of 20 summit in Japan.
In the meantime, the situation continues to deteriorate, with recent warnings from the U.S. that Chinese drone companies pose a security threat and new reports Wednesday that the U.S. may now target Chinese digital surveillance companies such as Hangzhou Hikvision Digital Technology and Zhejiang Dahua Technology.
Analysts have been warning for months of a risk that the trade war may herald a severe deterioration in relations.
Henry M. Paulson, the former Treasury secretary, warned in a February speech at the Center for Strategic and International Studies in Washington that the intensifying geopolitical rivalry between the U.S. and China could result in an "economic iron curtain" dividing the world.
"National security concerns are now bleeding into virtually every aspect of our economic relationship," he said.
He added, "And against that backdrop, we must look warily at the prospect that what, until now, has been a healthy strategic competition could head in directions that tip us into a full-blown cold war."
---
Must-read stories from the L.A. Times
Get the day's top news with our Today's Headlines newsletter, sent every weekday morning.
You may occasionally receive promotional content from the Los Angeles Times.