Death toll from Indonesia's volcano-triggered tsunami tops 280
A distraught woman looks for her belongings at a house destroyed by the tsunami in Indonesia.
(Ulet Ifansasti / Getty Images)
Aerial view shows the Anak Krakatau volcano erupting in the Sunda Strait off the coast of southern Sumatra and the western tip of Java.
(Nurul Hidayat / AFP/Getty Images)
Residents walk among debris after the tsunami hit in Sumur, a city in the Banten region of West Java, Indonesia.
(ADI WEDA/EPA-EFE/REX / ADI WEDA/EPA-EFE/REX)
A man reacts after identifying a relative among the bodies of tsunami victims in Carita, Indonesia.
(Fauzy Chaniago / Associated Press)
Rescue workers recover the body of a victim of the tsunami during a search at a resort hotel in Tanjung Lesung, Indonesia.
(Ed Wray / Getty Images)
Villagers search through debris at their destroyed houses after being hit by the tsunami in Carita, Indonesia.
(Ulet Ifansasti / Getty Images)
A man walks through debris, carrying his belongings, after the tsunami hit Carita, Indonesia.
(Ulet Ifansasti / Getty Images)
Residents walk through debris in Sumur, Indonesia, on the island of West Java.
(Adi Weda / EPA-EFE/REX)
Villagers search through the debris of what used to be their homes after the tsunami hit Carita, Indonesia.
(Ulet Ifansasti / Getty Images)
People inspect the damage at a tsunami-ravaged village in Sumur, Indonesia.
(Fauzy Chaniago / Associated Press)
Relatives mourn Sunday at a health facility where the bodies of tsunami victims are collected in Pandeglang, Banten, Indonesia.
(Adi Weda / EPA-EFE/REX )
Victims recovered along Carita beach are placed in body bags.
(Semi / AFP/Getty Images)
A photo made available by Indonesian officials shows a car that was rolled over when the tsunami hit Sunda Strait.
(Handout / EPA-EFE/REX )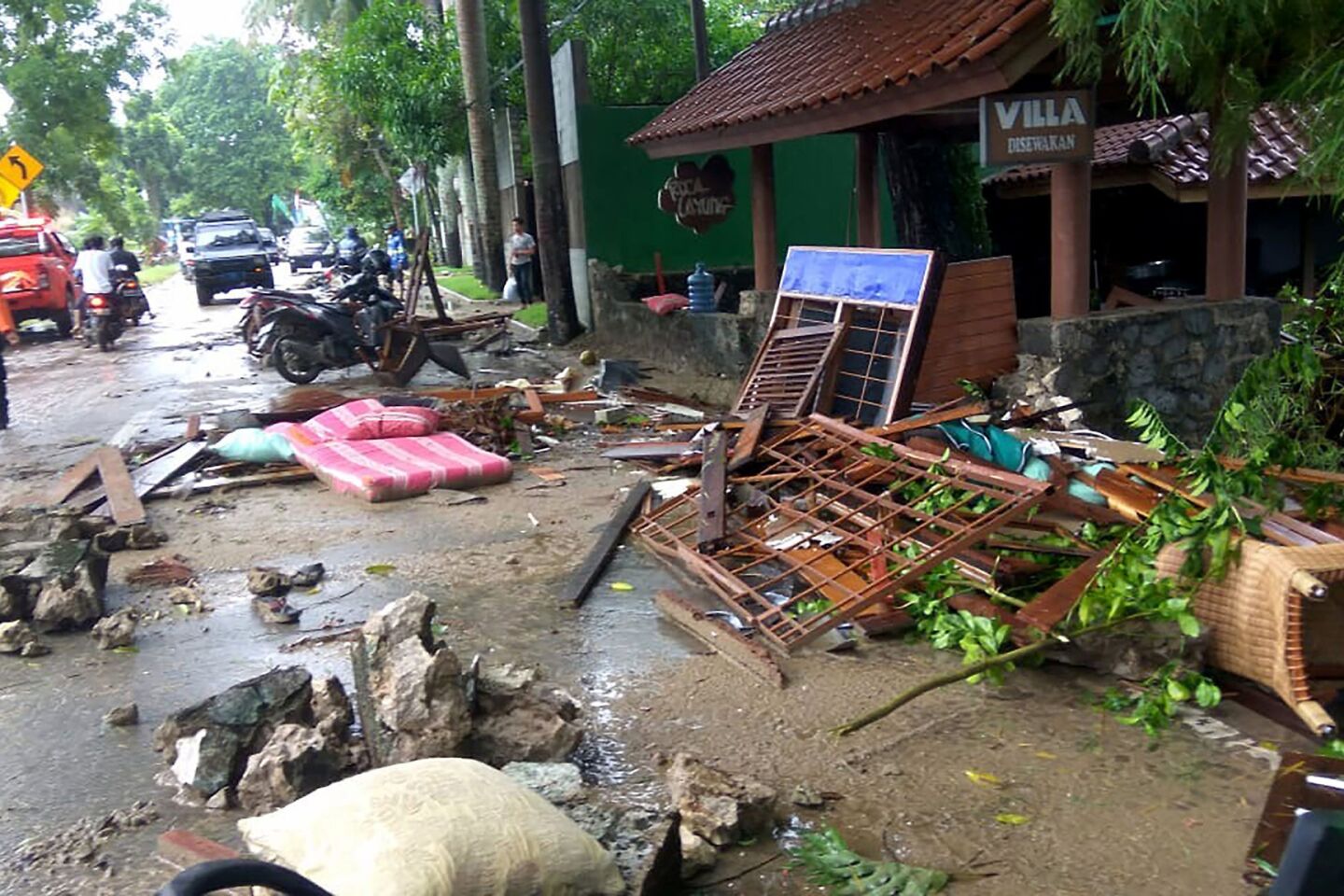 Debris from damaged buildings litters a street near Indonesia's Carita beach after the tsunami hit.
(Ronald / AFP/Getty Images)
Indonesians inspect the damage to their homes on Carita beach after the tsunami hit.
(Semi / AFP/Getty Images)
Reporting from Jakarta, Indonesia —
The sea surged without warning Saturday night, crashing into coastal villages on Indonesia's two most populous islands. It killed at least 281 people, washing away buildings, roads and a rock concert on the beach, officials said early Monday.
The tsunami that struck the western tip of Java and the southern tip of Sumatra was believed to have been triggered by an underwater landslide from the flank of an erupting volcano.
Officials in Jakarta said more than 1,000 other people were injured and at least 57 were missing after the tsunami, the latest in a string of deadly disasters that have killed thousands in Indonesia this year.
About 600 buildings were damaged, officials said. Soldiers and rescue workers moved quickly to clear roads blocked by debris; television and social media video showed survivors pulling at wreckage trying to find loved ones.
"People are still afraid to go back to their homes since there were still rumors that a tsunami might strike again," said Aulia Arriani, a spokeswoman for the Indonesian Red Cross.
Cellphone video aired on local TV and on social media websites showed a seaside concert being washed away and concertgoers fleeing in panic as a wave struck at 9:30 p.m. Saturday.
Seventeen, a popular Indonesian rock band, was performing at a dinner held by a government-run electricity company on Tanjung Lesung beach on Java, about 100 miles southwest of the capital, Jakarta. Water suddenly engulfed the stage as audience members screamed.
The band said later online that bassist M. Awal Purbani and manager Oki Wijaya had died. The band's frontman said other members of the group were missing, including his wife.
Oystein L. Andersen, a Norwegian who was vacationing on Java, tweeted that he ran from the approaching surge and rescued his sleeping wife and child from a nearby hotel.
He paid tribute to residents of the local community of Anyer, who he said were "opening their doors to the people who have evacuated."
On Sunday, Indonesian President Joko Widodo expressed "deep grief for the tsunami victims" and said on Twitter that he had "ordered all relevant government officials" to take emergency steps to retrieve victims and care for the injured.
But the rescue operation "requires additional heavy equipment and personnel to help search for, rescue and evacuate victims," Sutopo Purwo Nugroho, spokesman for the national disaster mitigation agency, said Monday morning.
The tsunami in the Sunda Strait was attributed to the 1,000-foot-high Anak Krakatau volcano, which has been erupting since midyear. Officials said the rumbling volcano caused a submarine landslide in the strait that powered the wave, which was also swollen by a high tide.
"The scariest thing about volcanic tsunamis is the warning signs are often very subtle," said Adam D. Switzer, associate professor at Nanyang Technological University in Singapore.
"The wave would literally appear at the surface and make its way to shore. The only warning sign was the volcanic activity itself, which has been ongoing for some time."
He said other landslides from the volcano, either above or below the water surface, could trigger more destruction.
"As Anak Krakatau continues, the chance of further tsunamis is certainly very real and it would certainly pay to be mindful of that risk during the recovery phase and when thinking of rebuilding in the region," said Switzer, associate chairman of the university's Asian School of the Environment.
Anak Krakatau — whose name translates to "child of Krakatoa" — is a relatively young mountain formed after the colossal 1883 eruption of Mt. Krakatoa, which was heard as far away as Australia, darkened skies over Europe and North America for months and churned up a 100-foot-high tsunami that killed at least 36,000 people.
The disaster is the latest calamity in Indonesia, a 3,000-mile-wide archipelago known for earthquakes, volcanic eruptions and tsunamis because of its position on the Pacific "Ring of Fire," a seismically volatile zone comprising hundreds of active volcanoes.
In September, more than 2,000 people were killed in an earthquake and tsunami that hit Sulawesi, an island 1,000 miles northeast of Jakarta.
In July and August, Lombok and Bali, islands popular with tourists, were struck by earthquakes that together killed hundreds.
In December 2004, a magnitude 9.1 earthquake off Sumatra and a subsequent tsunami killed at least 225,000 people in more than a dozen nations, with most of the casualties in Indonesia.
Special correspondent Roughneen reported from Jakarta and Times staff writer Bengali from Singapore.
Shashank Bengali covers Southeast Asia for The Times. Follow him on Twitter at @SBengali
Must-read stories from the L.A. Times
Get the day's top news with our Today's Headlines newsletter, sent every weekday morning.
You may occasionally receive promotional content from the Los Angeles Times.