'What if I lose her forever?' In Guatemala, a couple fears for their child still in detention in U.S.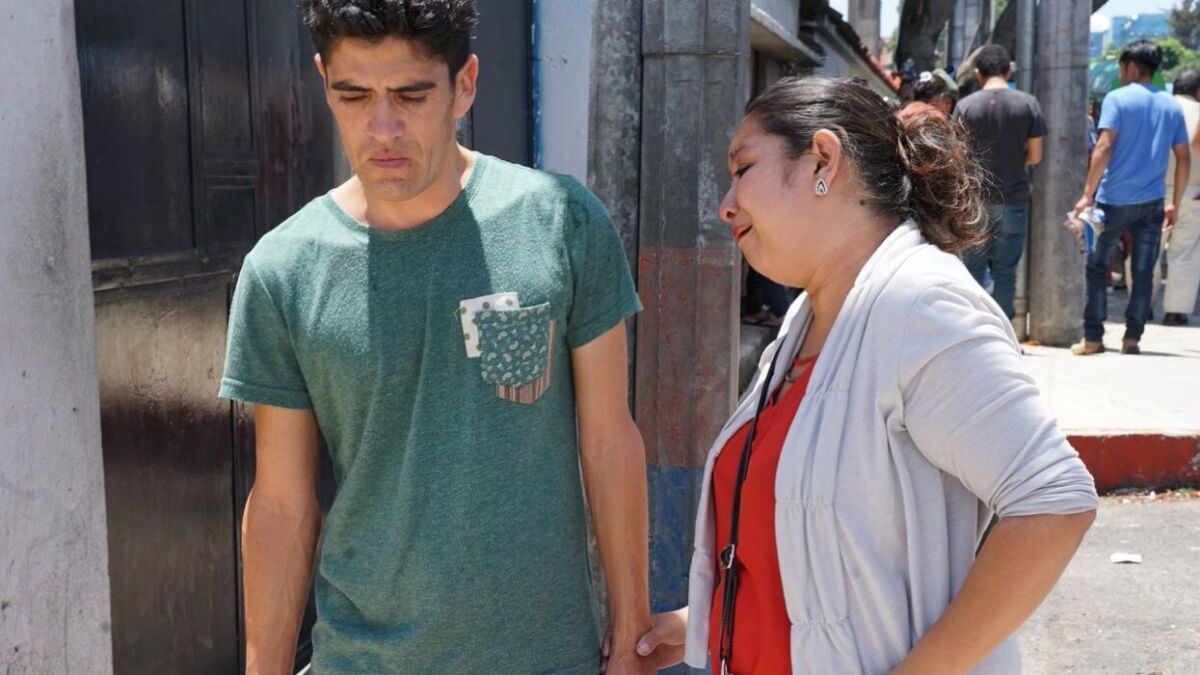 Reporting from Guatemala City —
It wasn't a joyous homecoming for Ovidio Batres Morales, who returned to Guatemala after spending almost seven weeks in U.S. immigration detention.
His wife, more agitated than relieved, was waiting for him outside the Guatemalan air force base here. Chartered planes packed with deportees from the United States arrive with regularity.
Batres, lean and ashen-faced, was sullen, a broken man.
He had come home without his daughter.
"What if I lose her forever?" Claudia Isabel Gonzalez chastened him. "I have to get my daughter back! Give me the money to pay a coyote [smuggler]. I'll go get her today!"
He just stared ahead vacantly, saying nothing. Batres and his wife are grappling with the agony that thousands of other parents have faced since the Trump administration launched its "zero tolerance" policy, resulting in separation of immigrant families along the U.S.-Mexico border.
Trump ended the policy amid a global outcry. But families in Guatemala and elsewhere are still missing their children.
Among the many minors enmeshed in bureaucratic ambiguity is Ashly Anahoni Batres Gonzalez, 7, the sole child of Batres and Gonzalez. U.S. immigration authorities separated the girl from her father in May in El Paso, the family says, and Ashly is now at a shelter in Arizona.
U.S. government is asking immigrant parents separated from their children to fill out this lengthy form »
Last month, a federal judge ordered U.S. officials to return children older than 5 to their parents within 30 days and younger children within 15 days, which is Tuesday. U.S. officials said Monday that slightly more than half of the younger children would be reunited by the deadline.
Reunification poses an especially complex challenge in the cases of Ashly and other minors whose parents are no longer in the United States.
Many of those parents want their children back in their homelands. Others would prefer that they remain in the United States in the custody of relatives. Some families, like Batres and his wife, are deeply divided.
The uncertainty has taken a heavy toll on Batres, 34, who exited the deportation plane in Guatemala City in late June carrying only an orange mesh bag with his belongings.
"I never thought this would happen," Batres repeated, first outside the air base and later at home. "I never imagined they would take her away."
::
The plan, the family said, was to provide a better life for Ashly. There is not much future, they said, in Monte Verde, a rural outpost of perhaps 100 families in Guatemala's southern province of Santa Rosa.
Residents in the picturesque area — towering pines mix with stands of banana trees, and ethereal banks of fog roll through the hills — eke out livelihoods off small coffee plantations and ranching.
But there is one source of relief — el norte, to where generations of residents have emigrated, typically illegally , sending home cash to support their families. The trek through Mexico to the north holds an almost existential allure, even as U.S. authorities have bolstered border enforcement. Mixed amid the modest adobe and cinder-block structures are expansive residences, mostly built with money sent from the United States.
Despite its natural splendor and isolation, residents say, the Monte Verde area is racked by poverty and the gang violence that is endemic in much of Guatemala and neighboring El Salvador and Honduras.
The home where Ashly lived is a rectangular, two-bedroom adobe structure that houses her extended family. She used to share a single bed with Andrea Beatriz Ramirez Morales, who is 8 but technically Ashly's aunt.
"We miss Ashly," said Andrea Beatriz, showing a visitor a basket of dolls the girls once shared.
One family snapshot shows an impish Ashly by a Christmas tree; another is of her outside the public school, her dark hair in a single braid. Ashly had been a first-grader at the dilapidated single-story structure, with broken windows, cracks in the walls and holes in the roof. The school is situated on the banks of the mud-colored River of Slaves.
Gonzalez is married to Batres, but they are separated and she is estranged from his family. Ashly would spend time with her mother, who lives in another village, as part of an informal custody arrangement.
"I agreed to her going to the north because I thought it would be an opportunity for her to better herself," said Gonzalez. "I never thought that I might lose my daughter."
As part of the pre-trip preparation, Gonzalez signed a notarized document in April granting her consent for her husband to take the girl, even though she was skeptical of rosy reports that it was easy to cross.
The first of three payments was proffered to a coyote, part of an extensive network of smugglers and fixers who work throughout the region. The family said it paid him 38,000 quetzales, about $5,000, to escort father and daughter to the border.
From the outset, the family said, the idea was for Ashly and her father to surrender to U.S. authorities. They assumed the pair would eventually be freed and would be able to move on to Batres' brother's home in Maryland. Batres would find work through his brother, Ashly would enroll in school and the mother would join them when they were settled.
In an interview at her home, Gonzalez recalled what she told Ashly in April before father and daughter embarked on their journey: "I pray to God that he watches you on the route. And I want you to understand that I am not giving you away. I love you. You are taking part of my heart with you."
::
Shortly before 11 a.m. on May 7, a U.S. Border Patrol agent observed four people walking north from the Rio Grande, about a mile and a half east of downtown El Paso, according to a court affidavit. Batres was among them.
He "admitted to being a citizen of Guatemala with no immigration documents allowing him to be legally present in the United States," the agent stated.
Batres was arrested along with "a family member," U.S. Immigration and Customs Enforcement confirmed in an email statement to the Los Angeles Times.
According to Batres, his daughter was taken away from him a few hours after his detention. That was after a grueling, almost monthlong overland trip through Mexico with scores of other Central Americans, he said.
On May 31, Batres pleaded guilty in U.S. District Court in El Paso to a misdemeanor charge of illegal entry. Batres had no criminal record or previous immigration violations, court papers show. He was sentenced to time served, and fined $10. He was held at an immigration lockup in Chaparral, N.M. Like other deportees, he refers to his confinement cell as la hielera, or the icebox, because of the frigid air conditioning settings.
According to the ICE statement, Batres "requested to be returned to Guatemala without his family member." U.S. immigration authorities say parents have the option to wait in detention to be removed at the same time as their separated children. Defense attorneys have said there is no real choice and have denounced the process as coercive.
Batres said he doesn't recall agreeing to be removed without his daughter. But he adds that he is not quite sure what documents he signed. Batres never learned to read or write.
After Batres and Ashly were detained, relatives say, the family didn't know where Ashly was for weeks. But she finally managed to phone the uncle in Maryland.
The girl has since called home on several occasions via a shelter caseworker. She reached Batres on June 27 — the first conversation between father and daughter since the two were separated, he said.
"Ashly is a little sad, but she's all right," said Batres, whose sagging spirits were clearly lifted by the call.
Her question for her father: When would she get out?
The phone number of the caseworker who telephoned the family appears to be linked to the Phoenix-area operations of Southwest Key Programs, a Texas-based nonprofit that has received about $1 billion in federal funds to house unaccompanied migrant children between 2015-2018. The caseworker and a representative of Southwest Key declined to comment, citing privacy concerns.
Back in Guatemala, Batres said he feels worse than when he was a prisoner in New Mexico.
"At least when I was there I was closer to Ashly," he explained, his voice a whisper.
His family wants the child to be sent to live in Maryland. Placing Ashly in the uncle's custody could take weeks to arrange, experts said, as relatives must undergo extensive vetting before U.S. authorities agree to such an arrangement. And returning Ashly to Guatemala may be equally complex, involving a range of logistical and legal hurdles.
Gonzalez, unlike her husband, tends to bare her emotions, and on a recent evening, she sobbed uncontrollably. "My nerves are shot," she said, as a torrential rain pounded the tin roof. "All I can think about is Ashly by herself, alone. We need to get our daughter back. If I had the money I would go back right now to get her." Gonzalez said late Monday she still had not spoken to her daughter since the girl was detained.
Gonzalez says she is against her daughter remaining in the United States if she or her husband can't accompany her.
"I know life is more advanced there [in the United States], and she has her uncle, but a child needs to be with her parents, no?" Gonzalez said. "Yes, it may be good for her to go there, but what about my pain? I can't lose my daughter forever. I can't live with that."
Special correspondents Carolina Gamazo and Liliana Nieto del Rio in Guatemala City and Cecilia Sanchez of The Times' Mexico City bureau contributed to this report.
Twitter: @PmcdonnellLAT
---
Must-read stories from the L.A. Times
Get the day's top news with our Today's Headlines newsletter, sent every weekday morning.
You may occasionally receive promotional content from the Los Angeles Times.