Religious violence is rising in Narendra Modi's India. It might not hurt his reelection hopes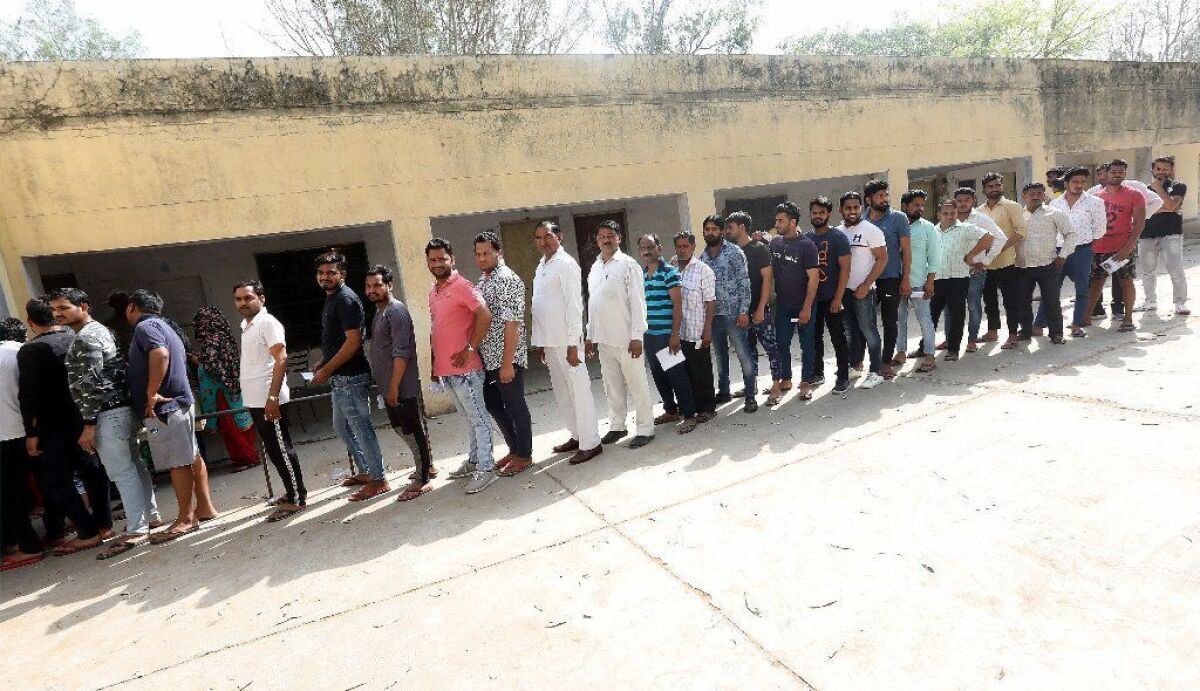 Reporting from Bisara, India —
In this village in the northern Indian state of Uttar Pradesh, a house has sat abandoned for more than 3½ years. It is locked from the outside, and a courtyard accessible from the back is full of geckos scurrying among unruly weeds.
This was the residence of Mohammad Akhlaq, a 50-year-old Muslim man who was beaten to death by a mob in 2015. Akhlaq's perceived crime was that he had killed and eaten the flesh of a cow — an animal that is revered by India's majority Hindu population and whose slaughter is banned in many states.
Relatives said the meat in question was mutton, not beef.
The family has not returned to Bisara since the lynching — an incident that made the village and surrounding town of Dadri synonymous with communal violence and division. It was the first of many high-profile acts of violence by a self-styled cow protection group since Prime Minister Narendra Modi came to power in 2014.
Such incidents have consistently marked his time in office.
According to the data journalism initiative India Spend, 98% of India's 125 cow-related hate attacks this decade have occurred during the tenure of Modi and his Hindu nationalist government. In the past few weeks, a man from a tribal community in the state of Jharkhand was killed was for allegedly cutting meat from a dead bull, while a Muslim man elsewhere was reportedly assaulted by a mob and forced to eat pork, which is forbidden in Islam.
Critics say Modi and leaders of his Bharatiya Janata Party, or BJP, have emboldened vigilante Hindu cow protection groups by failing to act against them and by spouting religiously charged rhetoric of their own. As Modi seeks a second term in a general election with roughly 900 million voters eligible to cast ballots over the next five weeks, the rise in intolerance is a key issue for many.
"The public's way of thinking has changed," said Akhlaq's brother Jan Mohammad. "The divisions that have been created weren't there before.
"When this mob lynching took place I'd never ever heard of an incident like that based on religion. But since then we've heard of so many against Muslims."
In Bisara, where voters went to the polls April 11 in the first of the election's seven phases, Modi's allies continue to exploit the Akhlaq lynching for political gain.
When the BJP took over the Uttar Pradesh state government from a rival party in 2017, Modi installed Yogi Adityanath, a hard-line Hindu priest, as the state's chief minister. Last month, Adityanath gave a fiery speech here accusing the state's previous government of having suppressed the emotions of villagers after the murder and of playing the "politics of appeasement" toward minorities.
As Adityanath spoke, Indian news media reported that all 17 men accused in Akhlaq's killing — out on bail awaiting trial — were in the audience displaying vocal support, some sitting in the front row.
"If the most prominent party in India cannot act against hate crimes and many of their members can make hate speeches, then it means there is a level of social acceptance for those thoughts," said Saba Naqvi, an author and commentator who has covered the BJP extensively.
Adityanath's words have widespread support among Hindus in Bisara who believe the BJP has treated them with greater sympathy than the previous state government. That government was led by the regional Samajwadi Party, and accused of pressuring the police to make arrests in the Akhlaq case without conducting a proper investigation.
The accused include the son and other relatives of a local BJP leader.
"Everyone in this village is definitely voting for the BJP," said Hariom Sisodia, one of the accused in the case, who denies involvement in the killing.
India's Narendra Modi, battling for reelection, gets a questionable Bollywood boost »
Sisodia has gained enough visibility that he briefly considered launching a campaign for Parliament for a small, right-wing Hindu party. He and other villagers boasted of erecting a signboard outside Bisara warning politicians from the Samajwadi Party and another BJP rival that they were "not allowed in the area."
Sisodia insists he is innocent, but his views on Akhlaq's lynching are clear.
"We believe what happened to him was right," he said. "We know the difference between mutton and beef."
Akhlaq's neighbors have grown tired of discussing the case with journalists. But other villagers insist that Hindus and Muslims have long lived peacefully together in the area, describing the lynching as an isolated incident.
"We never had any problems between the two communities," says Santosh, a Hindu leader in the village who knew Akhlaq well and, who, like many villagers, goes by only one name. "This was the first time in my 60 years."
Santosh and many other Hindu residents said the small Muslim population also overwhelmingly supports the BJP. Those claims are difficult to verify, as Muslim villagers were wary of talking to a reporter. They live in a cluster on its outskirts, apart from the Hindu population that outnumbers them by several thousand.
Mohammad, Akhlaq's brother, said that Muslim families moved away after the killing and that fewer than 50 remain — mostly poor laborers who are afraid to speak against the majority.
But one member of the community said he supports his Hindu neighbors.
"I support the BJP. We don't have any problems because of them," said Imran, a shopkeeper.
Imran had little more to say. But he did play down the idea that BJP rule represents a threat to his community and said he was happy with the current government because he has a job.
That point buttresses the view of political analysts who say that Modi's reelection will hinge on perceptions over whether he has delivered on promises of creating jobs and boosting the economy.
Controversial economic policies have hurt his popularity in the business community over the last few years, and in January, a leading Indian business daily reported that the government had tried to withhold the release of data that showed unemployment at a 45-year high.
"The rise in intolerance is an important issue to all right-minded people," said Naqvi, the author. "But as a political analyst … I think that if the ruling party's seats are reduced it's going to be because of economic disenchantment. I don't think people are voting against hate crimes."
It's in this environment that Akhlaq's relatives say they will never return to Bisara, where family members have lived for five generations.
Akhlaq's killers "broke a wall of trust which had been carefully constructed over many years," Mohammad said. "The entire family — his children, brother, wife — have all seen him get murdered. We have been shaken…. How can we go back there?"
Malhotra is a special correspondent.
Must-read stories from the L.A. Times
Get the day's top news with our Today's Headlines newsletter, sent every weekday morning.
You may occasionally receive promotional content from the Los Angeles Times.