Iran suspends death penalty for some drug crimes, potentially sparing thousands on death row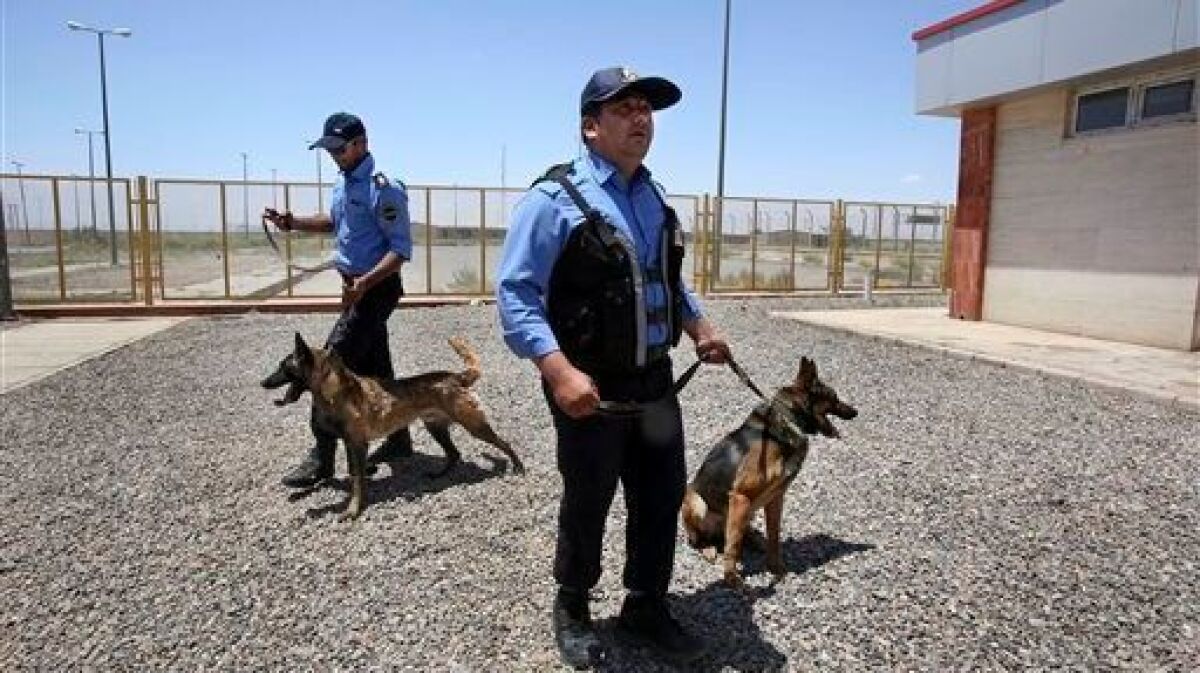 Reporting from Tehran —
Iran has lifted the death penalty for certain nonviolent drug offenses, relaxing some of the world's harshest laws on drug crimes and potentially sparing the lives of thousands of death row inmates.
An amended narcotics law directs judges to suspend executions for 5,000 people convicted of drug-related offenses and review their cases, Mizan news agency, the mouthpiece of Iran's judiciary, reported Wednesday.
Most of the 5,000 convicts would have their punishments "converted to life sentences," Mohammad Ali Esfanani, assistant judge of the Iranian Supreme Court, told state media.
A spokesman for the judiciary committee of Iran's Parliament, Hasan Nourouzi, told the Jam-e-Jam daily newspaper that violent drug offenders — including those who had committed murder in the course of drug crimes — would still be subject to the death penalty if convicted.
But the moratorium on executions for those found guilty of nonviolent crimes — such as drug smuggling — is a victory for reformists and human rights advocates who fought for years to change Iran's draconian drug laws. Proponents of the changes say that 90% of those imprisoned on drug convictions are first-time offenders younger than 30 years old.
The amended law had been in the works for more than two years, ever since a majority of Iran's 290 lawmakers said they endorsed a moratorium. After parliament approved the bill, it won approval from Iran's all-powerful Guardian Council, a conservative body made up of Islamic jurists and theologians.
Hard-liners had long opposed the changes, but the influence of moderates and reformists in parliament, and a rising backlash against executions, has contributed to a softening stance.
Lawmakers have raised the limits on the amounts of drugs one can possess before it becomes a capital offense. An earlier law provided for the death penalty if someone was caught with an ounce of cocaine; the new limit is 4.4 pounds.
Iran is in the grip of a terrible drug abuse problem, mainly driven by easy access to cheap and plentiful narcotics, especially opium, coming over the border from Afghanistan. Health officials say there are more than 2 million drug addicts in a country of 80 million, but doctors say the actual figure is higher.
Iran puts more convicts to death per capita than any country in the world, most for drug crimes. Amnesty International says that since 1988, Iran has executed, usually by hanging, approximately 10,000 people for drug-related offenses.
"If implemented properly, this long-overdue reform will spare hundreds from the gallows, but that should be just the start," Magdalena Mughrabi, Amnesty's deputy Middle East and North Africa director, said in a statement.
"The Iranian authorities must stop using the death penalty for drug-related offenses with a view to eventually abolishing it for all crimes."
Saleh Nikbakht, an Iranian human rights lawyer, said that by making the new law retroactive, Iranian authorities could spare the lives of thousands.
"Now Iran won't be the second country in the world, after China, for most executions," Nikbakht said. "We will have a much lower ranking and that is good news."
Special correspondent Mostaghim reported from Tehran and Times staff writer Bengali from Mumbai, India.
Follow @SBengali on Twitter
---
Must-read stories from the L.A. Times
Get the day's top news with our Today's Headlines newsletter, sent every weekday morning.
You may occasionally receive promotional content from the Los Angeles Times.