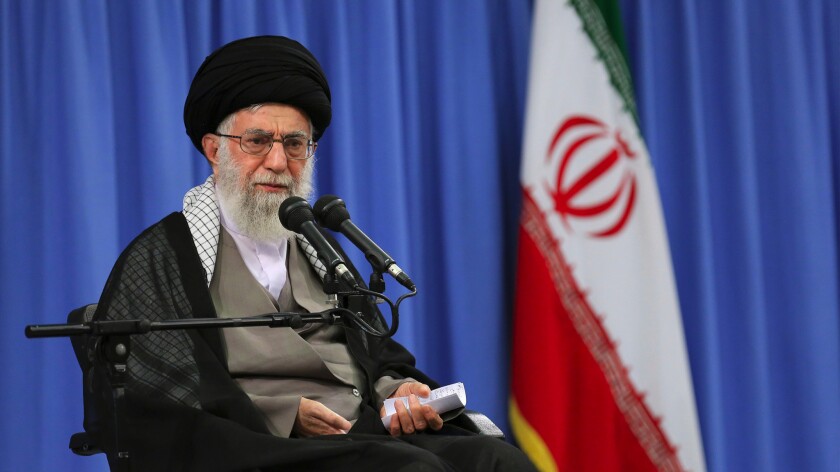 Reporting from Tehran —
A member of Iran's nuclear negotiation team was accused of espionage activities and arrested, the country's judiciary confirmed on Sunday.
A spokesman for Iran's judiciary, Gholamhosein Mohseni Ejehi, told a weekly news conference that a suspect had been released on parole but was still under investigation.
"He is still in limbo and may or may not be convicted," Ejehi said.
Ejehi did not name the suspect. But last week, news agencies loyal to Iranian hard-liners had named Abdolrasoul Dorri Esfahani — a negotiator who was working on lifting economic sanctions in tandem with the nuclear deal — as having been arrested.
That prompted Esfahani to deny reports that he had been arrested, saying that he was free and had not done anything wrong.
The news comes as hard-liners increase their attacks against the agreement that Iran signed last year with six world powers, including the United States, to curb its nuclear program in exchange for a lifting of economic sanctions.
Conservatives have criticized the agreement as a capitulation to the United States, and could use the news of a possible spy on the negotiation team to bolster their argument.
The nuclear deal remains broadly popular among Iranians, but is coming under growing scrutiny ahead of elections scheduled for June. Moderate President Hassan Rouhani is expected to seek a second term by campaigning on the idea that the agreement has helped end Iran's isolation, but many Iranians say that they have not seen benefits from the lifting of sanctions.
Hard-line media organizations reported that the suspect held dual nationality. It was not immediately clear whether Esfahani had dual citizenship, although media reports have identified him as a chartered accountant with memberships in professional organizations in Britain and Canada who also served as an advisor to the governor of Iran's central bank.
Dual nationals have come under increasing surveillance since the nuclear deal. At least six Iranians holding dual citizenship have been arrested since the ndeal, according to family members and media reports.
Experts say the arrests are politically motivated and aimed at undermining Rouhani's outreach to the West.
Special correspondent Mostaghim reported from Tehran and Times staff writer Bengali from Mumbai, India.
ALSO
To understand life in rural South Sudan, talk to this man about his cattle
The war in Syria was already complicated. Now a border skirmish is adding a new level of intrigue
After more than 50 years of conflict, Colombia's FARC rebels are laying down arms
---
UPDATES:
10:50 a.m.: This article was updated with Times reporting.
This article was originally published at 9:30 a.m.
---