More women in Iran are forgoing marriage. One reason? The men aren't good enough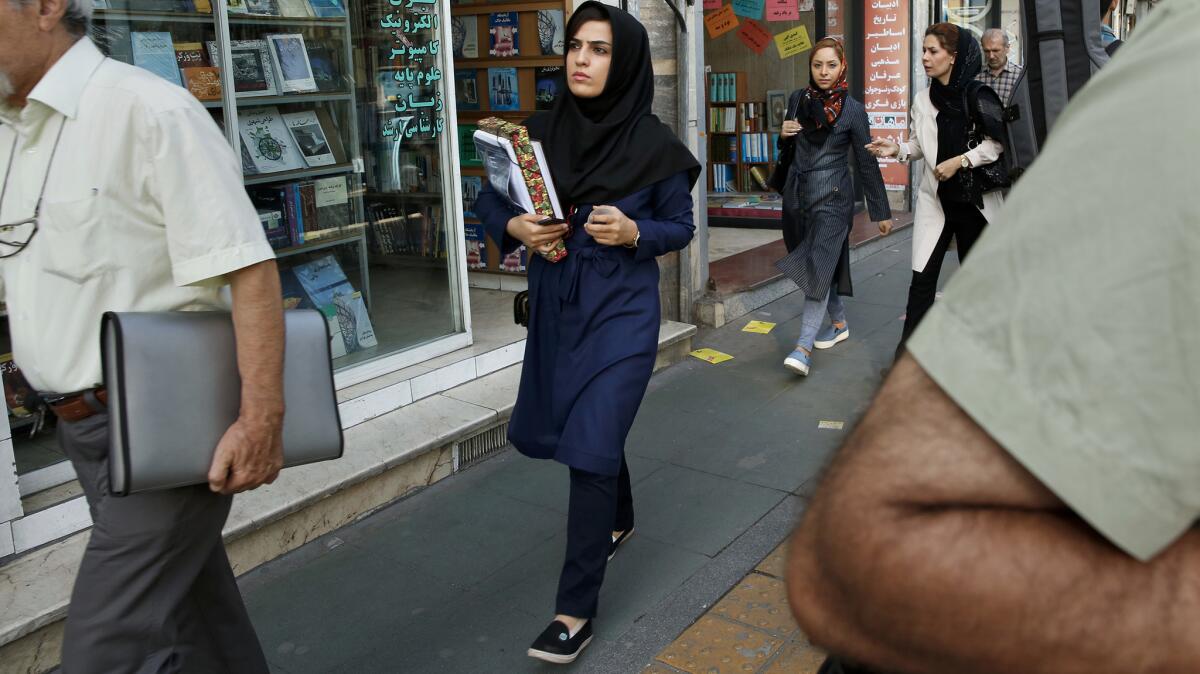 Reporting from Tehran —
Then in her late 20s and rebounding from a string of broken relationships, Fahimeh Azadi moved alone into an apartment in working-class southern Tehran. Her very presence, she recalled, was "a walking challenge to the men."
Azadi had joined a growing number of women in Iran who are electing to remain single, defying their parents' expectations and the strict conventions of the Islamic Republic.
Still, Azadi had to balance independence with caution. She ascended the staircase only when it was clear of neighbors and admonished visiting friends to walk on tiptoes to avoid attracting attention.
But men in the building still wondered about the single young woman upstairs.
"Is she divorced?" one asked a neighbor. The connotation being: Is she available for sex?
"My guard was up," Azadi recalled. "I behaved in a way that men didn't dare poke their noses into my affairs. And I managed to live there for two years without anyone harassing me."
Now 35, Azadi has moved to a more genteel part of town but still lives by herself.
More than 3 million educated Iranian women over 30 are unmarried, according to Mizan, the official news agency of Iran's judiciary. Their numbers are increasing as divorce becomes more common and more women attend universities, exposing them to careers and incomes independent of men who, by law and custom, are supposed to be their guardians.
That is a profound generational shift in a society of 80 million whose theocracy preaches that a woman's main purpose in life is to be a wife and mother. Clerics promote marriage relentlessly and often cite the prophet Muhammad, who is quoted as saying about his own marriage: "He who does not follow my tradition is not my follower."
But as Iran has promoted higher education, throngs of women have answered the call, in part to improve their prospects in a job market stagnating under international economic sanctions. More than 60% of university students in Iran are female, according to official statistics.
But once equipped with degrees, many struggle to find men willing to embrace a more liberated woman.
"Because of higher education, women have higher expectations," Azadi said over tea at Tehran's aging Naderi café, a onetime haunt of artists and intellectuals. A university graduate working as a tour guide, she is fluent in English and Russian.
These days it is difficult to find a really open-minded Iranian man. They are lagging behind us
— Fahimeh Azadi
"You can't marry a normal Iranian man who will limit you and say, 'Don't work; don't go out.' These days it is difficult to find a really open-minded Iranian man. They are lagging behind us."
Azadi, her styled golden-brown hair half-covered by a patterned ivory scarf, described a man she lived with for two years. He came from a well-off family and had studied in Armenia. She broke up with him last year after he refused to let her go out in the evenings alone and interrogated her after parties about men she had danced next to.
Her late father, a goldsmith, and mother supported her decision to remain single — particularly after her older sister, a successful lawyer with a 10-year-old son, divorced a husband who opposed her going on business trips.
"I have made friends on and off with men my age over the years, but none were responsible enough for me to consider marrying or having a child with," Azadi said.
"Older men prefer women who are younger than me, and younger men just want to have sex because they think I don't expect marriage — and because I can afford to pick up the tab at coffee shops."
Several women interviewed spoke with an extraordinary frankness about sex and relationships that would shock Iran's buttoned-up mullahs. That alone reflects how women are asserting themselves, particularly among the urban middle class, where the Internet and Western satellite channels are slowly expanding the boundaries of what is socially acceptable.
That includes more unmarried couples who live together — known as "white marriages" — and more divorces. In the last nine months of 2015, the number of registered marriages nationwide dipped by 3.4%, while divorces rose by 4.2% from the previous year, the state IRNA news agency reported.
Marrying remains a powerful norm in Iran, and many laws still treat women as the property of men. Married women need their husbands' permission to travel outside the country.
In 2013, the parliament attempted to pass legislation that would have required single women of any age to get their father's consent to travel overseas. Women's rights groups rose up to defeat the proposal.
"Thanks to women asserting their power, attitudes are slowly changing, and society is accepting the economic independence of women," said Sara Mahtabi, a 33-year-old unmarried ski instructor.
Mahtabi fell in love in her early 20s, but her first boyfriend was unwilling to introduce her to his devout parents. A more recent relationship with a suave computer expert broke up when he told her he would only marry a virgin.
"The way he dressed was as fashionable as any European," Mahtabi said, "but mentally he was an old-timer."
But with so much of Iranian life centered on the family, many single women struggle with loneliness. The slim, dark-eyed Mahtabi wonders whether she should lower her standards with the next man she dates.
"On the other hand," she said, "I feel our Iranian boys are not educated enough by our parents to tolerate living with a liberated woman, let alone enjoy it."
Abidar Dadman, a 37-year-old bank employee studying for a master's in international business, recently dated a man who was uncomfortable with the fact that she earns about $300 a month more than he does.
He would bring up money at odd times, she said. Sometimes he would slip in underhanded comments, saying she must have gotten her job through family connections.
Eventually, she dumped him.
"My shrink says I'm torn between my duty as a woman and living my life," Dadman said.
"I am soul-searching. We educated Iranian girls are stuck between tradition and modernity. I just want to be a decent girl who is a traditional mom and at the same time part of modern society."
As divorces become more common, some women are picky about whether to remarry.
Hajar Hasani, a 32-year-old pathologist, divorced her surgeon husband two years ago after his long work hours took a toll on their marriage. He had grown uninterested in sex, she said, although later she found suggestive texts on his phone from nurses and female co-workers.
"I'm trying to learn from my failed relationships and choose a spouse more carefully," Hasani said at a shopping mall café in well-heeled northern Tehran. She already had rejected two suitors, she added, because they seemed mainly to be after sex.
She believes that even many highly educated Iranian men continue to hold regressive views about women.
"I think parents should educate their sons to take responsibility for family life and cultivate their minds — not just make them graduate from universities," Hasani said. "Holding a PhD or an M.S. or an M.A. does not make our boys mature enough."
In many rural areas, attitudes remain staunchly traditional. A 33-year-old theater actress from the Kurdish region of northwest Iran said that marriage prospects in her hometown were limited to truck drivers, and that she would have been forced to become a housewife had she stayed home.
The actress, who asked to be identified as Marziyeh to avoid angering her conservative family, moved to Tehran to study drama over the worries of her parents. She has put thoughts of marriage on hold.
"Any spouse of mine should accept me as I am and adapt himself to my long days and nights of auditions, rehearsals, production and studying my lines," Marziyeh said. "I want to start a family and have one or two children, but not at any cost."
But she remains hopeful — because of the growing ranks of single women like her. "The quantity of educated women will change the quality of men someday," she said. "Until then, we will keep fighting with tradition."
Outside, Marziyeh stepped into a taxi and rode back to the apartment she shares with a single girlfriend. She had a date that night.
Mostaghim is a special correspondent.
Follow @SBengali on Twitter for more news from South Asia
ALSO
Pastry, fat, and perfection: A recipe for Baghdad's favorite breakfast food
A reluctant Islamic State fighter insists he never wanted 'to get my hands bloody'
China's version of Black Friday — the world's biggest shopping day — is expected to surpass $20 billion in sales
Sign up for Essential California for the L.A. Times biggest news, features and recommendations in your inbox six days a week.
You may occasionally receive promotional content from the Los Angeles Times.