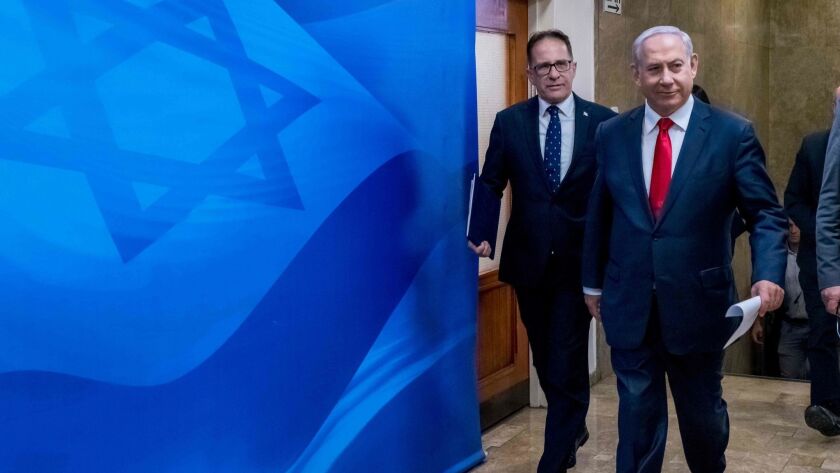 Reporting from Tel Aviv —
Facing a looming deadline, Israeli Prime Minister Benjamin Netanyahu struggled to form a new government Sunday, and his party began preparing the nation for the possibility of new elections.
Last month, Netanyahu and his natural allies on the right came out on top in a hotly contested race in which he faced political novice Benny Gantz, a former army chief of staff, running in partnership with centrist Yair Lapid, a former minister of finance.
Under Israeli law, Netanyahu was then tasked to form the next government by President Reuven Rivlin. But with no coalition agreement signed and less than three days left to form the government, Netanyahu may find himself unable to do so.
On Sunday, Likud legislator and Netanyahu ally Miki Zohar submitted a bill to dissolve the Knesset, which, if successful, would bypass Rivlin's right to then nominate the leader of another party, likely Gantz, to make his own attempt to form a new government.
Israeli citizens do not vote for individual candidates but for political parties, and Netanyahu's Likud and Gantz's Blue and White party came in nearly even, with 36 seats for Likud and 35 for Gantz's party out of 120 in the Knesset, Israel's parliament. To form a government, Netanyahu has been seeking the support of smaller parties that won seats, including ultra-Orthodox Jewish religious parties and the secular nationalist Yisrael Beitenu party of Avigdor Lieberman, his former defense minister.
Publicly, the reason given for the current stalemate is an intractable conflict between Lieberman and the religious parties regarding a law on the military draft of ultra-Orthodox young men, most of whom are currently exempt from Israel's universal draft of high-school graduates.
While Netanyahu may still find a last-minute solution to keep power, a raft of political and legal crises have brought him close to the May 29 deadline — with a shrinking range of options.
The central issues of the recent election -- his legal entanglements, new legislation that could transform Israel's democracy and equality among citizens -- appear the principal obstacles bedeviling his political future.
Netanyahu has been fighting off indictments since February, when Atty. Gen. Avichai Mandelblit announced his intention to formally charge the prime minister with fraud, breach of trust and bribery, pending a hearing scheduled for October.
Netanyahu, while campaigning, promised he would not support any legislation that could provide him with immunity while in office or otherwise lessen his legal burden.
But once he won, Netanyahu's first steps were exactly those he promised not to undertake, including his failed attempt, two weeks ago, to insert into any coalition agreements, which are signed contracts, a commitment to support a bill granting legal immunity to the head of the government and another bill that would allow the Knesset to override Supreme Court decisions.
The draft bills appeared designed to retroactively grant Netanyahu almost absolute protection from legal prosecution, and have thrown Israel into an uproar that has included an emergency summit of top Israeli lawyers and jurists calling on the public to "save the rule of law."
Late Saturday night, tens of thousands of Israelis rallied in central Tel Aviv in the first opposition protest since the April 9 elections, a protest organized by opposition parties and civil society groups.
Speakers returned again and again to the theme of Netanyahu's attempts to "weaken Israel's democratic space," in the words of Ayman Odeh, chairman of the Arab-Jewish Hadash party and one of the evening's speakers.
Red hats in the form of traditional Turkish fezes were handed out to the crowd. And to further draw a parallel to events underway in a favorite nearby vacation spot for Israelis, Yair Lapid exhorted rally-goers not to allow Netanyahu to turn Israel into Turkey under President Recep Tayyip Erdoğan, whose rule has brought a significant rollback of civil liberties.
"We will not let you be Erdogan, we will not have a Turkish dictator here, we will not let you destroy the country!" Lapid said. "What does he think, that we'll sit here quietly? That he'll destroy the courts and we'll be silent?"
Using a common nickname for Erdoğan, "the sultan," Gantz declared, "We will not let Israel become the private mansion of a sultan or a royal family."
Using refrains familiar to Americans, candidate Netanyahu had been able to fend off the claims by referring to the investigations into his activities as part of a "left-wing witch hunt" aimed at toppling his rule.
But having won and immediately moved to secure legal immunity from the charges, Netanyahu now appears more vulnerable to the accusations.
The notion of a looming sultanate under Netanyahu echoed throughout the evening, with left-wing Meretz party leader Tamar Zandberg calling the efforts at legal immunity "a disgrace."
"No one is above the law," she said. "We do not have a king in Israel. We do not have a czar or a sultan."
In the crowds thronging the square in front of Tel Aviv's opera house, a different word was repeated: fear.
"I am very afraid," said Amos Morris- Reich, a professor who had driven down from Haifa with friends to join the rally. "This is not just talk any more, but a real threat to our democratic institutions and to our Supreme Court. It is impossible not to be afraid."
Late Sunday, a subdued Netanyahu posted a video in which he said he was engaged in "a final effort to avoid unnecessary elections" and was inviting potential coalition partners to a meeting to discuss a new compromise. Following the session, ultra-Orthodox parties appeared to have accepted his proposal, which was quickly rejected by Lieberman.
Tarnopolsky is a special correspondent.
Netanyahu says Trump named Iran's Revolutionary Guard a terrorist group at his request »
---