Mexico City is building what would be the world's third-largest airport. But a popular vote might kill it
Reporting from Mexico City —
The sprawling new airport under construction on the outskirts of Mexico City is one of the most ambitious infrastructure projects in this country's history, with a $14-billion price tag.
It's also one of the most controversial public undertakings in recent memory, with Mexico's incoming president, Andres Manuel Lopez Obrador, once describing it as a "bottomless pit of corruption."
Now, Lopez Obrador is putting the question of whether Mexico should go forward with the new airport to a popular vote, holding a nationwide referendum on the issue.
The public consultation, held at 1,073 polling places over four days ending Sunday, is an unprecedented step for Mexico, whose constitution does not spell out the effect of referendums. It so far appears to have been rife with irregularities, with some Mexicans reporting harassment at polling locations and others saying they were allowed to cast ballots multiple times.
The stakes are high for Mexico's economy and for Lopez Obrador, whose populist platform helped him win in a landslide and who will take office Dec. 1.
Lopez Obrador has vowed to cancel the airport project if it is rejected by voters, which would set him on a collision course with business interests and a powerful group of investors that includes Mexico's wealthiest man.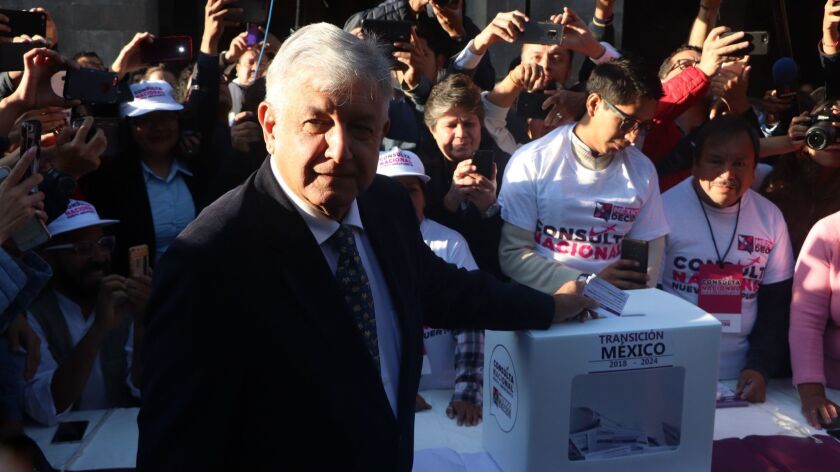 There is no question that Mexico City's current airfield, Benito Juarez International Airport, is woefully inadequate. The aging facility serves more passengers than any other airport in Latin America — nearly 50% more people than it was originally designed for.
But exactly how to address the problem has been the subject of intense debate.
In 2014, President Enrique Peña Nieto announced plans for construction of a vast new airport on a marshy wetland in Texcoco, about 14 miles north of the city's historical center. High-profile investors including billionaire tycoon Carlos Slim quickly signed on to build the project, which was designed by award-winning British architect Norman Foster and Mexican architect Fernando Romero, who happens to be Slim's son-in-law.
With three runways and a futuristic-looking terminal shaped like an X, the airport would be the largest in the Americas and the third-largest in the world. It is already about a third completed.
But the project is fiercely opposed by residents of Texcoco, who say it will threaten one of the city's last remaining wilderness areas, and by critics who point to the ballooning price tag as evidence of corruption. The airport was originally due to open in 2020 and cost $8.7 billion, but is now scheduled to open two years later and cost about 40% more.
Then there's the matter of the ground where the new airport is being built. Like the rest of the city, it is a former lake bed that was filled in by Mexico's Spanish conquerors, and is rapidly sinking. Environmental reports show that the ground in Texcoco is sinking at an even higher rate than the rest of the metropolis.
Lopez Obrador, whose pledge to end Mexico's rampant corruption helped him win more than 50% of the vote in this summer's presidential election, promised to cancel the new airport project as a candidate, despite the billions of dollars already spent. As an alternative, he proposed continuing to use the existing airport while adding a second one at a Mexico City military base.
After he was elected, Lopez Obrador changed course, saying he would let voters decide. The referendum kicked off Thursday and ends Sunday, with results expected Sunday night.
His strategy has been praised by some as democracy in action while harangued by others who say most voters don't have the technical knowledge to make an informed decision about such a complicated infrastructure project.
Interviews with voters at several polling sites suggest the referendum has been plagued with irregularities.
Mexico City resident Javier Montesinos, 32, said he voted four times in the referendum in favor of the new airport. He said he voted multiple times to prove that the referendum, which is being run by volunteers, is poorly organized and unreliable.
"It's not cheating, it's demonstrating that the consultation is a farce," Montesinos said. "I worry that the Lopez Obrador government is like this consultation: a mockery, a farce."
Rosario Diaz, 42, said she was able to vote against the new airport without displaying her federal voter card.
She said the organizer asked her first if she planned to vote against the new airport. "If you said yes, they told you it did not matter if you don't have your voter card," she said.
Others said they welcomed the process to vote directly on a project that will impact the lives of many.
"Do you prefer decisions to be made unilaterally, as former presidents have always done?" asked Dolores Servin, a 22-year-old university student. "Lopez Obrador wants our opinion, and that seems extraordinary to me. I am very much in favor of these consultations, of being asked what I want for my country."
On Friday, as reports mounted over possible voting irregularities, Lopez Obrador described the process as "a clean, credible democratic process," and said nobody would dare alter the outcome.
In a statement, he said that 250,000 people voted on Thursday, a small fraction of Mexico's population of 130 million.
He has pledged to hold referendums on other issues, including Peña Nieto's controversial energy reforms, which opened Mexico's oil sector up to foreign investment.
"We are going to govern like this," he said in his statement, "asking the people."
Twitter: @katelinthicum
---
Must-read stories from the L.A. Times
Get the day's top news with our Today's Headlines newsletter, sent every weekday morning.
You may occasionally receive promotional content from the Los Angeles Times.