Mexico's finance minister quits abruptly, sending peso tumbling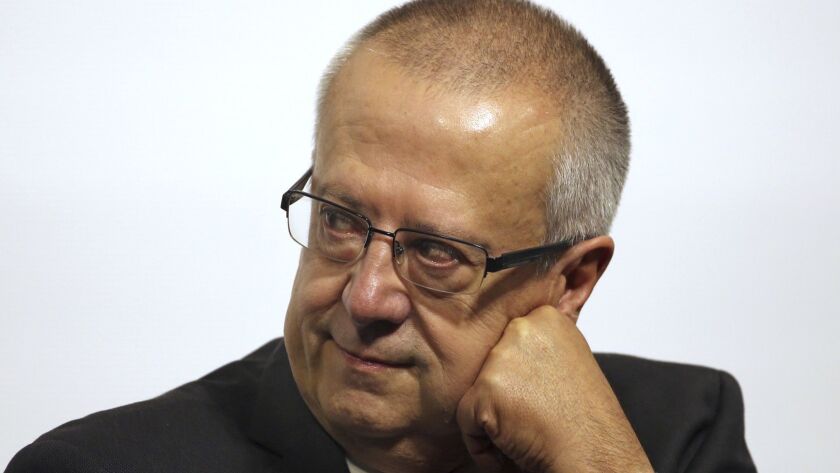 Reporting from Mexico City —
Mexico's finance secretary abruptly resigned Tuesday over disagreements with the left-wing government of President Andres Manuel Lopez Obrador, which he accused of fiscal "extremism."
The unexpected departure of Carlos Urzua seven months into Lopez Obrador's presidency sent stocks and the peso plunging and renewed worries among investors still wary after the president's cancellation of a $13-billion airport project that was underway outside Mexico City.
It also highlighted what some analysts view as a growing schism within Lopez Obrador's administration between fiscal conservatives and those who believe major economic changes are needed to achieve the social development the president has promised.
In his resignation letter, Urzua complained that Lopez Obrador and his team had appointed officials to his secretariat "who don't have any knowledge of public finance" and who have advocated for policy decisions based on political ideology rather than sound economics. Urzua said that some of those officials had been appointed by "influential people in this government who have obvious conflicts of interest."
Urzua had been a longtime Lopez Obrador ally, serving under him as finance secretary when Lopez Obrador was mayor of Mexico City.
The president responded to news of Urzua's departure with a video on Facebook in which he said Urzua is obviously "not happy about the decisions we are taking."
"Because this is a change, a transformation, sometimes people don't understand we can't continue with the same strategy," said the president, who was elected in a landslide last year after vowing to combat Mexico's endemic corruption and gaping inequality. "We cannot put new wine in old bottles."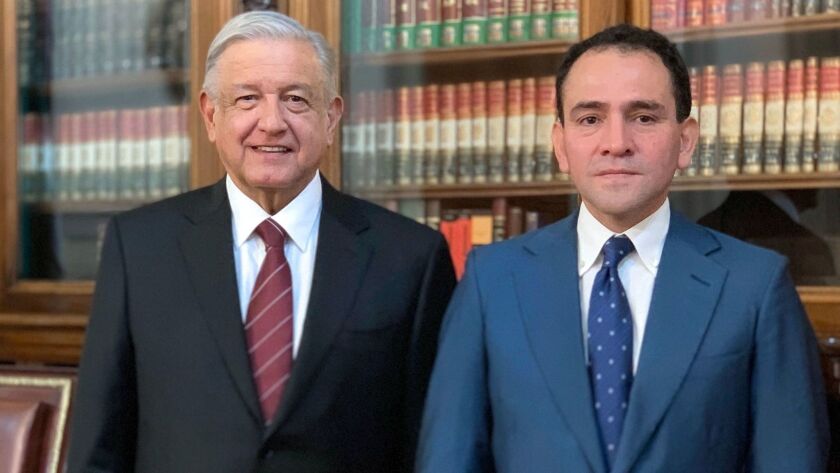 Lopez Obrador appeared in the video alongside Urzua's replacement: Arturo Herrera Gutierrez, who had served as assistant secretary in the finance secretariat. Herrera, the president said in a tweet, possesses "virtues of humanism and honesty."
The peso fell more than 2% on the dollar on news of the shakeup, though it later recovered slightly. Business leaders, many of whom have long been critical of Lopez Obrador, reacted with dismay.
Gustavo de Hoyos Walther, president of the Employers' Confederation of the Mexican Republic, wrote on Twitter that his organization was concerned by "the denunciations of extremist visions and decisions without sustenance" in the finance secretariat.
"Uncertainty reigns across the country," his group said in a statement last week. "One year after winning the elections and seven months after beginning his mandate, the strategies of President Andres Manuel Lopez Obrador on economic, security, immigration and infrastructure projects generate uncertainty and worry."
Alfredo Coutiño, Latin America director for Moody's Analytics, said it was not a secret that there were disagreements within Lopez Obrador's government over economic policy.
Urzua had publicly opposed a law proposed by Lopez Obrador's Morena party to reduce bank fees. He also opposed a proposal that the government dip into central bank reserves to fund infrastructure plans.
Some bickering is to be expected with any government, Coutiño said, "but there should be a consensus in terms of what the administration wants to do in the country."
Lopez Obrador personifies those tensions.
Trump vs. Lopez Obrador: Two very different leaders face off over tariffs »
In some ways, he can be a pragmatist, such as last month, when he agreed to step up Mexico's enforcement of migration laws in order to avoid tariffs threatened by President Trump.
But he has also made bold moves, significantly reducing the budgets of many government agencies and launching a social program that provides cash transfers to the elderly, the disabled and young students. Then there was the cancellation of the airport project, which he said was beset by corruption.
During the presidential campaign, many powerful business leaders publicly opposed Lopez Obrador, calling him the next Hugo Chavez and warning that his leftist economic policies could turn Mexico into Venezuela, a country plagued by food shortages, crime and crippling inflation since Chavez's death.
Lopez Obrador criticized his opponents as the "mafia of power," accusing them of wielding their political influence for personal gain.
After the election, Lopez Obrador vowed to make to peace with his former foes, and to take steps to reassure investors that Mexico is a safe bet. Still, lingering concerns have resulted in a reduction in investments, and the economy this year is forecast to grow less than 2%.
Cecilia Sanchez in The Times Mexico City bureau contributed to this report.
ALSO:
A Mexico City queer bar resists attacks with love and cumbia
Mexico dodged tariffs but still could face major costs under new U.S. deal
In Tijuana mayoral race, businessman claims victory over tough-talking ex-cop
---
Must-read stories from the L.A. Times
Get the day's top news with our Today's Headlines newsletter, sent every weekday morning.
You may occasionally receive promotional content from the Los Angeles Times.