After Trump agrees to meet its leader, North Korea goes silent, raising questions about a summit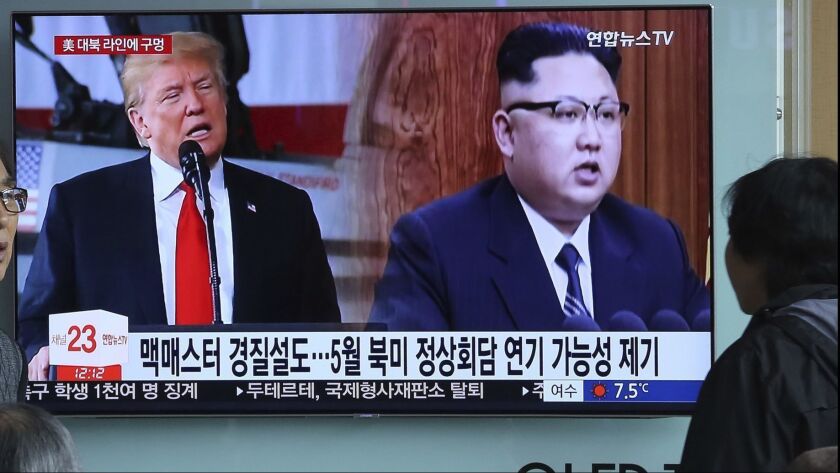 Reporting from Seoul —
Since the blockbuster announcement that North Korean leader Kim Jong-un wanted to meet with President Trump and the U.S. president had accepted the invitation, North Korea has largely gone silent.
It's led to speculation about when, where — and even whether — such a meeting will take place, especially given the diplomatic and security advance work typical for such high-stakes talks. The Trump administration said the summit could happen as early as May.
"There has been an expectation that there would be more productive conversations, and that has not materialized," said Scott Snyder, a senior fellow for Korean studies and director of the program on U.S.-Korea policy at the Council on Foreign Relations. "People are waiting to see that."
Kim's government has yet to discuss the summit — which would be the first for a sitting U.S. president and a North Korean leader — in state media, a primary tool for communicating with outsiders. It hasn't even confirmed offering the meeting, much less potential sites.
The lack of public momentum in recent days likely reflects the secrecy of the totalitarian state, whose rapid development as a nuclear nation shocked the international community last year. North Korea remains an enigma to Western spy agencies. The apparent lack of movement perhaps also reflects the ongoing tumult inside the Trump administration.
The president, for example, last week fired his chief diplomat, Secretary of State Rex Tillerson, and a long-rumored shake-up on his national security team could be looming.
Still, subtle signs of progress were evident this week.
Trump and South Korea's pro-dialogue president, Moon Jae-in, discussed the potential summit on Friday. Trump reiterated his desire to meet Kim by the end of May, and both leaders expressed "cautious optimism" about recent developments on the peninsula, the White House said in a readout of the discussion.
Those developments have included an overture by Kim — who oversaw numerous illicit test missile launches and a hydrogen bomb detonation in 2017 — about his desire for the North to participate in the Winter Olympics, held in Pyeongchang, South Korea, last month.
The statement led to a flurry of inter-Korean diplomacy, offering hope of reduced tensions and better relations, which have soured in recent years as the North defied the international community and stepped up its nuclear development.
The South soon afterward invited the North to the Games, with the two sides agreeing to march together under a neutral unification flag during the opening ceremony. They also competed with a combined team in women's hockey.
That breakthrough led to more dialogue, with North Korea reportedly open to discussion of a thorny but key goal for Seoul and Washington: denuclearization.
That then led to the scheduling of a summit between Kim and Moon next month at Panmunjom, a diplomatic outpost along their highly fortified shared border. Preparations for that meeting are continuing partially in public at the Blue House, the South's presidential complex.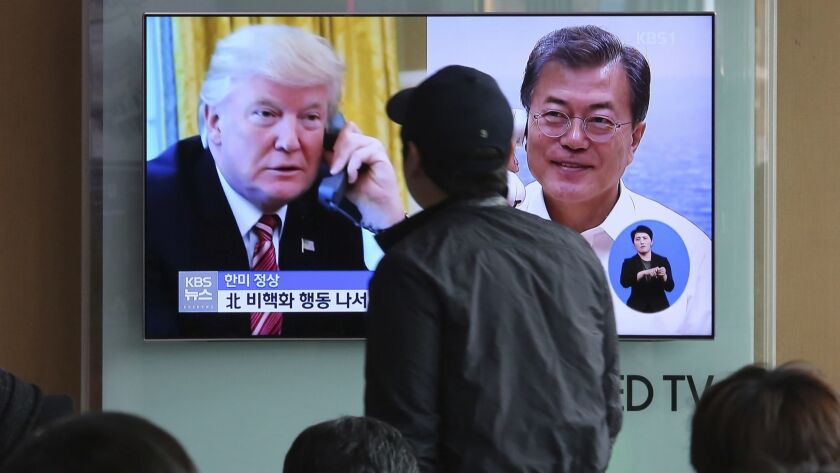 Moon's office said Friday that its planning team hoped to focus the meeting on security issues, not economic cooperation, a change from two earlier summits in 2000 and 2007 between South Korean leaders and Kim Jong Il, the current leader's late father.
The two nations remain divided after a cease-fire agreement that ended Korean War hostilities more than six decades ago.
Some Korea experts believe that meeting could pave the way for any summit between Trump and Kim, despite the recent silence by Pyongyang.
"What happens at the Moon-Kim meeting is going to be consequential for whether and how a Trump-Kim meeting takes place," said Dave Kang, a USC professor who heads the school's Korean Studies Institute. "We're treating these things as independent, but they are intimately linked. They are sequential."
Another potential sign of progress came late this week as the North's foreign minister, Ri Yong Ho, flew to Sweden to meet with his diplomatic counterpart there, Margot Wallstrom.
The Scandinavian nation serves as an intermediary between the North and the United States, which don't share official diplomatic relations.
Of course, this being North Korea, there is some chance that they will have cold feet at the last minute.
Go Myung-hyun, research fellow at the Asan Institute for Policy Studies in Seoul
The Korean Central News Agency, a key arm of the North's state media, said only that the meeting was intended for "bilateral relations and issues of mutual concern."
Go Myung-hyun, a research fellow at the Asan Institute for Policy Studies in Seoul, suggested patience. He said the meeting in Sweden, for example, is a sign that preparations between Pyongyang and Washington could be starting, even if opaquely.
"North Korea has a genuine intention to speak to Trump, so I think a summit will take place," he said. "Of course, this being North Korea, there is some chance that they will have cold feet at the last minute."
Much remains at stake, however, and the time for setting goals about finding common ground at any meeting grows shorter by the day, some observers said.
The uncertainty remains despite some difficult subject matter, which includes historically intractable issues such as North Korea's nuclear program, international sanctions, and the United States' military presence in and annual war exercises with South Korea.
There are also logistical considerations, even if Trump believes he can craft a deal without the typical preparation by diplomats and national security staffers.
Where might the two leaders meet, for one?
Even for routine trips, a president's security and diplomatic staffs typically scout and prepare travel routes and lodging weeks in advance. Helicopters, secure vehicles and communications equipment must be shipped early.
Many experts believe it unlikely that Kim, who attended school in Switzerland but isn't known to travel outside the North and has never met with a foreign head of state, would be willing to go far.
One possible location might again be Panmunjom, the location for the Kim-Moon summit. But it, too, offers hurdles. When Trump visited South Korea last year, the president sought to visit the site but his helicopter was forced to return to Seoul after smoggy conditions reduced visibility.
For some observers, such as Snyder, the Korea expert from the Council on Foreign Relations, the uncertainty increases as each day passes.
"If we don't see some progress," he said, "it will increasingly raise questions about whether this is feasible — or whether we really want it."
Stiles is a special correspondent.
---
Must-read stories from the L.A. Times
Get all the day's most vital news with our Today's Headlines newsletter, sent every weekday morning.
You may occasionally receive promotional content from the Los Angeles Times.