Russia says it might have killed Islamic State leader in airstrike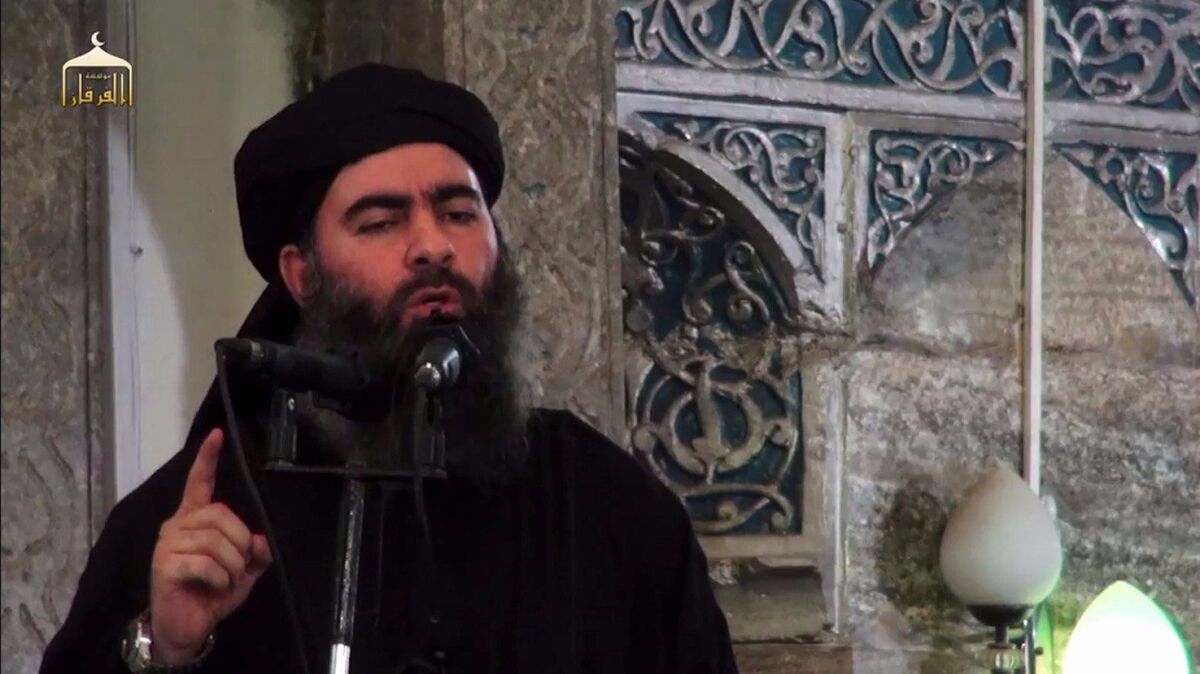 The Russian military said Friday it is investigating whether an airstrike in the Syrian desert has killed Abu Bakr Baghdadi, Islamic State's self-described "caliph."
The death of one of the world's most wanted jihadist leaders would be a military victory for Russia and a setback for the militants, who are battling for control of strongholds in Iraq and Syria, including their de facto capital in Raqqah.
"If confirmed, Baghdadi's death will be a powerful blow to the IS. It has been retreating on all fronts, and the death of its leader will accelerate its demise," tweeted Alexei Pushkov, the head of the upper house of the Russian parliament's committee for information policies.
Igor Korotchenko, a member of the Russian Ministry of Defense's Public Council, an advisory board, said the death of the Islamic State leader would dramatically change Russia's operation in Syria, speeding their war on terrorism.
"It fundamentally changes the course of the military operation, because the command center, the 'brains of the organization' is destroyed, and the remaining terrorists will be less effective," he told the Russian newspaper, Evening Moscow.
Baghdadi, whose real name is Ibrahim Awwad Ibrahim Ali Badri Samarrai, may have been killed when the Russian Air Force struck a meeting of Islamic State leaders on May 28 outside Raqqah, according to a statement released by the Russian Defense Ministry.
"According to information which we are checking through various channels, the leader of the Islamic State, Abu Bakr Baghdadi, was at the meeting and the strike destroyed him," the statement said, adding that the Russian military was still investigating.
Among other militant leaders killed in the raid, according to the statement: Abu Khadji Mysri, Ibrahim Naef Khadj and Suleiman Shauah.
Baghdadi, believed to be in his early 40s, has a $25-million U.S. bounty on his head. Since taking the reins of the group in 2010, he has become perhaps the most powerful and influential jihadi militant in the world, a former Islamist preacher who threatened to rewrite the map of the Middle East.
U.S. officials said they could not immediately say whether the Russian strike had killed Baghdadi. "We cannot confirm these reports at this time," said Col. Joe Scrocca, a spokesman for the U.S.-led coalition.
"We have no information to corroborate those reports," related to Baghdadi's death, said Pentagon spokesman Capt. Jeff Davis.
Even senior Russian officials said Baghdadi's death had not been fully confirmed. "I don't have 100% confirmation on this information," Foreign Minister Sergei Lavrov said.
Even if he is dead, it may not have a significant lasting effect on the militant group's operations, Lavrov added. In the past, reports of the deaths of such militant leaders "were always submitted with great pomp," he said. "But experience shows that these structures then restored their fighting capacity and continued their activity in the form of ISIS, Al Qaeda, and its many incarnations, including the [former] Nusra Front."
There have been previous reports of Baghdadi's death, only to be followed by the shadowy militant's reappearance somewhere.
Rita Katz, director of the SITE Intelligence Group, which monitors extremist organizations, said that with Russia's "sturdy" intelligence in the region, it seems unlikely Moscow would not already have confirmation if Baghdadi were indeed killed.
At the same time, not too much can be read into the fact that Islamic State has not issued any statement, she said.
"ISIS isn't too consistent about when it confirms leadership deaths. It took the group three weeks to confirm the death of its 'Minister of Media,' Abu Muhammad al-Furqan, but just hours to confirm the death of its former spokesman, Abu Muhammad al-Adnani," she noted.
Raqqah has been under attack by American-backed Kurdish and Arab ground forces in recent weeks, with support from a U.S.-led coalition of Western and Arab air forces. The Russian defense ministry statement said the U.S. was warned of the May 28 strike.
It was unclear whether the Russian military had targeted Baghdadi, or learned of his presence at the gathering after the strike.
The Britain-based Syrian Observatory for Human Rights reported airstrikes south of Raqqah May 28 that killed 18 people, including 10 Islamic State fighters. The local activist group Raqqah is Being Slaughtered Silently reported that 17 civilians were killed in a strike that day in the same area.
Baghdadi declared Islamic State's caliphate in Syria and Iraq in June 2014, days after capturing Mosul, Iraq's second largest city.
He has since remained underground, silent even after Adnani, one of his closest associates, was killed in an airstrike in August. The last time Baghdadi spoke out was in an audio released Nov. 3, in which he urged followers to defend Mosul against an offensive launched the month before by the Iraqi armed forces and the U.S.-led military coalition.
His silence since has led to rumors that he was wounded or killed. A number of reports claimed the leader had holed up in a safe house in Baaj, near the desolate border of Iraq and Syria. But when Iraqi forces swept through the area earlier this month, there was no sign of Baghdadi. Iraqi military commanders believed he was somewhere in the deserts of eastern Syria.
Special correspondent Ayres reported from Moscow and staff writer Hennessy-Fiske reported from Beirut. Staff writer W.J. Hennigan in Washington and special correspondent Nabih Bulos in Irbil, Iraq, contributed to this report.
ALSO
Islamic State rarely carries out terrorist attacks in Iran. How does Iran prevent them?
Battle begins for Islamic State's last stronghold in Raqqah
Corpses being dumped in Iraq show signs of torture, execution — and Iraqi forces may be responsible
---
UPDATES:
2:15 p.m.: The article was updated with comments from an analyst.
8:55 a.m.: The article was updated with an additional comment from the Russian foreign minister.
6 a.m.: This article was updated with staff reporting.
2 a.m.: This article was updated with a statement from U.S. officials.
This article was originally published at 12:55 a.m.
Must-read stories from the L.A. Times
Get the day's top news with our Today's Headlines newsletter, sent every weekday morning.
You may occasionally receive promotional content from the Los Angeles Times.