Sarin used in deadly April 4 attack in Syria, watchdog probe finds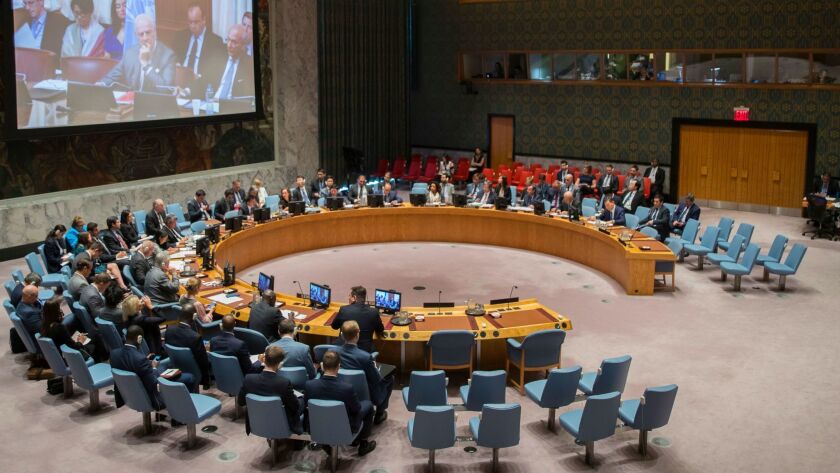 An investigation by the international chemical-weapons watchdog confirmed Friday that sarin nerve gas was used in a deadly April 4 attack on a Syrian town, the latest confirmation of chemical weapons used in Syria's civil war.
The attack on Khan Sheikhoun in Syria's Idlib province left more than 90 people dead, including women and children, and sparked outrage around the world as photos and video of the aftermath, including quivering children dying on camera, were widely broadcast.
"I strongly condemn this atrocity, which wholly contradicts the norms enshrined in the Chemical Weapons Convention," Organization for the Prohibition of Chemical Weapons Director-General Ahmet Uzumcu said in a statement. "The perpetrators of this horrific attack must be held accountable for their crimes."
The investigation did not apportion blame. Its findings will be used by a joint United Nations-OPCW investigation team to assess who was responsible.
The U.S. State Department said in a statement issued Thursday night after the report was circulated to OPCW member states that "the facts reflect a despicable and highly dangerous record of chemical weapons use by the Assad regime."
President Trump cited images of the aftermath of the Khan Sheikhoun attack when he launched a punitive strike days later, firing cruise missiles on a Syrian government-controlled airbase from where U.S. officials said the Syrian military had launched the chemical attack.
It was the first direct American assault on the Syrian government and Trump's most dramatic military order since becoming president months before.
Syrian President Bashar Assad has denied using chemical weapons. His staunch ally, Russian President Vladimir Putin, said earlier this month that he believed the attack was "a provocation" staged "by people who wanted to blame him (Assad) for that."
Both the U.S. and the OPCW were at pains to defend the probe's methodology. Investigators did not visit the scene of the attack, deeming it too dangerous, but analyzed samples from victims and survivors as well as interviewing witnesses.
"A rigorous methodology was employed for conducting an investigation of alleged use of chemical weapons that took into account corroboration between interviewee testimonies; open-source research, documents, and other records; and the characteristics of the samples including those provided by the Government of the Syrian Arab Republic," the OPCW said in a statement.
The Syrian government joined the OPCW in 2013 after it was blamed for a deadly poison gas attack in a Damascus suburb. As it joined, Assad's government declared some 1,300 tons of chemical weapons and precursor chemicals which were subsequently destroyed in an unprecedented international operation.
However, the organization still has unanswered questions about the completeness of Syria's initial declaration, meaning that it has never conclusively been able to confirm that the country has no more chemical weapons.
ALSO
Who is spying on Mexico's opposition leaders, journalists and activists?
Germany's Merkel doesn't mention Trump ahead of G20, but calls 'isolationism and protectionism ... delusional'
Pope Francis' pledge of 'zero tolerance' for sex abuse faces a test: A top Vatican official is charged
---
Must-read stories from the L.A. Times
Get all the day's most vital news with our Today's Headlines newsletter, sent every weekday morning.
You may occasionally receive promotional content from the Los Angeles Times.