Taiwan loans Nicaragua $100 million in ongoing bonding between isolation nations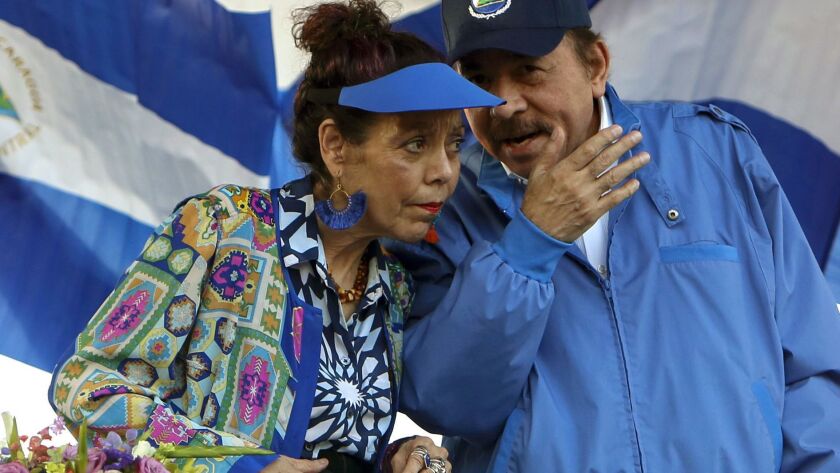 Reporting from Taipei, Taiwan —
Taiwan, which counts Nicaragua as one of just 17 formal diplomatic allies, has given the similarly isolated Central American nation a $100-million-loan to help it ease a stubborn deficit on the heels of nearly a year of protests and riots.
As it hopes to persuade President Daniel Ortega from switching recognition to China as five other countries have done since mid-1916, Taiwan is providing the cash to rebuild infrastructure wrecked by the ongoing street violence.

For the record:
4:05 p.m. Feb. 25, 2019In the Feb. 24 Section A, an article about a Taiwanese loan to Nicaragua said five countries had switched diplomatic recognition from Taiwan to China since 1916. The correct year was 2016.
Nicaragua faces a $320-million deficit caused by the civil unrest because at least two normally helpful countries in Europe are no longer pitching in. U.S. officials, for their part, believe Ortega has cracked down too hard on protesters, some of whom have demanded the longtime leader resign.
China, backed by a $12 trillion-plus economy, frequently outbids Taiwan on development aid to make nations switch allegiance, the foreign ministry in Taipei has said. China claims sovereignty over Taiwan and believes the self-ruled island has no right to conduct foreign relations. Taiwan rejects that view.
"In a way, the two countries have no choice," said Jonathan Vasquez, 27, a Nicaraguan national studying for a master's degree in Taiwan. "Taiwan has fewer allies, and it could lose Nicaragua to China."
In Managua, protests began last spring to urge changes in Nicaragua's Social Security system and a speedier government response to a wildfire in a biological reserve. Nicaraguan soldiers, police and other government-affiliated agents have reportedly killed more than 300 protesters and injured thousands more.
Last July, the White House announced it had confiscated U.S.-donated vehicles and suspended future donations in response to Ortega's crackdown. The U.S. also accused the onetime revolutionary hero for the leftist Sandinista Front, and his wife, Vice President Rosario Murillo, of having "brutalized their own people."
Luxembourg and the Netherlands also suspended assistance last year and a European Parliament delegation urged Ortega last month to release political prisoners.
Taiwan normally aids its allies with smaller dollar amounts compared to China and allocates it for more specific uses, such as loans for highway construction or medical system upgrades.
The Taiwan government seldom discloses aid amounts, with experts saying that citizens might otherwise accuse their government of checkbook diplomacy to vie against China.
"A lot of people will have their suspicions, especially as our own economy isn't so strong," said Gratiana Jung, a political science PhD candidate at National Taiwan University. "You can't vie with China on money or quantity of aid, but you can on quality."
Still, Taiwanese voters have said they expect their government to foster foreign relations to the degree that some countries will speak on its behalf in the United Nations. China has effectively barred Taiwan from U.N. agencies since the 1970s.
The U. S. also wants other countries to recognize Taiwan, said William Sharp, an Asia-specialized lecturer at the University of Hawaii at Manoa. Washington does not formally recognize Taiwan but counts it as one of several Asian democracies that can help it check the expansion of China.
The White House pledged "a reevaluation of our relationship with El Salvador" after that Central American country dropped ties with Taipei in favor of Beijing in August.
Washington will probably stay quiet about the $100 million loan if it helps Ortega remain allied with Taiwan, Sharp said. "Who's he going to be replaced by?" he asked. "That person could be even more nefarious than Ortega."
Ortega himself hasn't always been close with Taiwan. A year after he first became president in 1984, the left-leaning leader cut ties and recognized China. After he lost a reelection bid in 1990,his successors resumed relations with Taiwan.
Jennings is a special correspondent.
---
Must-read stories from the L.A. Times
Get the day's top news with our Today's Headlines newsletter, sent every weekday morning.
You may occasionally receive promotional content from the Los Angeles Times.