On the Ground: The spirit houses of Bangkok keep watch over a frenetic modern Thai city
Reporting from BANGKOK, Thailand —
In the shadows of Bangkok's glinting high-rises, the plazas of sprawling shopping malls and the cozy courtyards of simpler neighborhoods sit countless tiny monuments to Thais' enduring belief in the supernatural.
These miniature shrines, perched on pedestals and topped with sloping roofs, are known as spirit houses. Government buildings have them. So do five-star hotels, apartment buildings, offices, cafes and beauty parlors across Thailand's frenetic capital city.
Resembling elaborate dollhouses, they shelter the spirits that are thought to watch over that piece of land — a deity, guardian of the soil or the ghosts of former inhabitants.
More than 90% of Thais practice Buddhism, but the spiritual life of the nation is a rowdy mixture of organized religion and the occult. Astrology, ghosts, Hindu gods, Chinese mythology, magic, superstition and ancient animist beliefs all find a place in modern Thailand — and often side by side, their idols and emblems sharing space under sacred trees and in roadside shrines illuminated by candles and incense sticks.
Some spirit houses are intricate and stunning, carved out of rich teak that signals an owner's wealth, and festooned with ribbons and garlands. More modest ones are fashioned from concrete but enlivened with bright paint — reds, yellows and blues that fade gently over time in the moist tropical air.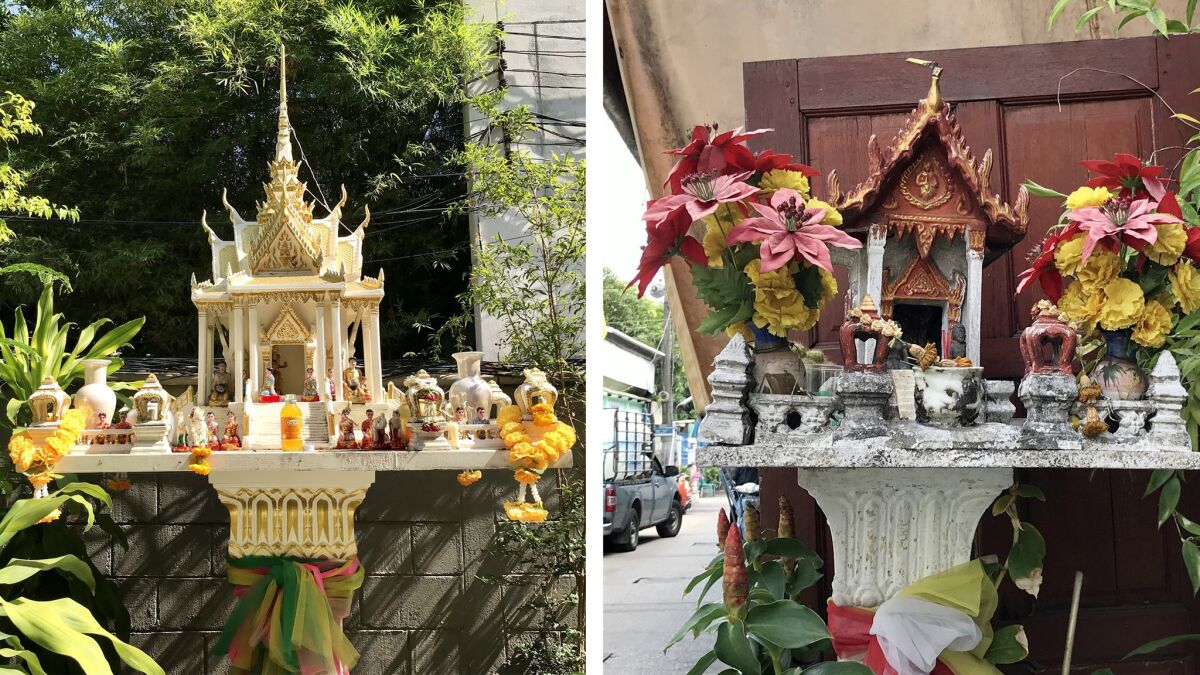 Inside can be found figurines that personify residents' ancestors, or statuettes of horses or elephants that symbolize good fortune. The faithful leave daily offerings of rice, bananas, glasses of water filled to the brim, booze and bottles of sugary soda with straws sticking out.
The drink of choice for spirits, it is said, is strawberry Fanta, because the red color provides a substitute for animal sacrifices, an ancient sign of respect that has fallen out of favor in the modern city.
The common belief is that good spirits, if sheltered and treated with care, will watch over the land and keep the bad spirits away.
"If the spirits live happily, we live happily as well," said Kanokporn Puwasawatt, sitting cross-legged on her weather-beaten porch in west Bangkok, where her family builds some of the only wooden spirit houses still being made in the capital.
A genial 54-year-old dressed comfortably in a T-shirt and loose-fitting cotton trousers, Kanokporn lives and works in a simple, two-story house behind a sliding metal gate in a neighborhood of narrow, maze-like streets paved over with concrete.
Before World War II, when her great-grandfather built the house, the surrounding area was farmland and most of the residents worked for a sawmill. Employees took home scraps of wood and in their spare time built spirit houses to supplement their income, a cottage industry of artisans who each specialized in a particular part of the house, Kanokporn said.
Some built the sturdy pedestals that positioned the house at just the right height — enough to mark respect, but not so high that devotees couldn't leave offerings. Others carved the tower-like spires, known as prangs, that adorned more ornate houses or the patterned, multi-tiered roofs that are layered atop one another like sheets of phyllo pastry.
The sawmill closed during the war, and the craftspeople's children and grandchildren moved on to other professions. Bangkok boomed, and factories in other parts of Thailand began churning out spirit houses using younger, less sturdy wood, or cheaper concrete.
"Before, 30 houses in this neighborhood used to be involved in this craft," Kanokporn said. "Now it's only one."
Read this 1985 Times story on Thailand's 'Spirit of Superstition' »
Her parents carried on the tradition, but her father, worried Kanokporn would become "what we would today call a hipster," pushed her away from studying carving and into computer science. She was working as the manager of a computer company about 20 years ago when her father was stricken with cancer and died.
Kanokporn visited a fortune-teller, who told her she had to take over the family business.
"I liked my job," she recalled. "And I knew nothing about building spirit houses. But I knew I had to do this."
A few years later, her husband died of an illness. Her mother was slowed by age. But the Thai government began to promote her business at cultural fairs, and she landed custom orders from top businesses, diplomats and Thais living overseas.
One day she received a call from the head of one of Thailand's largest conglomerates, who relayed the story of an English friend who had just completed a diving expedition to a centuries-old shipwreck off Sattahip, on the gulf coast south of Bangkok.
The Englishman said he had been visited in a dream by a ghost who instructed him to build a spirit house near that beach, inscribed with the names of the sailors who had died in the wreck.
The tycoon had determined that the apparition was Prince Abhakara Kiartivongse, the 28th child of King Rama V, who ruled Thailand at the turn of the 20th century. The prince founded the modern Thai navy and acquired one of the kingdom's first naval vessels from England as well as designating royal land for a naval base in Sattahip, near the site of the shipwreck.
"I got goosebumps," Kanokporn recalled.
The house she built still stands on the beach, one of her favorite creations. Two other favorite works sit next to each other behind an enclosure in a vast pedestrian plaza outside the MBK shopping center in central Bangkok: a large house standing on one leg and guarded by two elephant statues, and a slightly smaller house on four legs.
On a recent afternoon, as shoppers milled about, worshipers stopped in front of each house to light an incense stick or leave food, bowing their heads in a brief prayer.
The typical house takes Kanokporn a month to build and costs more than $1,000. As Thai families move into smaller residences, there is less space for spirit dwellings.
Kanokporn feared that the family trade, which spans four generations, might not see a fifth. Her two children are seeking careers in tech. She has long searched for an apprentice who might take on the business.
In front of the house she shares with her 80-year-old mother and sitting on a thick pillar in the shade of an overgrown tree was the family's spirit house, made from teak, with a severe triangular roof. Inside was Phra Chai Mongkol, an angel-like figurine that resembles a Hindu deity and protector, holding a sword in one hand and a bag of money in the other.
Outside, Kanokporn had placed a bundle of incense sticks and small statues of horses and elephants, each presented over the years to Phra Chai Mongkol when the family needed a bit of extra luck.
"I don't remember now what each of these animals represented," Kanokporn said with a smile and shrug. "But the spirit has taken care of us."
ALSO
In China, tattoos border on illegal — and they're his life's work
It's like a professional game of tag, only with kicks and tackling, and India is riveted
As Hong Kong grows, locals contend with a big, fat, hairy wildlife problem
---
Must-read stories from the L.A. Times
Get the day's top news with our Today's Headlines newsletter, sent every weekday morning.
You may occasionally receive promotional content from the Los Angeles Times.