Thailand's election mired in controversy as rival parties each claim upper hand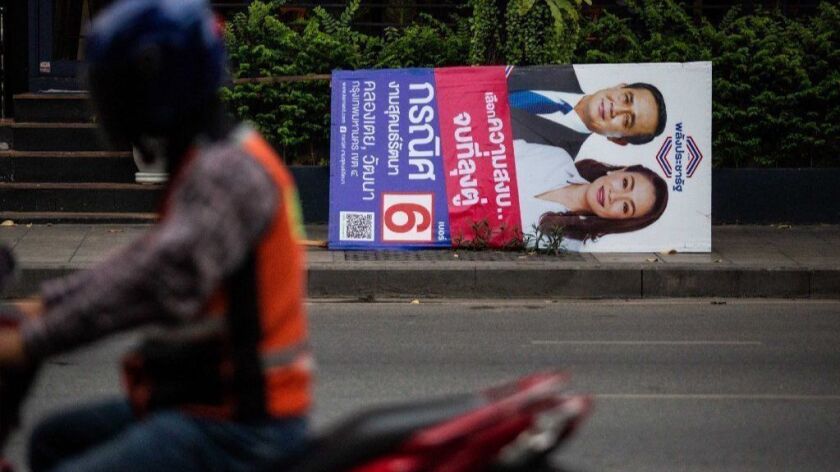 Reporting from Bangkok, Thailand —
Thailand's first election since a 2014 coup was mired in confusion and recriminations Monday after election officials released only partial results.
Two rival parties each claimed the right to form a government, and an exiled former prime minister accused the military government of rigging a vote riddled with irregularities.
What the junta had billed as a return to elected government instead brought more political turmoil to a Southeast Asian kingdom with a long history of weak governments, military takeovers and fitful experiments with democracy.
The junta-appointed Election Commission, which abruptly stopped releasing results hours after the polls closed Sunday, postponed a news conference twice on Monday before announcing it would disclose the winners of 350 directly elected parliamentary seats — but not the vote totals.
Those partial results showed the anti-military Pheu Thai party winning 137 seats, with 95% of votes counted. Palang Pracharat, an army-aligned party whose prime ministerial candidate is junta leader Prayuth Chan-ocha, was second with 97 seats.
An additional 150 seats were still to be decided based on a complex proportional representation system that was being used for the first time, among several new electoral rules introduced by the military government to weaken large opposition parties such as Pheu Thai, which was ousted in the 2014 coup.
Initial projections for those seats could come Friday, when the commission said it would release vote totals that could also slightly shift the results of the 350 elected seats.
But the winners would not be officially announced until May 9, setting the stage for weeks of political jockeying and controversy that could cast a shadow over the lavish three-day coronation of Thailand's king earlier that month.
Many Thais questioned how Palang Pracharat — the vehicle for a military government widely criticized for repression and economic mismanagement — had won 7.6 million votes, compared with about 7.1 million for Pheu Thai, which had led most preelection surveys.
Pheu Thai said that because it had collected the most directly elected seats, it should form a government. Palang Pracharat countered that because its candidates had received more overall votes, it would begin talks with other pro-military parties about forming a majority coalition that could keep Prayuth, a former general, in power as prime minister.
The army also held an ace up its sleeve: the right to name 250 senators who would also have a say in selecting the prime minister, another change it made in the rules starting with this election. That meant Palang Pracharat only needed to control 126 seats in the House of Representatives for a majority.
"We will discuss with parties that share the same ideology and policy direction with Palang Pracharat about forming a government," party leader Uttama Savanayana said. "I believe this is what the people want to see happen."
The dizzying developments and conduct of the Election Commission sparked a furor among Thais who already believed the junta was using the cover of an election to prolong its power. Prachatai, a news website, asked in a banner headline: "The most questionable election in Thai history?"
Thaksin Shinawatra, the exiled former prime minister who backs Pheu Thai, accused the junta of rigging the outcome and said the results wouldn't be respected domestically or internationally.
"Thailand should have a government that reflects the will of the people, not the will of the junta," Thaksin wrote in a New York Times op-ed article published Monday. "This is a terrible, and sad, moment for my country."
Thailand has a history of cracking down on opposition groups and independent media, but analysts said the questions surrounding this election could linger into a new Prayuth administration.
"In the past, there was often an unfair run-up to the election but election day was pretty well handled," said Joshua Kurlantzick, a senior fellow for Southeast Asia at the Council on Foreign Relations. "This doesn't seem like it was well handled."
"It's unfortunate, because even if the irregularities aren't definitive, it's definitely not helping confidence in the election," he said.
Many analysts said Pheu Thai was unlikely to secure many of the 150 "party list" seats because the proportional system devised by the military favored parties that hadn't already won constituency seats.
Pheu Thai was also at a disadvantage because it did not field candidates in dozens of constituencies where it believed an allied party, Thai Raksa Chart, had stood a strong chance of winning.
Thai Raksa Chart was dissolved by a constitutional court this month for the offense of naming King Maha Vajiralongkorn's sister as its prime ministerial candidate. The king, who is revered as godlike under Thai custom, said it would be "extremely inappropriate" for a royal to enter politics.
The election commission said it had received 110 reports of irregularities that would be investigated but did not elaborate.
A new opposition party, Future Forward, which won the third most votes nationwide, said that in 10 constituencies where its candidates lost by fewer than 2,000 votes, it was "suspicious about whether the ballot counting was accurate." The party said it would ask election officials for recounts.
The party urged the commission to quickly release all voting data to allay public concerns about an election that also lacked international observers, which officials had barred from monitoring the process.
If the commission "is really confident about conducting a free and fair election, there are no reasons not to disclose statistical data," said Future Forward's secretary-general, Piyabutr Saengkanokkul. "I would like to urge them to open the information from all polling stations to the public."
Special correspondent Amatatham reported from Bangkok and Times staff writer Bengali from Singapore.
---
Must-read stories from the L.A. Times
Get all the day's most vital news with our Today's Headlines newsletter, sent every weekday morning.
You may occasionally receive promotional content from the Los Angeles Times.