Reporting from Pathum Thani, Thailand —
Somewhere inside a 1,000-acre temple complex north of Bangkok, amid vast symmetrical gardens and a giant pagoda that resembles a gilded flying saucer, an ailing Buddhist monk was believed to be hiding from police.
Followers of the 72-year-old abbot, Phra Dhammachayo, said they haven't seen him in months. But when the Thai military dictatorship sent law enforcement agents into the sprawling compound in mid-February to arrest him for questioning in a fraud case, thousands of devotees rushed inside to stop officers from completing their search.
In Dhammachayo's sleeping quarters, police pulled a blanket off the bed – only to find pillows arranged in the shape of a person.
Officers blocked the complex's dozen entrances and conducted another search on Friday before calling off the operation and declaring the monk a fugitive, ending a theatrical and at times bizarre three-week standoff that showed how even Thailand's powerful junta could not control one of the country's wealthiest and most influential Buddhist sects.
"Today we searched all suspicious areas but didn't find Dhammachayo," the director-general of Thailand's Department of Special Investigation, Pisit Wongmuang, told reporters in Bangkok. "He's considered a fugitive."
The 23-day siege grew from the belief that Dhammachayo had not left the temple complex. But Pisit said border officials had been placed on alert to stop him from fleeing the country – a remote possibility for an elderly monk whose followers say that he has often been bedridden by painful blood clots in his legs, likely the result of diabetes.
"Empty handed," screamed a headline in the online edition of the Bangkok Post.
It was a public relations nightmare for Thailand's junta, which also had to contend with hundreds of temple followers who staged a sit-in at an open-air market across the street, chanting prayers in the withering heat.
"We will stay with him not just for this life, but until the end of the next life," Suratiya Tharanapakorn, a 50-year-old sitting on a plastic lawn chair with her hands clasped, said earlier this week.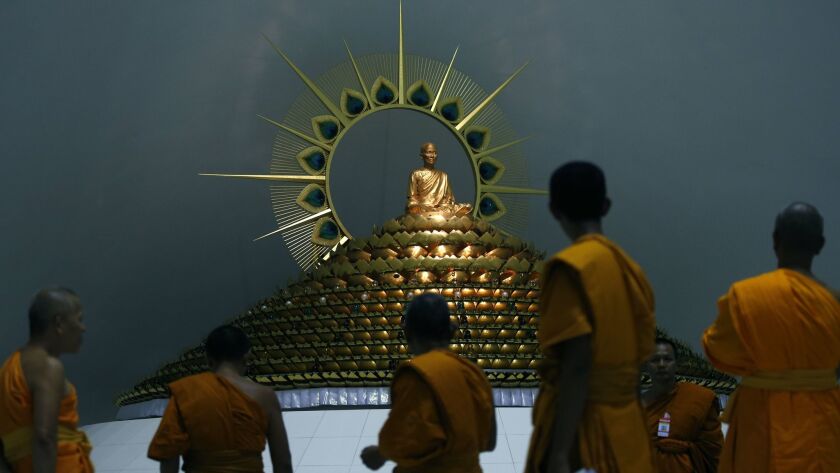 The fugitive abbot's Dhammakaya movement has grown over the past four decades into a national force, attracting hundreds of thousands of followers both in Thailand and overseas on the strength of his sunny charisma and unconventional teachings – including an unabashed embrace of wealth.
In a prosperity gospel reminiscent of America's Christian mega-churches, Dhammachayo has raked in donations by preaching that followers can make merit – the essential Buddhist practice of doing good deeds – by giving to the temple. ATMs are even posted near the UFO-style meditation hall, which Dhammachayo envisions as Buddhism's answer to Mecca or the Vatican, and whose flat, dome-like surface is studded with 300,000 gold-plated Buddha statuettes, each engraved with a donor's name.
His empire includes branches in 33 countries, satellite television stations and a slick public-relations operation that has put out near-daily updates on the temple blockade.
The vast majority of Thailand's 50 million people identify as Buddhist, but many criticize the state-backed version of the faith for becoming overly austere and feudal.
Dhammachayo's message appeals to a large middle class with aspirations of affluence.
"People give money to spread Buddhism, love and kindness," said Watjana Suriyatham, a 51-year-old linguistics professor and temple devotee. "This has happened since the time of Buddha himself."
Detractors say this naked capitalism perverts the Buddhist principle of donating to shed worldly attachments. And they see in the temple's almost fanatical attention to order – its followers often dress in white and are required to place their footwear in precise rows outside the meditation hall – signs of a cult.
"These people have complete faith in him," said Mano Laohavanich, a former senior monk who broke with the temple two decades ago. "The teachings are that Dhammachayo is Buddhism and Buddhism is Dhammachayo."
Dhammachayo's growing popularity and independence have emerged as a threat not only to Thailand's orthodox Buddhist hierarchy but also to the junta itself. The generals are suspicious of any populist movement – particularly one with links to the former prime minister, Thaksin Shinawatra, whom they viewed as a dangerous radical and whose "red shirt" political movement they have crushed since ousting his sister Yingluck in a 2014 coup.
Thaksin's allies are said to frequent the temple, and Yingluck showed her support for the movement by appearing at a massive alms-giving event with Dhammakaya monks in 2012.
For the junta, "there's been discomfort for a long, long time with Dhammakaya and its presentation of Thai Buddhism, its wealth, and its cultishness," said Michael Montesano, co-coordinator of the Thailand Studies Program at the Institute of Southeast Asian Studies in Singapore.
Dhammachayo's appeals for cash are the source of his immediate troubles. From 2009-11, a rich devotee, the chairman of a credit union, allegedly raided his clients' accounts and donated more than $40 million to Dhammachayo and the temple.
The abbot was unaware of the source of the funds, temple officials say, and his followers refunded more than $30 million to the credit union.
Still, Thai authorities say that Dhammachayo must answer questions related to those and scores of other charges – including that the temple complex encroaches on a national forest – dating back decades. They have tried to take him into custody several times in the past year.
Thailand's ruling generals escalated the situation last month by invoking Article 44, a controversial provision in the military-drafted constitution that gave it broad powers to barricade and search the complex. Temple officials said authorities blocked worshipers from entering the grounds, stopped deliveries of food and water and cut phone and Internet connections.
Last week, a woman living behind the temple – but within the blockade zone – died from an asthma attack after paramedics couldn't reach her in time, temple officials said. She was the second person to die since the siege, following a devotee who hanged himself in protest.
"We are trying to exercise our freedom of religion. This is a human right," Phra Palad Sake-san Attatamo, a 34-year-old monk and temple spokesman, said amid a crowd of worshipers at the sit-in.
The junta finally said Friday that it would lift the provision against the temple and called on protesters to return home. But the outcome devolved into the junta's most difficult challenge since taking power – refusing to risk a violent clash with saffron-robed monks, yet having nothing to show for deploying hundreds of police officers and soldiers.
"It's a war of their own choosing," Montesano said. "They're facing the prospect of not getting their own way unless they bash some heads."
Speaking to reporters earlier this week, Defense Minister Prawit Wongsuwan tried to sound confident, saying the army wouldn't allow Dhammachayo to remain in hiding for too long.
But when pressed on how he would end the standoff, Prawit grew impatient.
"What do you want me to do?" he said. "You want me to hit a monk?"
Follow @SBengali on Twitter for more news from South Asia
---