Venezuela's attorney general says prison authorities were negligent in fire that caused deaths of 68 inmates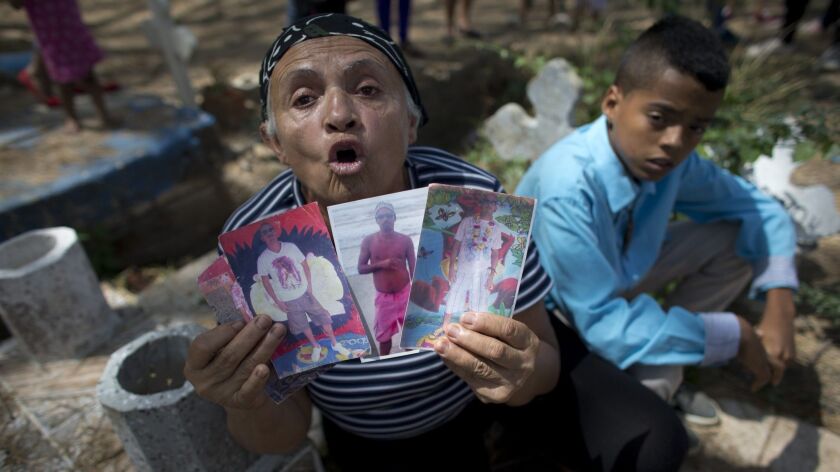 Reporting from Caracas, Venezuela —
Venezuela's attorney general said Monday that five jailed officials had been negligent in their handling of a prison fire that killed 68 people last week in central Carabobo state, and admitted that the country's penal system is seriously overcrowded.
However, in a radio interview, Tarek William Saab shed little light on the causes of the fire and identified only one of those arrested, Carabobo state police subdirector Jose Luis Rodriguez. In addition to Rodriguez, Saab said, four prison guards have been charged in connection with the disaster at a police detention center in Valencia.
"We don't discard the possibility of more arrests," Saab said, adding that the fire investigation will last 45 days. The blaze occurred after an early morning search of cells on March 28 and an ensuing prison riot, local officials have said. Two of the victims were women on conjugal visits.
Saab did cite the prison system's poor conditions, which human rights officials have described as among the worst in Latin America. "An exacerbated overcrowding exists in the police facilities," he told the radio interviewer. Detention areas in police command centers in many cities have been converted to jails to cope with prison overcrowding.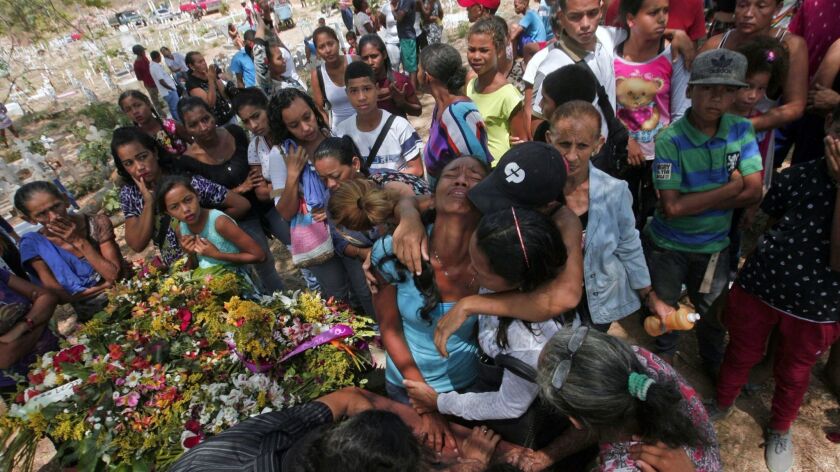 Overcrowding has been blamed in a series of prison riots over the years in Venezuela. A disturbance in the Amazonas state prison last year left 38 dead, and a riot at the Uribana prison in Lara state in 2013 claimed 61 victims.
Saab offered no hypothesis on how the blaze might have started. Unidentified officials have told local reporters that the inmates started it by setting mattresses on fire, while family members have said some guards set the fire in retaliation for the disarming and stabbing of a prison guard during the early morning search.
Saab's comments were the first about the tragedy from the government of President Nicolas Maduro since Saturday, when Saab announced the arrests on Twitter. Distraught family members have gathered around the prison daily to demand that the government explain the blaze's causes and why many of the victims died in their cells.
Others said they have not been told the whereabouts of surviving inmates who have been transferred to other lockups.
Venezuelan law states that prisoners should spend only 48 hours at the detention centers before being taken before a judge to face charges or released. But Saab said Monday that some had spent as long as six years in the Carabobo facility.
The human rights group Window on Liberty, which monitors jail conditions, said 32,600 prisoners are being held in facilities built to hold 8,000. The group said the centers are filthy, poorly outfitted with toilets and that prisoners are poorly fed.
Relatives have also raised questions about the cause of death of many of the victims. Although the government has indicated most died of smoke inhalation or fire, critics have said some victims' bodies bore bullet and knife wounds and signs of beatings.
Humberto Prado, director of the Venezuelan Prisons Observatory civil society group, called on the government to repeat the autopsies of the 68 victims to "dispel doubts…. With these kinds of events, the only witnesses are the police and surviving prisoners."
On Sunday, local news media reported that Carabobo Gov. Rafael Lacava had fired state Police Chief Jose Aldama Reyes and replaced him with Jose Gregorio Dominguez.
Iris Varela, who is Venezuela's minister of penal affairs, denied any responsibility for the disaster.
"The tragedy occurred in police cells that are not the responsibility of the ministry," she said in a radio interview. She also assured listeners that Venezuela's judicial and penal system were "the best in the world."
Special correspondent Mogollon reported from Caracas and Kraul from Bogota, Colombia.
ALSO
In Brazil's Rio de Janeiro, one trauma center has become known as the war hospital
Wanted for murder for decades, two ex-Chilean guerrillas hid in a Mexican town. Then their double lives began to unravel
Actor Diego Luna was a Hollywood golden boy. So why did he go back to Mexico?
---
Must-read stories from the L.A. Times
Get all the day's most vital news with our Today's Headlines newsletter, sent every weekday morning.
You may occasionally receive promotional content from the Los Angeles Times.