Back Story: 5 reasons Vietnam was selected to host Trump's second North Korea summit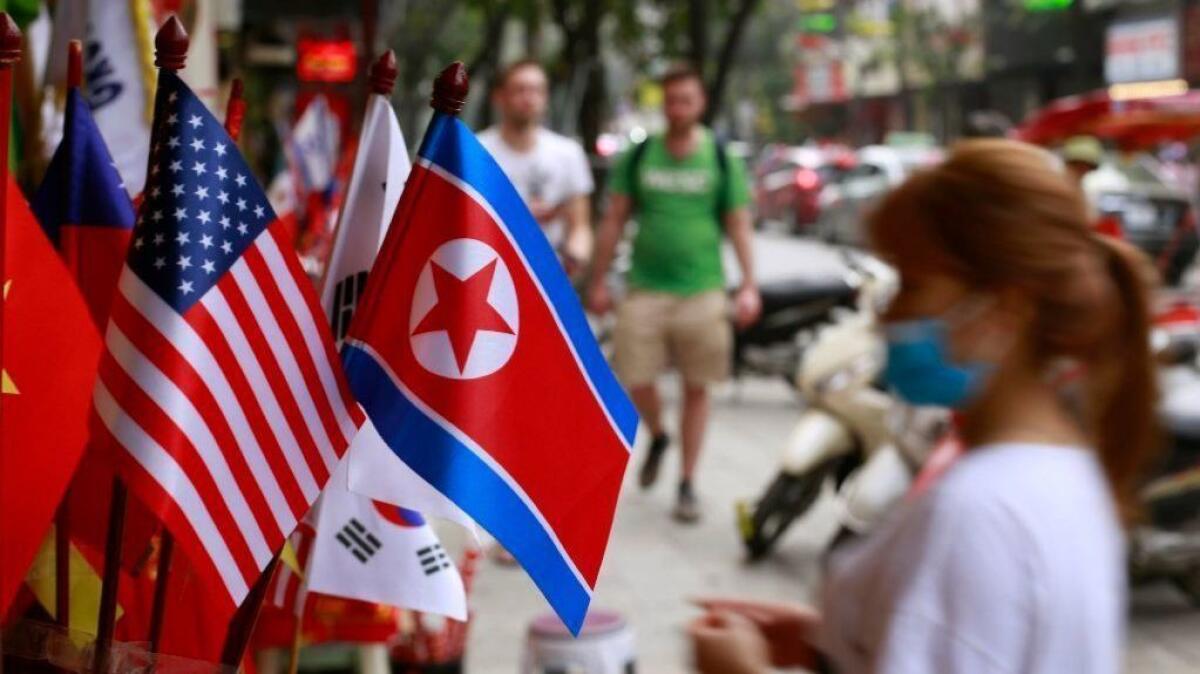 Reporting from Singapore —
When President Trump and North Korean leader Kim Jong Un meet in Vietnam on Feb. 27-28 for a second round of nuclear talks, the world spotlight will shine on a country that has come a long way from the Vietnam War.
The communist-led Southeast Asian nation is now a booming economy and increasingly assertive regional diplomatic player. It is also one of the few nations to enjoy friendly relations with both Washington and Pyongyang.
The first round of talks, held last June in Singapore, produced vague promises by North Korea to dismantle its nuclear arsenal — but no concrete steps to achieve that. Now Trump is trying to demonstrate that his outreach to the young dictator isn't just a diplomatic show.
Experts said that made the selection of Vietnam both practical and symbolic. Here are a few reasons why:
1. Location, location
The host city hasn't yet been disclosed, but one option is Vietnam's capital, Hanoi, which lies 1,700 miles from Pyongyang, North Korea. That's closer than Chicago is to Los Angeles, and it means an even shorter flight for Kim than the one he took to Singapore.
Unlike his late father, Kim Jong Il, who was afraid of flying and used an armored train on his rare foreign trips, the young North Korean leader appears comfortable in the air.
Some experts have doubts about the safety and reliability of the aging Soviet-made planes that make up his reclusive nation's passenger fleet. Rather than risk an embarrassing midair malfunction, Kim flew to Singapore aboard an Air China jet loaned by Beijing.
2. Security
The flight from North Korea to Vietnam would cross only friendly Chinese airspace, making Kim feel even safer. On the ground, the North Korean leader would step into the tight-if-not-quite-suffocating embrace of another one-party state.
Vietnamese authorities exercise significant control over dissent, public demonstrations and the media. A recent anti-corruption crackdown ensnared high-level officials in the Communist Party and at state-owned companies, but drew comparisons to a Chinese-style political purge.
Another possible venue is the coastal city of Da Nang, which has hosted major summits and where warships could be positioned to offer added security, experts said.
The Vietnamese public is broadly enthusiastic about playing host to Trump and Kim, and no one expects any protests or other disturbances to mar the summit.
"In terms of security, in terms of friendliness, it's excellent," said Vu Minh Khuong, an associate professor at the Lee Kuan Yew School of Public Policy in Singapore. "Kim Jong Un for sure will be excited about that."
3. Neutral ground
The U.S. and Vietnam share a bloody history, but the relationship has moved far beyond the 20-year war that ended in 1975 and claimed the lives of 58,000 U.S. soldiers and an estimated 3 million Vietnamese troops and civilians.
Since President Clinton normalized relations with Vietnam in 1995, the countries have developed close economic and military ties, centered in part on shared concerns over China's trade practices and its advances in the South China Sea.
Bilateral trade jumped from $451 million in 1995 to nearly $52 billion in 2016. The Pentagon conducts an annual high-level dialogue with Vietnamese counterparts, and last year Vietnam participated for the first time in the U.S.-led "Rim of the Pacific," the world's largest international maritime exercise.
Ties between Vietnam and North Korea go back further. The countries established diplomatic relations in 1950, and eight years later Kim Il Sung, North Korea's founder and Kim Jong Un's grandfather, visited Hanoi.
In December, Vietnam held a grand celebration commemorating the 60-year anniversary of the visit, including a banquet attended by a North Korean delegation led by Foreign Minister Ri Yong Ho.
Kim Jong Un exchanged New Year's cards with the Vietnamese president, according to North Korean state media.
"There are not many other places that North Korea trusts and the U.S. also trusts," said Joshua Kurlantzick, a senior fellow for Southeast Asia at the Council on Foreign Relations.
4. A source of economic inspiration
A decade after the "American War" ended, as the Vietnam War is known there, the Southeast Asian nation was internationally isolated and starving, a Stalinist experiment in collectivization having left farmers starving and store shelves barren.
In 1986, Hanoi's leadership began the Doi Moi program of liberalization that reopened the country to the world and produced one of the most stunning economic turnarounds in recent times.
Vietnam's economy is expanding by 6% to 7% a year, with bustling small businesses, thriving manufacturing zones and a glittering skyline in Ho Chi Minh City, the former Saigon.
From the archives: Former Times war correspondent David Lamb returned to Vietnam 30 years after the fall of Saigon »
The country's communist leaders have embraced the summit as a chance to advertise itself on the world stage.
"Vietnam is keen to sell its story worldwide to promote its image, and also to improve the international legitimacy of the ruling Communist Party," said Le Hong Hiep, an expert on Vietnam at the Institute of Southeast Asian Studies in Singapore.
The U.S. hasn't exactly been subtle about the lessons it sees for Kim, who has talked of developing his country's centralized economy. Last year, Secretary of State Michael R. Pompeo used a speech to business leaders in Hanoi to address Kim directly, saying: "This miracle can be yours."
State Department spokesman Robert Palladino said Vietnam shows "the possibilities for peace and prosperity," and that the Trump administration is hoping Kim will see it as a model of the kind of growth that can come with more economic flexibility, if not necessarily more political freedom.
5. A model for reshaping U.S. ties
From bitter enemies to trusted partners, the trajectory of the U.S.-Vietnam relationship could excite a young North Korean leader who is said to be enamored of Western culture (particularly NBA basketball).
The rapprochement with Vietnam began slowly, with bilateral efforts to account for prisoners of war. It has expanded to cooperation in repatriating the remains of U.S. service members and cleaning up remnants of Agent Orange, the toxic defoliant sprayed by U.S. warplanes over large swaths of northern Vietnam during the war.
Cultural ties have also grown rapidly. Vietnam is one of the largest sources of foreign students to the United States, sending more than 20,000 annually.
Palladino said Vietnam had become a "close friend and partner" of the United States and shows "the possibilities for peace and prosperity."
Khuong, the professor, is a former North Vietnamese soldier who was trained "to fight Americans to the death." In 1993, he earned a Fulbright scholarship to Harvard.
"You can see the paradigm shift in the minds of the Vietnamese leadership in a short time, and that is very helpful for Kim," he said. "Before, no one hated the U.S. like Vietnam. We totally changed our thinking."
Times staff writers Victoria Kim in Seoul and Tracy Wilkinson in Washington contributed to this report.
Sign up for Essential California for news, features and recommendations from the L.A. Times and beyond in your inbox six days a week.
You may occasionally receive promotional content from the Los Angeles Times.