Chinese spy charged with stealing U.S. aviation secrets and extradited for prosecution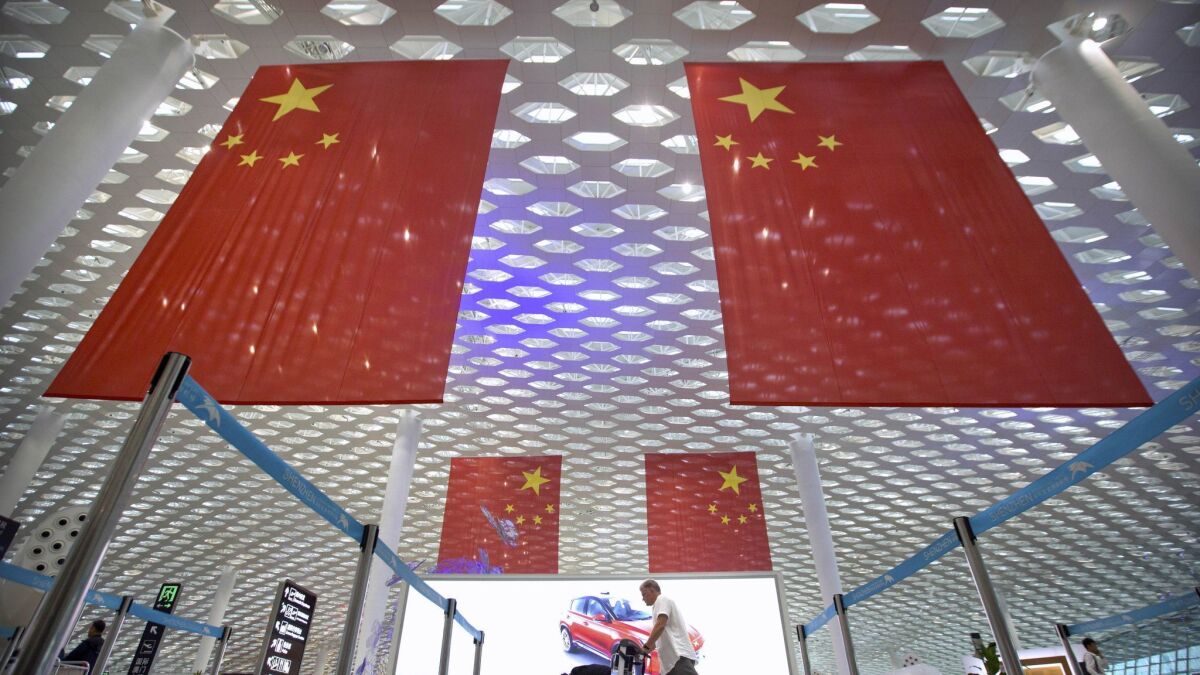 A Chinese spy who allegedly attempted to steal trade secrets from several American aviation and aerospace companies was charged Wednesday and extradited to the U.S. from Belgium.
Yanjun Xu, an operative of the Chinese Ministry of State Security, is accused of recruiting experts who worked at aviation companies and paying them stipends to travel to China in order to obtain trade secrets, the Justice Department said.
From 2013 until he was arrested in April, Xu would recruit employees from major aerospace companies, including GE Aviation, and persuade them to travel to China under the guise that they would give a presentation at a university, prosecutors said. Court papers document how Xu and other intelligence operatives planned to obtain "highly sensitive information" from the experts.
Xu was indicted on four counts of conspiring and attempting to commit espionage and theft of trade secrets.
Federal authorities said it's the first time that a Ministry of State Security intelligence officer has been extradited to the United States for trial.
John Demers, the assistant attorney general in charge of national security, said the case was a "significant economic espionage matter" and was the latest proof that China is trying to steal information from American companies.
Benjamin Glassman, U.S. attorney for Ohio's southern district, said no military information was targeted, but any attempt by other countries to "grow companies at America's expense" is considered a threat to national security.
According to the indictment, Xu recruited a GE Aviation employee, who sent him a presentation in February that contained the company's proprietary information. Xu later followed up with the employee asking for specific technical information and then asked the employee to meet in Europe, where he wanted the worker to provide additional information from GE, according to court papers.
Xu was arrested after traveling to Belgium in April. After his appeals failed, he was extradited to the United States on Tuesday and made his first court appearance Wednesday afternoon in federal court in Cincinnati. It was unclear whether Xu had an attorney.
Glassman spoke of "red flags" in the interactions between Xu and the employee. He said GE Aviation teamed with the FBI but would not indicate which organization alerted the other of suspected espionage. He also declined to specify at what point the employee was made aware of the situation.
Glassman said he had no plans to charge the GE Aviation employee, who no longer works at the company.
A spokesman for GE Aviation, a General Electric Co. division based in suburban Cincinnati that often works under Department of Defense contracts, said it's been cooperating for months with the FBI in a case that targeted a former employee.
"The impact to GE Aviation is minimal thanks to early detection, our advanced digital systems and internal processes, and our partnership with the FBI," spokesman Perry Bradley said.
---
UPDATES:
2:46 p.m.: Updated with a report from the Associated Press.
This article was first published at 1:35 p.m.
Must-read stories from the L.A. Times
Get the day's top news with our Today's Headlines newsletter, sent every weekday morning.
You may occasionally receive promotional content from the Los Angeles Times.