Opposition to extraditing Edward Snowden builds in Hong Kong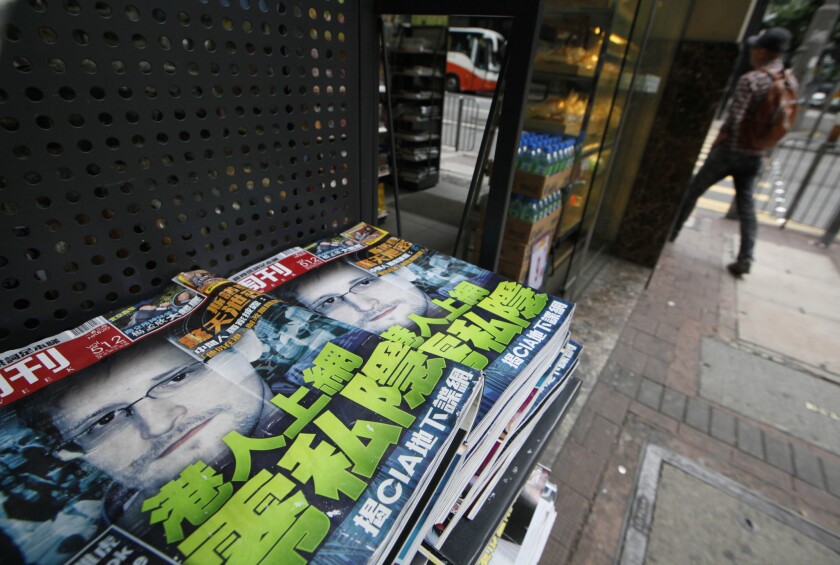 BEIJING -- The case of Edward Snowden, who is accused of criminal theft of government property and other charges in the U.S., has galvanized civic groups in Hong Kong where the self-proclaimed leaker has been holed up for weeks.
Many in Hong Kong regard the decision of whether to extradite Snowden as a test of the city's autonomy vis-à-vis Beijing. The territory of 7 million residents has its own legal system apart from the mainland's.
Hong Kong Police Commissioner Andy Tsang said Saturday during a brief news conference that the matter would be handled according to law. He refused to answer a question about whether Snowden was in a police "safe house."
After initially spending time in a Hong Kong hotel, Snowden reportedly moved to a private residence.
Snowden's revelations that U.S. hacking activities had targeted facilities in the territory have upset many in Hong Kong, where a public opinion poll last weekend found that half of respondents opposed his extradition.
PHOTOS: Famous document-leakers in history
Leaders of the League of Social Democrats planned to march Sunday to the offices of the territory's chief executive, C.Y. Leung, to urge him not to extradite Snowden.
Hong Kong and the U.S. have a treaty that allows for extraditions; however, there are several scenarios under which Snowden might avoid being returned to the United States. The treaty carries an exception for political offenses; some experts say espionage cases could certainly be regarded as political. Snowden could also file an asylum claim.
According to Simon N.M. Young, director of the Center for Comparative and Public Law at the University of Hong Kong, once Hong Kong received a formal request for Snowden's surrender, Leung must decide whether to issue what's known as an authority to proceed.
Hypothetically, Leung could refuse to issue such an authority -- if, for instance, he determines that it would violate Hong Kong law. Hong Kong authorities can't honor the extradition request unless they have some statute in their own law that corresponds with the alleged violation of U.S. law.
Snowden has been charged with theft of government property and two violations of the Espionage Act: unauthorized communication of national defense information and providing U.S. classified intelligence to an unauthorized person.
As to whether those charges might trigger the political offense exception, Young said his initial sense was that the "elements of these offenses exist in neutral terms and cannot necessarily be said to be of a political character."
More important, he said, would be "the surrounding circumstances including the motivation for the prosecution, the unfairness of his trial at home and his likely treatment in custody."
If Leung does issue an authority to proceed, a magistrate can then issue an arrest warrant; in exceptional cases, a provisional arrest warrant may be issued without an authority to proceed. Young said he suspected a provisional warrant had already been issued.
Were Snowden to be detained, Young said, bail is difficult to obtain. He would then go before a magistrate for "committal proceedings" -- during which the judge essentially assesses whether there is sufficient evidence to warrant Snowden's trial.
If the magistrate finds there is insufficient cause to surrender Snowden to the U.S., or determines that doing so would violate Hong Kong law, Snowden could be freed. If the magistrate finds in favor of sending Snowden back to the United States, Snowden could appeal.
Concurrently, Snowden could also file an asylum claim, arguing that he faces political persecution, punishment that would constitute torture, or punishment that is cruel, inhuman or degrading.
"If he goes through the entire process and fights every issue, it certainly could be prolonged," Young said. "The extent to which he's willing and able to do that, it's unclear."
It is not yet clear whom Snowden has retained as legal advisors. On Saturday, the South China Morning Post, a Hong Kong newspaper that has interviewed Snowden, published new details of the alleged U.S. hacking activities in China and Hong Kong.
The paper reported that information provided by Snowden revealed extensive hacking of major telecommunication companies in China to access text messages; sustained attacks on network backbones at Tsinghua University, one of China's most prestigious colleges; and hacking of computers at the Hong Kong headquarters of Pacnet, which owns one of the most extensive fiber optic submarine cable networks in the region.
Leaders of the Civic Party asked U.S. Consul-General Stephen Young in a letter Saturday to respond to Snowden's revelations.
"The U.S. government's attempts to justify such indiscriminate surveillance on the grounds of national security only serves to set a dangerous precedent for authoritarian governments which may use the same excuse to justify violations of human rights and suppression of dissidents," the letter said.
"If the United States wishes to be respected as a champion of rights and freedoms, it is imperative that the serious allegations made by Mr. Snowden are responded to promptly and clearly," the letter added.
ALSO:
Russian human rights activist beaten by police
Palestinians sure this year's 'Arab Idol' is one of their own
India flooding kills nearly 600 and leaves thousands stranded
---
The stories shaping California
Get up to speed with our Essential California newsletter, sent six days a week.
You may occasionally receive promotional content from the Los Angeles Times.