What Obama's visit means for Cuba's national conversation about race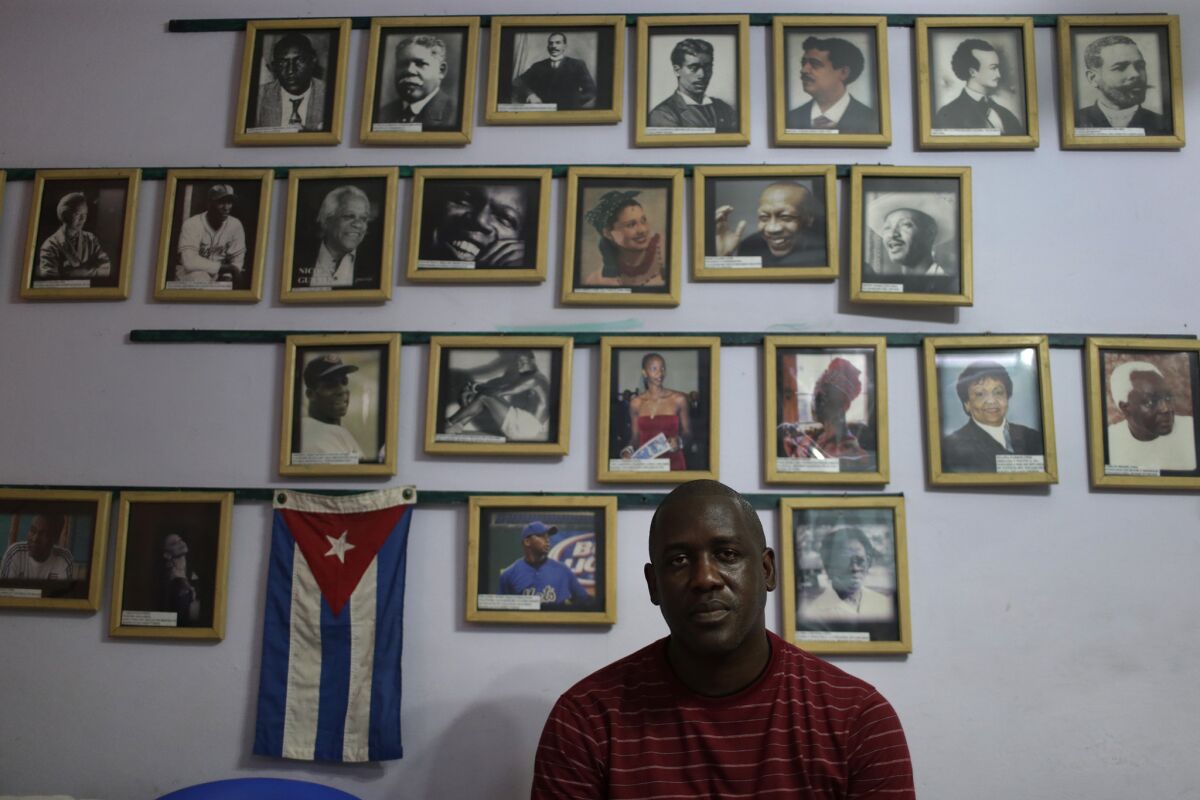 reporting from Havana —
In recent years, Afro-Cuban intellectuals have started gathering in a cramped Havana apartment to discuss a topic long considered off-limits in Cuba: race.
Fidel Castro's communist revolution 60 years ago promised to wipe out racial divisions and level the playing field for all Cubans, regardless of color or wealth. Yet racism persists in Cuba, and many say recent economic changes here have overwhelmingly favored the light-skinned elite.
The historic visit this week of an American president who happens to be black is of special significance to Afro-Cubans, who, like many minorities around the world, view President Obama as a symbol of what is possible. It's of particular importance for the small but growing movement of black activists on the island, who have struggled for years under government pressure, and who hope that warming U.S.-Cuba relations will push Cubans toward greater race consciousness.
"Maybe without an enemy, everyone here can begin to look more closely at things inside our own country," said activist Manuel Cuesta Morua, who said he is one of several Cuban dissidents, most of whom are not black, invited to meet with Obama on Tuesday. "We hope it will help people see the racism here with more clarity, and see that there is diversity, and diverse ways of thinking."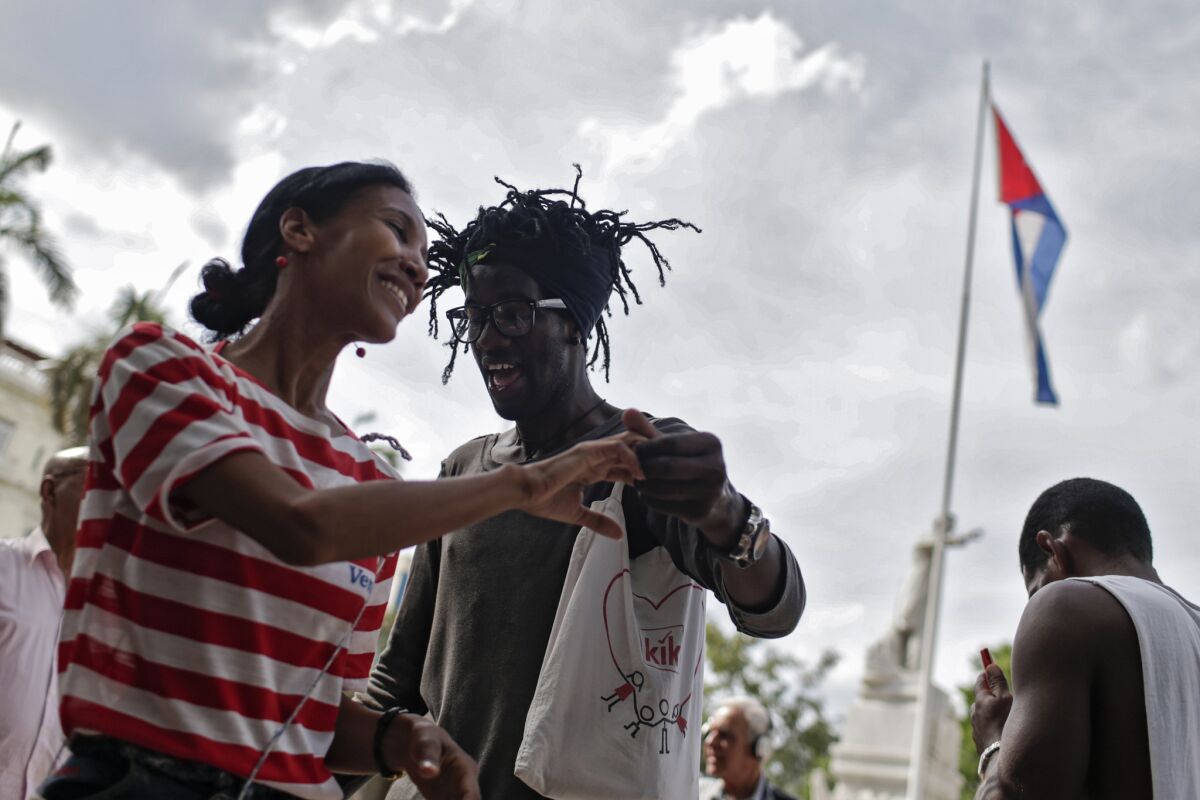 African influences dating back to the days of slavery permeate nearly all aspects of Cuban culture, from the fried plantains served at dinner to the rhythm of the salsa music played on the street. Yet many black Cubans complain of persistent discrimination.
Afro-Cubans are poorly represented in the top echelons of the military and Cuba's Communist Party, and they are often passed over for jobs in the nation's growing tourism sector. Unlike Christians, practitioners of Yoruba, Santeria and other Afro-Cuban religions are barred from establishing their own houses of worship.
Even though a majority of Cubans are mixed race to some degree, jokes about those who are darkest are common. A common phrase – "every sheep with its kind" – is used to discourage interracial coupling.
Dominik Dominco Almonaci, 28, who on a recent afternoon was dancing to a live salsa band in a plaza in Old Havana, said he has been accosted by police for walking with a lighter-skinned woman in his hometown of Santiago. The reason? "My dreadlocks," he said.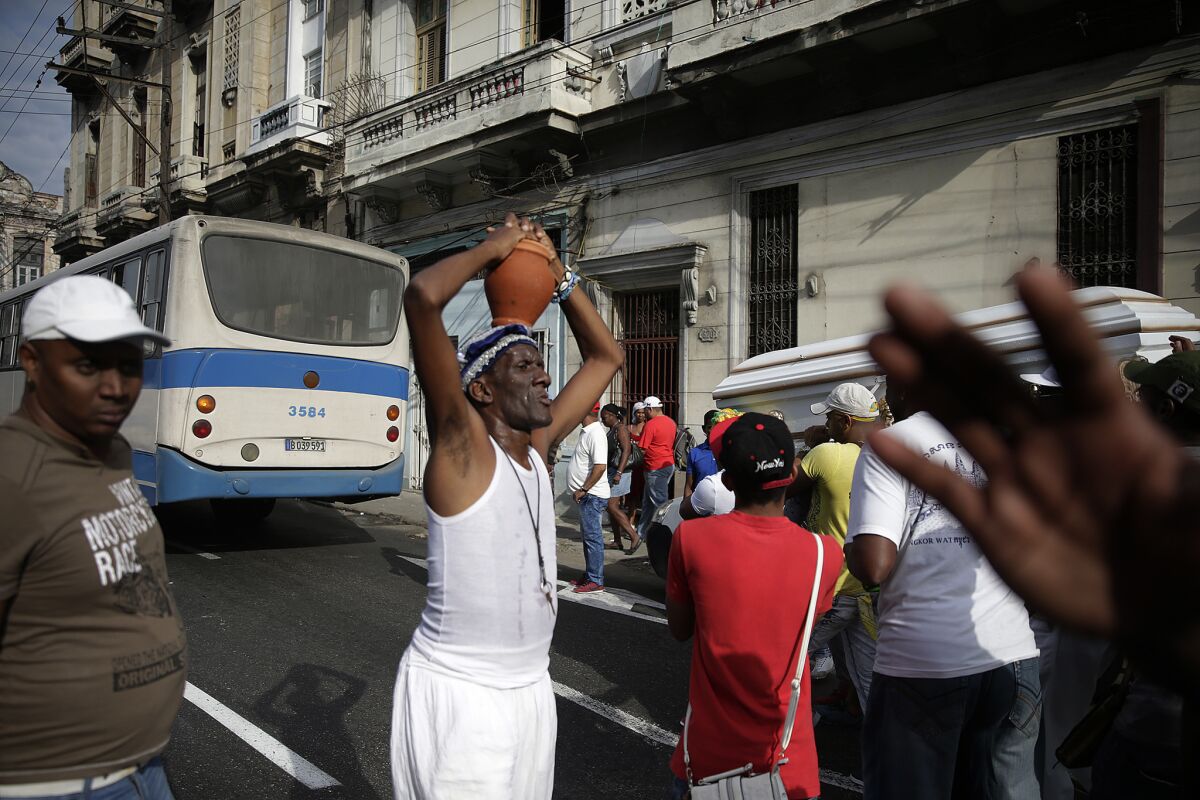 Almonaci, who said he doesn't like U.S. capitalism, said Afro-Cubans can learn from Obama and U.S. civil rights activists to press for more equality.
"The kids of color in the U.S. are more united," said Almonaci, referring to African American activists who have banded together to protest police violence.
Experts and activists say a series of recent economic changes in Cuba has created a widening income inequality gap, with Afro-Cubans largely on the losing end.
The Cuban government now allows some people to open businesses in their homes and rent out cars as taxis. But, said Ted Henken, a professor of black and Latino studies at Baruch College, "the people who have been most successful at self-employment are the people who have well-appointed homes in central locations or a car." That doesn't tend to be Afro-Cubans, many of whom live on the periphery of cities such as Havana.
President Barack Obama visits in March with special guests at an exhibition baseball game between the Tampa Bay Rays and the Cuban National Team at Cuba's Estadio Latinoamericano.
(Robert Gauthier / Los Angeles Times)
Fans jump to their feet as Cuba's first batter hits a single against the Tampa Rays during an exhibition game at Estadio Latinoamericano.
(Robert Gauthier / Los Angeles Times)
Tampa Rays players carry Cuban children during opening ceremonies at an exhibition baseball game between wiith the Cuban National Team.
(Robert Gauthier / Los Angeles Times)
Rays center fielder Mikie Mahtook chuckles as a dove flies overhead during an exhibition game between Tampa and the Cuban National Team.
(Robert Gauthier / Los Angeles Times)
Cuba National Team members wait for opening ceremonies to begin moments before an exhibition game against the Tampa Rays at Estadio Latinoamericano.
(Robert Gauthier / Los Angeles Times)
Onlookers crane to shoot smartphone images of President Obama, who is stationed more than a block away at the El Gran Teatro de Havana in Central Havana.
(Robert Gauthier / Los Angeles Times)
Cubans wave to President Obama as he passes through central Havana.
(Robert Gauthier / Los Angeles Times)
President Obama meets with dissidents and other Cubans at the U.S. Embassy in Havana. From left are Nelson Alvarez Matute, Miriam Celaya Gonzalez and Manuel Cuesta Morua.
(Pablo Martinez Monsivais / Associated Press)
Maria Castro, left, and Laritza Mojenas cheer for President Obama from the front door of a Havana home.
(Robert Gauthier / Los Angeles Times)
Angel Tapia, 72, right, watches President Obama's speech.
(Robert Gauthier / Los Angeles Times)
President Obama delivers a speech at the Gran Teatro de la Habana in Havana.
(Nicholas Kamm / AFP/Getty Images)
Cuban President Raul Castro lifts up the arm of President Barack Obama at the conclusion of their joint news conference at the Palace of the Revolution in Havana, Cuba.
(Pablo Martinez Monsivais / AP)
Cristina Vareaes, right, and friend Mercedes Lopez, watch President Barack Obama answer questions at a news conference with Cuban President Raul Castro in Havana on Monday.
(Robert Gauthier / Los Angeles Times)
Military school students watch the Cuba National baseball team practice at the Estadio Latinoamericano. The Cuban team will play the Tampa Rays in an exhibition game.
(Robert Gauthier / Los Angeles Times)
A statue of a famous Cuban baseball fan, Armando Luis Torres Torres, sits in the lower level seats along the third base line at Estadio Latinoamericano. President Obama is scheduled to watch a game in the stadium.
(Robert Gauthier / Los Angeles Times)
President Barack Obama and Cuban President Raul Castro review soldiers during a welcoming ceremony at the Palace of the Revolution on Monday in Havana.
(Pablo Martinez Monsivais / Associated Press)
President Barack Obama, along with his daughter, waves to well wishers as he tours Old Havana with his family soon after touching down on Air Force One, becoming the first sitting President since Calvin Coolidge to visit Cuba.
(Robert Gauthier / Los Angeles Times)
People wait in Central Havana to get a glimpse of President Obama.
(Robert Gauthier / Los Angeles Times)
President Barack Obama shakes hands with Cuban Foreign Minister Bruno Rodriguez as First Lady Michelle Obama looks on upon arrival at the airport in Havana on Sunday.
(Ismael Francisco / Associated Press)
President Barack Obama and First Lady Michelle Obama arrive Sunday at Jose Marti International Airport in Havana on Air Force One.
(Joe Raedle / Getty Images)
The plane carrying President Obama lands in Havana on Sunday.
(Yuri Cortez / AFP/Getty Images)
Tourists stand next to a sign showing President Obama, right, and Cuba President Raul Castro next to the Cathedral in Old Havana.
(Enric Mart / Associated Press)
Policewomen drag away members of Ladies in White, a women's dissident group that calls for the release of political prisoners, during the group's weekly protest in Havana on Sunday.
(Rebecca Blackwell / Associated Press)
Waves crash well beyond the seawall along Havana's Malecon as a storm hangs over Cuba for a second straight day.
(Robert Gauthier / Los Angeles Times)
"Racial inequality has been further exacerbated by the large number of remittances that flow to Cubans from relatives in the U.S.," he said. Early waves of migration to American cities such as Miami were dominated by wealthier – and whiter – Cubans who were fleeing the Castro government's plans to redistribute wealth.
Henken said he believes the Cuban government should do more to protect vulnerable groups, such as Afro-Cubans or the elderly, but noted that that would first require the recognition of difference.
"The government doesn't think that way," Henken said. "The government has one-size-fits-all solutions."
Juan Madrazo Luna, whose apartment has become the gathering point for many Afro-Cuban activists, said that the movement has many sympathizers but that it is difficult to get people to speak out because they fear police harassment or losing their job.
Luna, who was once a manager at a government personnel office, said he was fired several years ago after employees he supervised said "they were uncomfortable having a boss who was black."
He didn't learn about the civil rights movement in the U.S. until he was 28. In Cuban textbooks, he said, the U.S. is presented as a country beset with racism, but the stories of people such as Martin Luther King Jr. and Malcolm X are left out.
In recent years, Luna has started hosting small workshops in his apartment, in which he teaches younger Afro-Cubans about those figures and other luminaries of civil rights movements in Brazil and other places.
On the wall of his living room, he has hung a Cuban flag and a couple dozen framed portraits of Afro-Cuban intellectuals, sports heroes and revolutionary leaders. Many of them too were left out of history books, he said. "We are invisible in our own revolutionary history."
Twitter: @katelinthicum
ALSO
What should President Obama do on his visit to Cuba? We have some suggestions
President Obama is coming to Cuba today. So why are so many Cubans leaving?
---
Must-read stories from the L.A. Times
Get the day's top news with our Today's Headlines newsletter, sent every weekday morning.
You may occasionally receive promotional content from the Los Angeles Times.