'Obama has killed our dream': Cuban immigrants marooned in Mexico and Central America after Obama ends their special status
Reporting from MEXICO CITY —
Alexander Gutierrez Garcia left Cuba last August, beginning a treacherous journey up the spine of South and Central America in a quest to reach the United States.
Along the way, he was robbed, kidnapped and fell ill. No matter. As a Cuban, Gutierrez, 36, knew all he had to do was reach the U.S. and he would be allowed to stay.
No longer.
On Thursday, President Obama ordered an immediate end to a long-standing policy that granted residency to Cubans who set foot on American soil, leaving Gutierrez and thousands of other Cubans on their way to the U.S. in sudden limbo.
Some Cubans were mere steps from border entry points when the news came down, and began crying as Border Patrol agents turned them away. They can now be deported, just like Salvadorans, Mexicans or any other immigrant attempting to enter the U.S. illegally without valid humanitarian or asylum claims.
"What can we do?" Gutierrez asked in a telephone interview from Costa Rica, his voice shaking. "Obama has killed our dream of living in freedom."
Gutierrez has lived in Costa Rica since November, trying to regain his health and earn money for the next leg of his journey, which he planned to resume in a few weeks.
He has been getting paid under the table for work as a handyman and looked forward to the days when he had enough spare change to call home to Cuba. His wife and two daughters are there. A third daughter, from a previous marriage, lives in Texas.
Gutierrez's dream was supposed to end there, in Texas, with a green card and the legal right to bring the rest of his family to join him. It was not supposed to end in Costa Rica, paying to live in a flophouse among strangers.
An evangelical pastor, Gutierrez says he left Cuba because of lack of religious freedom on the island.
Although the communist government has widened its tolerance of some faiths, Gutierrez said it has cracked down on certain evangelical religions, in some cases destroying chapels.
This summer, Gutierrez kissed his wife and daughters goodbye as he and another pastor paid a smuggler to help them get to the U.S.
They were part of a wave of roughly 100,000 Cubans who have fled the island since 2014 out of fear that Cubans might lose their special immigration status amid waning tensions between the old Cold War adversaries.
Over 11 months ending in August, 38,573 Cubans showed up at the southwestern border without visas, according to federal statistics. That's six times the number of Cubans who arrived in 2009.
For years, many Cubans traveled to Florida in rickety boats. If they landed on U.S. shores, they were allowed to stay. If intercepted at sea, they were sent back to Cuba, and the policy became known as "wet foot, dry foot."
In recent years, though, more Cubans traveled by land. The coyote hired by Gutierrez and his pastor friend promised he could help smuggle them into Panama, much nearer to the U.S. than Ecuador or Guyana, which Cubans could easily reach without visas.
The smuggler gave Gutierrez clear instructions: Book a flight to Guyana with a stop in Panama. At the airport in Panama City, buy a SIM card and dial this number. The person on the other end will give instructions on how to escape the airport.
Gutierrez followed his orders. But when he dialed the number, the phone rang and rang. Nobody answered.
"That is how my calamity began," he said.
The two pastors had no choice but to go on to Guyana, adding some 1,000 miles to their trek. Along the way, he said, they were kidnapped by highway thieves and robbed by rogue police officers who stole their phones, money and even eyeglasses.
"What I have learned on this journey is that there are good people and bad people," Gutierrez said in an interview last fall.
He was sitting at a $4-a-night hotel in Turbo, Colombia, a rough-and-tumble port city that in recent years has become a way station for a growing number of migrants from all over the world traveling to the U.S. Babies wailed as migrants from Haiti, Africa and Bangladesh lined up to use the hotel's single shower.
Gutierrez and his friend, like other Cubans on the road, tended to stick to themselves. After all, "wet foot, dry foot" made them different. Other migrants knew this too, and they sometimes uttered resentful comments under their breath.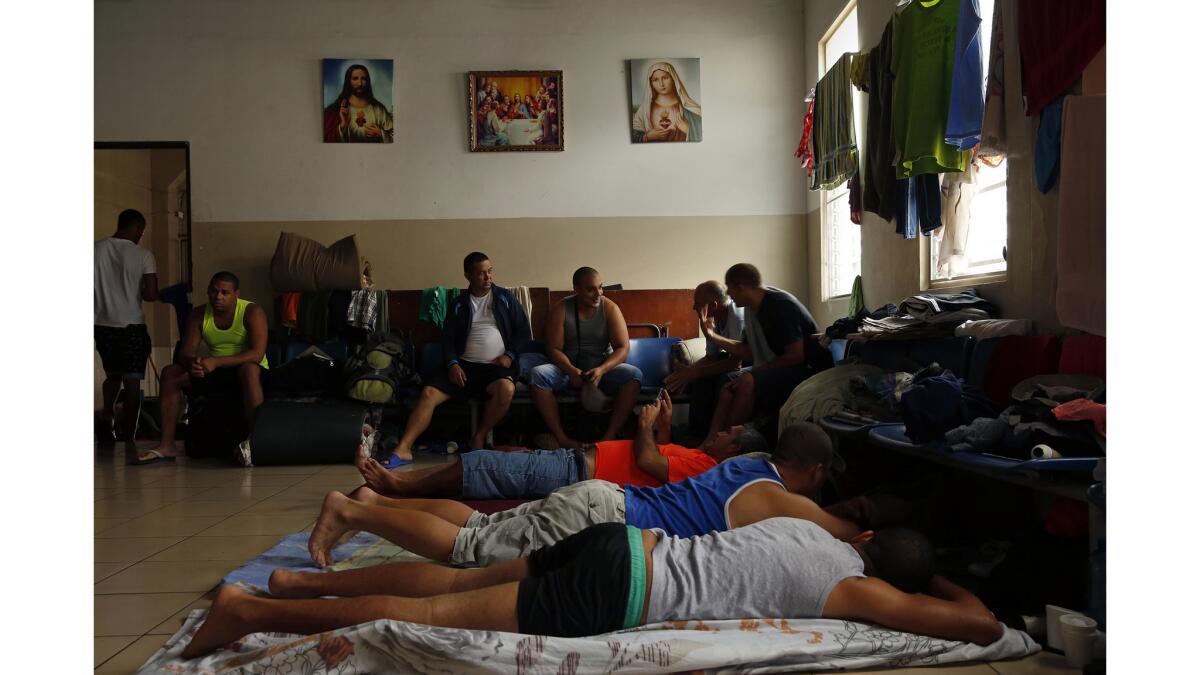 One afternoon in Turbo, Gutierrez and his friend haggled for rain boots and lanterns. The next day, the two of them with another Cuban began their passage by foot through the Darien Gap, a stretch of jungle on the Panamanian border so thick no roads have ever traversed it. He had heard stories about other migrants who had died — by jungle snake, or at the hands of the drug traffickers and militants — so he bowed his head in prayer.
"I'm not afraid of death," he said, his bottom lip quivering. "I'm just afraid of never seeing my family again."
When they emerged days later from the sticky, buggy jungle, they took their bleeding feet and mosquito-bitten legs to a Catholic church in Panama City that has become known as a refuge for Cubans on the road.
Gutierrez was worried they would be turned away because of their evangelical faith, but the first question the priest asked when they arrived at the stately old church was: "What can we feed you?
"It was a special moment," Gutierrez said. "I thought we were enemies. But they treated us like kings."
He stayed there for weeks, sleeping shoulder to shoulder with hundreds of other migrants and eating meals of beans and rice.
By then, Gutierrez's body was covered in lichen planus, a skin rash that can be triggered by infection or stress. He and his friends managed to cross into Costa Rica, but Gutierrez didn't think he was well enough to go on to Nicaragua, another notorious and lawless passage.
Gutierrez's friends went on without him, eventually spending two weeks in a Mexican migrant detention center before they were released. Mexico, which also has cracked down on illegal immigration, often tolerated Cubans passing through the country because the U.S. would readily accept them. How the country will view Cubans now is uncertain.
Gutierrez later learned his companions crossed into Texas on Dec. 9. Soon, they will be issued work permits, and within a year, they will be allowed to apply for green cards.
One of them, Marcelino Quintana, is living with extended family members in Austin, where the size of the homes and the number of restaurants at first put him in a state of shock.
"I'm trying to adapt to the liberty of this great nation," he said Thursday.
For Gutierrez, it's too late.
He sees few options: ask for political asylum in Costa Rica, or return to Cuba, where he worries he might be punished by the government. The Cuban government has said it will take back those who left.
He would never cross illegally into the U.S., he said, and though he could ask for asylum based on his religious beliefs, asylum claims are notoriously hard to win.
On Thursday and Friday, he stayed close to a wi-fi hot spot, scrolling for updates on the policy change. He messaged to panicked friends also on their way to the U.S. but who have only made it to Panama or Peru. He kept hoping he would find news articles saying President-elect Donald Trump vowed to overturn Obama's decision. Trump, he said, is the only hope for Cubans like him.
He knows he should, but he still hasn't called his family in Cuba to tell them what he plans to do next. It's because, he said, he has absolutely no idea.
ALSO
Obama scraps policy granting residency to Cubans arriving without visas
Mexico picks head of North American Development Bank as new ambassador to U.S.
Syria says Israel strikes hit near airport west of capital, warns of repercussions
Sign up for Essential California for the L.A. Times biggest news, features and recommendations in your inbox six days a week.
You may occasionally receive promotional content from the Los Angeles Times.