Hurricane Matthew leaves trail of devastation in Haiti, with hundreds dead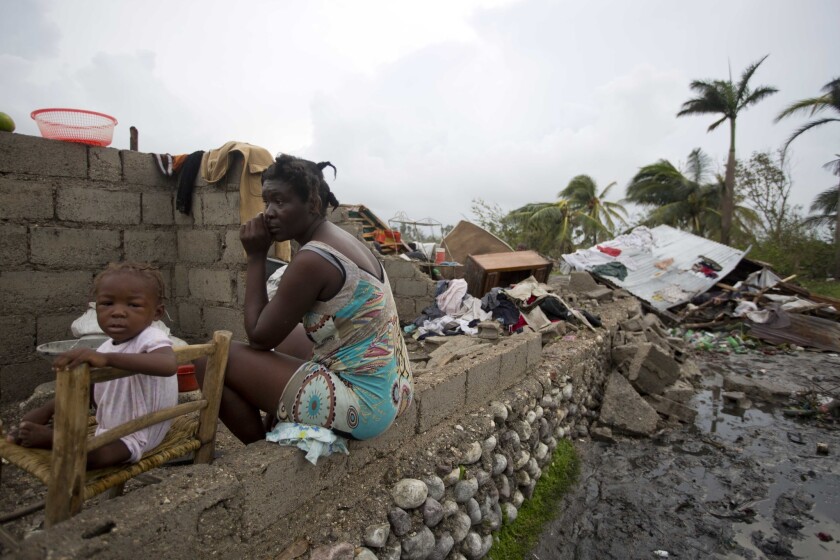 The death toll in Haiti from Hurricane Matthew has risen to more than 280, government officials said Thursday as aid workers began to reach the island nation's remote and storm-ravaged western peninsula.
More than 48 hours after the poorest nation in the Western Hemisphere was battered by one of the fiercest Caribbean storms in nearly a decade, the scope of destruction was becoming clear.
At least 28,000 homes have been damaged, according to Haitian government officials. The United Nations said at least 350,000 people were in need of immediate aid.
The death toll, announced by Interior Ministry officials, rose sharply as some of the hardest-hit regions, cut off as a result of damaged roads and the collapse of a major bridge, became slowly accessible.
Dr. Charles-Patrick Almazor, chief medical officer in Haiti for the nonprofit Partners in Health, said he expects the death toll to rise.
We keep saying that we are a resilient nation. But I don't know how much more we can take.
Dr. Charles-Patrick Almazor, Haitian medical specialist
"There's a lot of people in villages that we don't even know about," said Almazor, who said the hurricane was a painful blow for a country that has been struggling to rebuild since 2010's devastating earthquake.
"We keep saying that we are a resilient nation," he said. "But I don't know how much more we can take."
Hurricane Matthew, which was expected to hit the southeastern coast of the United States as early as Thursday night, stormed over Haiti on Tuesday before hitting Cuba and the Bahamas. No deaths were reported in those island nations, which some aid workers saw as a testament to their more sophisticated infrastructure and better-prepared governments.
Aerial footage of Jeremie, a city of 31,000 on the northwestern coast of Haiti's peninsula, showed hundreds of flattened houses and debris-strewn streets. In Les Cayes, a devastated port city on the southwestern coast, "almost every structure is damaged or destroyed," said Margaret Traub, head of global initiatives with the aid group International Medical Corps.
Traub arrived in the city by helicopter Thursday because roads to the region had been washed out. She flew over miles of flattened farmland, where even large palm trees had been uprooted.
"The whole area is seeing heavy disruption," she said. "Power lines are down. Trees are down. Rivers are flooded. Bridges are out."
"People are in need of food, clean water and shelter," she said. "We're especially worried about access to clean water, because we're very concerned about diseases."
Haiti had already been grappling with a cholera crisis; 27,000 cases of the potentially deadly waterborne disease have been reported so far this year. Almazor, the Haitian doctor, predicted that the rate of cholera infection will triple in the coming weeks.
"We need help," he said. "I'm worried."
Food shortages were already being reported in affected areas, where many people survive on subsistence farming.
In Arcachaie, the biggest banana-growing region in Haiti, about 80% of banana crops were destroyed by winds and flooding, according to the aid group Mercy Corps. The crops supported about 20,000 families, the group said, and farmers may have difficulty replanting because their fields were flooded with seawater.
With 21,000 displaced people staying in shelters, Haiti also faces a looming housing crisis. Already the government had been struggling to house people displaced by the earthquake, with tens of thousands of people near the capital, Port-au-Prince, living in tent cities that were supposed to be temporary.
The hurricane has strained a government already in tumult. Haiti has been without an elected president since February, with several rounds of scheduled elections postponed because of fears of violence.
The nation was planning to hold a new presidential election Sunday, but the vote has been postponed indefinitely.
Follow me on Twitter: @katelinthicum
Times staff writer Alexandra Zavis contributed to this report.
ALSO
Hurricane Matthew now a dangerous Category 4 as it barrels toward Florida
As Hurricane Matthew approaches South Carolina, many residents are staying put
Hurricane Matthew heads toward the U.S. after leaving a trail of destruction in Cuba
---
UPDATES:
6:15 p.m.: This article was updated with reports of additional deaths.
1:05 p.m.: This article was updated throughout with additional reporting.
11:05 a.m.: This article was updated with more details about hurricane damage.
This article was originally published at 10:30 a.m.
---
Must-read stories from the L.A. Times
Get all the day's most vital news with our Today's Headlines newsletter, sent every weekday morning.
You may occasionally receive promotional content from the Los Angeles Times.