Pueblo Sin Fronteras uses caravans to shine light on the plight of migrants — but has that backfired?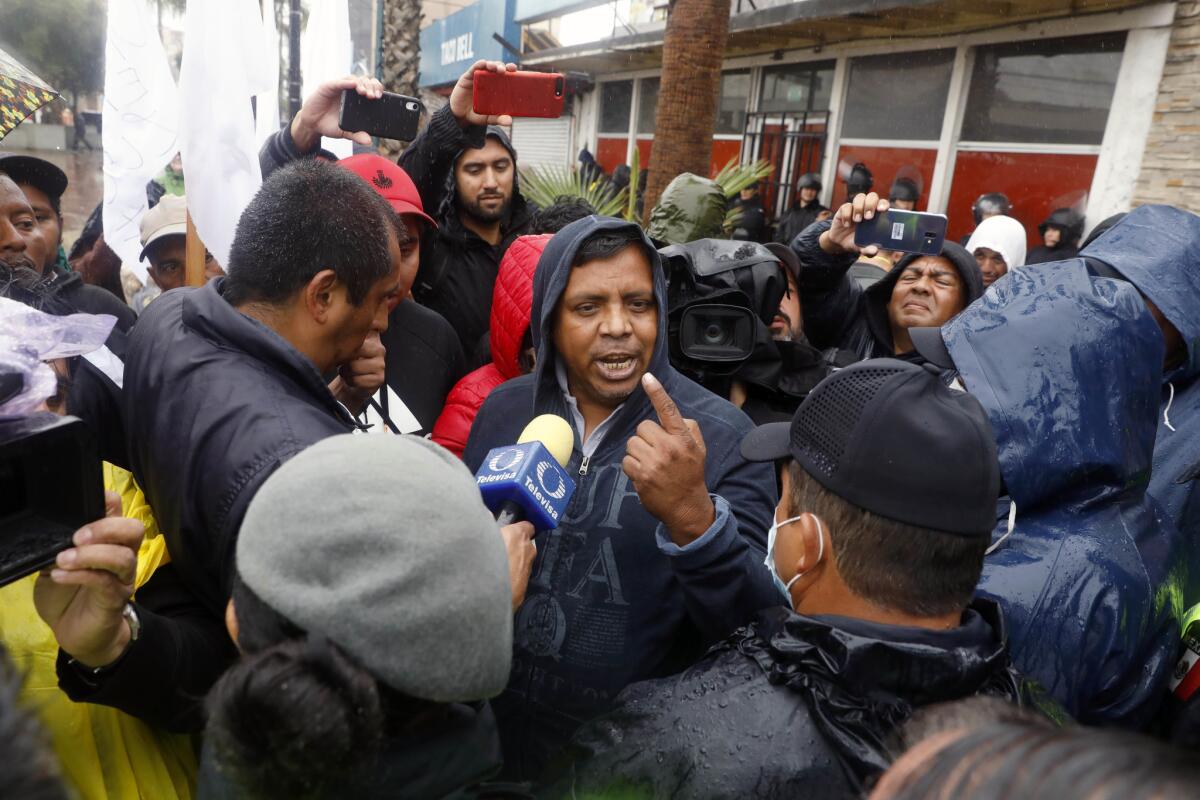 Reporting from Tijuana —
As a cold rain fell in Tijuana, a group of Central Americans faced off with Mexican police sent to block them from launching a hunger strike near the U.S. border.
Leading the migrants were activists from the group Pueblo Sin Fronteras, or People Without Borders.

For the record:
5:15 p.m. Dec. 7, 2018This article states that Pueblo Sin Fronteras said it was funded by Freedom for Immigrants. Freedom for Immigrants says it raises funds on behalf of Pueblo Sin Fronteras, but does not fund the group directly.
The small collective of volunteers based in the U.S. and Mexico helped create the migrant caravan trend; it organized the first caravan to the U.S. border last year and has helped guide the groups now in Tijuana.
It says the caravans help protect migrants from rape, kidnapping and other perils while drawing attention to the reasons they flee and their treatment on the journey north.
But Pueblo Sin Fronteras has drawn considerable criticism. Conservatives accuse the group of human trafficking. And some former allies on the left say it is using migrants to advance its political agenda — imperiling the people it claims to protect.
"They are helping Donald Trump say there is an invasion," said Alejandro Solalinde, a Catholic priest and one of Mexico's most prominent migrant activists.
Solalinde believes the caravan strategy has backfired, with images of migrants streaming north and scaling border walls helping President Trump justify harsher immigration enforcement, including sending thousands of U.S. troops to the border.
"Pueblo Sin Fronteras cheated the migrants; they told them lies that once they arrived at the border, everything would be very easy," Solalinde said.
Instead, roughly 6,000 migrants have been left stranded in this sprawling industrial city — with most living off handouts from volunteer groups in government-run shelters — as U.S. officials at the border generally accept no more than 100 asylum applications each day.
Pueblo Sin Fronteras insists that migrants have decided for themselves where to travel and when to protest, and that it simply "accompanies" those who have already decided to try to reach the United States.
Yet it has frequently taken a more active role. In October, activists with the group ferried immigrants illegally from Guatemala into Mexico, and they have repeatedly led migrants into direct confrontations with law enforcement.
Last week's rain-soaked altercation in Tijuana began when several members of Pueblo Sin Fronteras marched with a few dozen migrants, including children, toward the border to launch a hunger strike. When police in riot gear tried to stop them, Irineo Mujica, the director of Pueblo Sin Fronteras, escalated an already tense situation.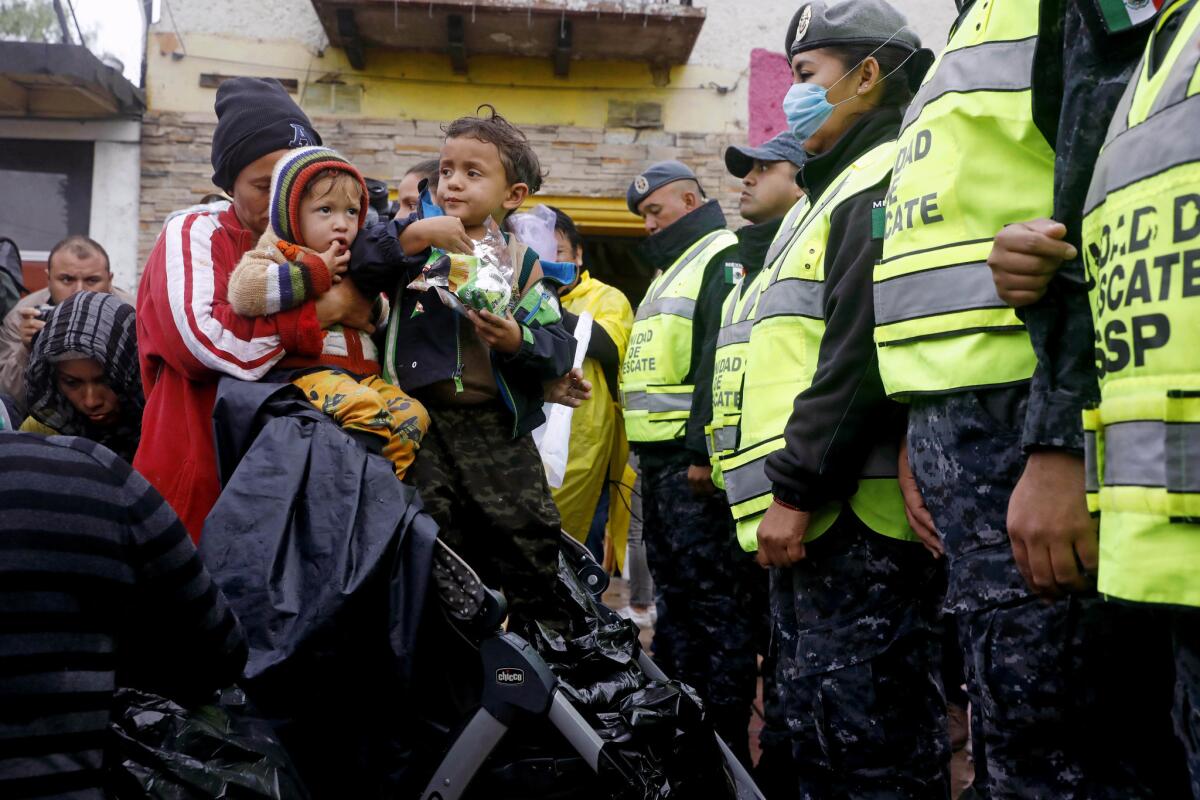 "You're going to tell us where we can demonstrate?" Mujica shouted as the migrants stood behind him. "It's our right to protest!"
Eventually, police let the migrants pass. Several members of Pueblo Sin Fronteras have joined them in the weeklong hunger strike, which seeks to pressure the U.S. to speed up its intake of asylum applicants.
Another march in Tijuana led in part by Pueblo Sin Fronteras turned violent last month after some migrants pushed past Mexican police and sought to scale a border fence into San Diego. Several migrants were injured when U.S. authorities responded with rubber bullets and tear gas.
Alex Mensing, a Pueblo Sin Fronteras activist who was at the protest, said he tried to persuade migrants to not storm the border.
He said the group has been transparent about what migrants should expect.
"We have done everything we possibly can to inform people," he said, adding that he gave migrants know-your-rights training about asylum law as they hitchhiked on 18-wheeler trucks up through Mexico last month.
"We can't force people to listen," Mensing said. "We never promised anybody anything other than that we would walk with them."
::
Until recently, Pueblo Sin Fronteras was little known outside advocacy circles.
It was founded in Dallas in 2009 by Roberto Corona, a Mexican American immigrant with a background in human rights, and several other migrant advocates. One of the group's first programs offered classes to day laborers about workplace rights.
The group expanded its work south of the border several years ago, inspired in part by the story of 72 Central American migrants who were kidnapped and massacred by a criminal group in northern Mexico in 2010. It opened two migrant shelters in the notoriously violent border state of Sonora in 2015 and 2016.
The group also began partnering with other advocates in Mexico, including Solalinde, in annual "Via Crucis" processions during Lent. During the processions, Central Americans would march together several miles at a time, a symbolic re-creation of the Stations of the Cross meant to call attention to increasingly harsh immigration enforcement by Mexican authorities.
In 2017, Pueblo Sin Fronteras took the Via Crucis a step further, organizing several hundred migrants to travel from near the Guatemala border all the way to the United States.
"We wanted the governments of Mexico and the United States to acknowledge that there was a refugee crisis and they were turning a blind eye to it," Corona said.
The group dubbed the march a refugee caravana, and it passed largely unnoticed by authorities and the media.
But the group's third such caravan, in the spring of 2018, received widespread media attention — and caught the interest of the U.S. president.
Trump tweeted angrily about the group of roughly 1,500 people, and said it proved the U.S. needed a wall along its southern border. Vice President Mike Pence said asylum seekers were being "exploited by open-border political activists."
That caravan reached Tijuana in early May. It included parents and children who ended up separated under a controversial Trump administration policy that criminally prosecuted people who crossed the border illegally. Others had to wait months to apply for asylum.
Pueblo Sin Fronteras decided not to organize any more caravans after that, Corona said.
But in October, members heard of another large group of migrants heading north. After Trump tweeted about the caravan — and threatened to withhold aid from Central American countries and Mexico for failing to stop them — Pueblo Sin Fronteras decided to help.
Mujica traveled to the southern Mexican border with several members of the group, some of whom linked up with the caravan in northern Guatemala and helped hundreds of migrants illegally cross the Suchiate River into Mexico on rafts.
"What was the alternative for us?" Mujica said. "We were the only ones who could possibly walk with [the migrants], because we have been doing it for years."
::
In recent months, Pueblo Sin Fronteras has received threats of violence and has become the subject of countless conspiracy theories. Critics have speculated that the caravans were funded alternatively by Republicans, Democrats, leftist billionaire George Soros or even Venezuela or Russia.
The group says it receives no financial support from any government, corporation or political party, and has not received money from Soros. It says its few dozen members have day jobs.
The group, which is not a registered nonprofit, says its caravan support efforts are being funded by Freedom for Immigrants, an Oakland-based nonprofit that says it is "devoted to abolishing immigration detention."
Freedom for Immigrants monitors detention centers in the U.S. and has thrown itself into California politics, supporting measures including a ban on the expansion of for-profit immigrant detention facilities in the state, which Gov. Jerry Brown signed into law last year.
The group collected $588,933 in revenue between July 1, 2016 and June 30, 2017, according to the most recent tax records available.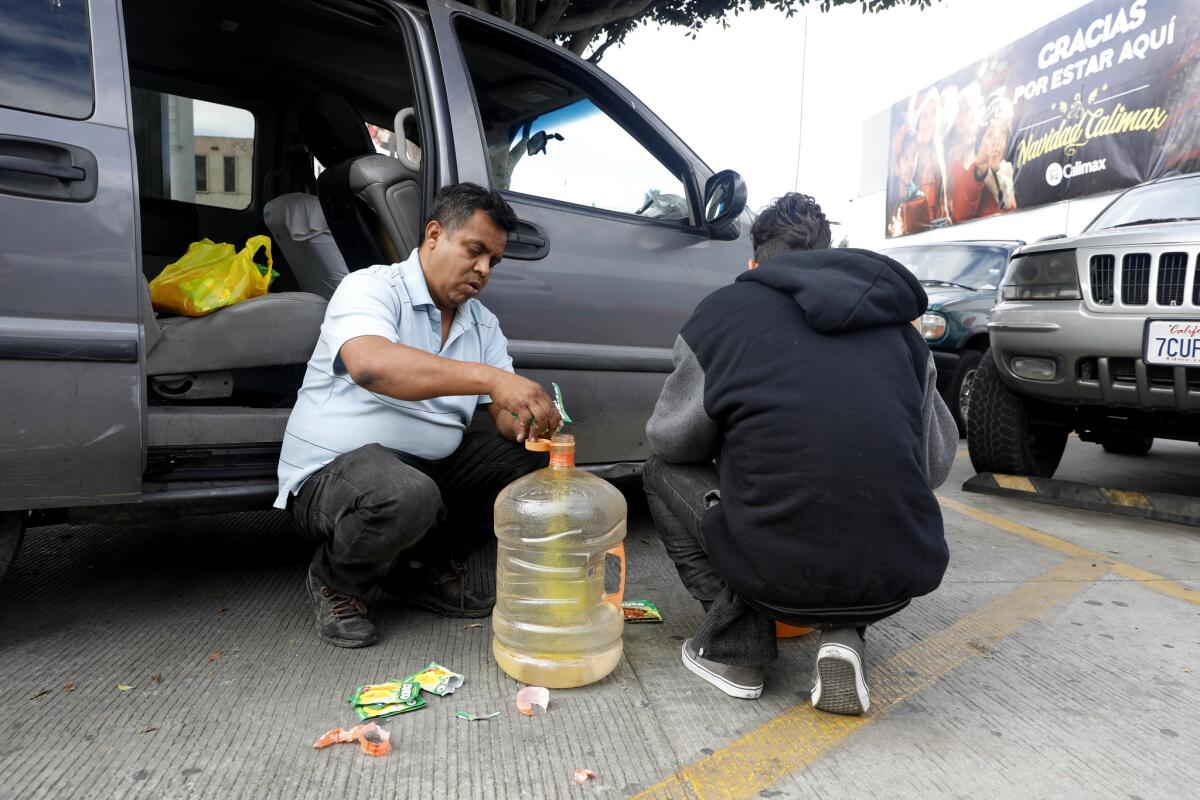 Freedom for Immigrants, like other 501(c)(3) nonprofits, is not required to disclose the source of its donations. But tax records from other groups show that major donors include the Y & H Soda Foundation, a Northern California antipoverty organization that donated $65,000, and the Unitarian Universalist Service Committee, which donated $20,000 for a national hotline for immigrants held in detention. Pueblo Sin Fronteras said most of the money raised for it by Freedom for Immigrants comes from small, individual donations.
In Tijuana, Pueblo Sin Fronteras has struggled to keep up hope among migrants, many of whom have grown increasingly disillusioned by the difficult conditions and the long wait to apply for asylum.
Some have chosen to cross illegally into the U.S. in recent days in hopes of getting caught by authorities and then petitioning for asylum.
Others have decided to return to Central America, or have resigned themselves to staying in Mexico.
On a recent morning, 22-year-old Jecson Chicas was waiting in a long line to apply for a Mexican work permit. Chicas fears returning to Honduras, where he said gang members had killed several of his relatives, but said he had decided to stay for now in Tijuana because the wait to apply for asylum was so long.
He hadn't eaten breakfast, so when Mujica and another activist showed up in a battered minivan and started handing out animal crackers and tamarind-flavored punch, Chicas beamed.
Mujica and other members of the group had frequently given him valuable advice, he said.
"They have helped us a lot," Chicas said. "And we need help."
Times staff writer Matt Pearce in Los Angeles and Cecilia Sanchez of The Times' Mexico City bureau contributed to this report.
Twitter: @katelinthicum
Sign up for Essential California for news, features and recommendations from the L.A. Times and beyond in your inbox six days a week.
You may occasionally receive promotional content from the Los Angeles Times.