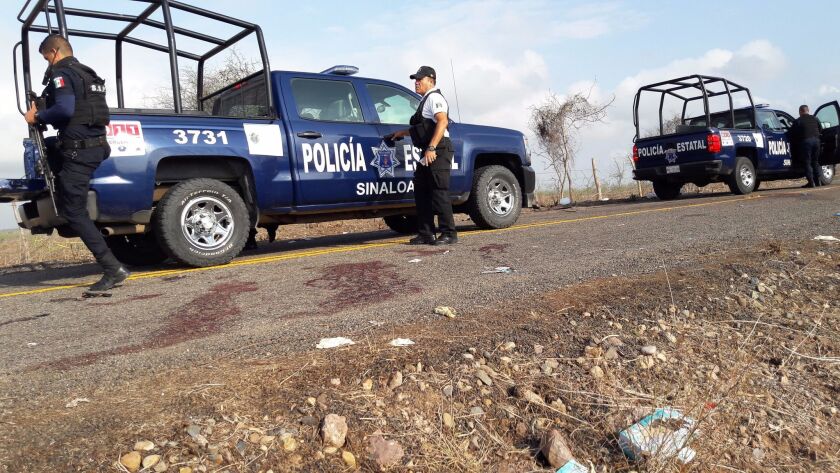 Reporting from MEXICO CITY —
Authorities said at least 26 people were killed Wednesday in northern Mexico during a predawn gun battle between warring crime gangs, part of an escalation of deadly violence across the country.
In an interview with Milenio television, Chihuahua state prosecutor's spokesman Felix Gonzalez said the confrontation between armed groups broke out in the town of Las Varas around 5 a.m. For the next two hours, members of the La Linea gang squared off with a faction of the Sinaloa cartel, leaving more than two dozen people dead and several others wounded, he said.
The violence in Las Varas, nearly 185 miles southwest of the border city of Ciudad Juarez, comes days after a similar burst of bloodshed in neighboring Sinaloa state. Authorities said at least 30 people were killed there over the weekend; a firefight with police officers near the resort town of Mazatlan left 19 suspected cartel members dead.
Violence in Mexico has surged to record levels this year. There were 2,186 homicide investigations opened in May, more than in any month since the government began publishing homicide statistics in the 1990s.
Analysts say violence is swelling as members of splintered drug cartels battle for territory. A power vacuum emerged after this year's extradition to the U.S. of Joaquin "El Chapo" Guzman, the former leader of the powerful Sinaloa cartel, and now his sons are battling for control with the sons of one of Guzman's top lieutenants. Meanwhile, a new criminal group, the Jalisco New Generation cartel, has been trying to assert control in bloody turf battles.
The fight against transnational criminal groups and regional security was the subject of a meeting Wednesday between President Enrique Peña Nieto and U.S. Homeland Security Secretary John F. Kelly, who is in Mexico for three days of talks.
Although Kelly, like his boss, President Trump, has pushed for more border security in an effort to stop the flow of drugs and migrants into the U.S., Mexico has repeatedly said that the U.S. should be focused on reducing its demand for drugs.
"Illicit drug trade is indeed the most important cause of violence in Mexico, and drug trafficking is costing thousands of lives both in Mexico and the U.S.," Mexico's Foreign Ministry said last week after Trump incorrectly tweeted last month that Mexico is the second-deadliest country after Syria.
The president was referring to a controversial recent study that ranked Mexico as the world's second most-dangerous conflict zone after Syria.
Mexico has disputed the premise of the annual Armed Conflict Survey, released this year by the International Institute for Strategic Studies, saying it wrongly points to the existence of an armed conflict in Mexico.
"The existence of criminal groups is not sufficient criteria to speak of a non-international armed conflict," said a joint statement issued by Mexico's secretaries of governance and foreign relations.
Some blame Peña Nieto, whose single, six-year term ends next year, for not doing enough to stop the violence.
Some experts have criticized Peña Nieto's drug war strategy, adopted from his predecessor, Felipe Calderon, which puts an emphasis on capturing or killing top cartel leaders instead of training police officers and creating more economic opportunities for young people susceptible to joining criminal groups.
They also point to Mexico's recent overhaul of its criminal justice system, which mandates that law enforcement officials must gather more evidence in crimes than was previously required. The change was designed to make the system more fair for defendants, but analysts say many local police and prosecutors simply don't have enough training and, in some cases, are in the pocket of the drug cartels and unwilling to cooperate.
Although the violence has been especially bad in certain parts of the country, including in Chihuahua and Sinaloa, homicides have increased in a majority of Mexican states.
Cecilia Sanchez in The Times' Mexico City bureau contributed to this report.
Twitter: @katelinthicum
ALSO
In Poland, a right-wing, populist, anti-immigrant government sees an ally in Trump
U.S. says North Korea's ICBM launch is 'a new escalation of the threat to the United States' and the world
Mexican soccer fans are reluctant to give up a favorite chant — an anti-gay slur
---