Meet the deportee who fashioned the altar for Pope Francis' cross-border Mass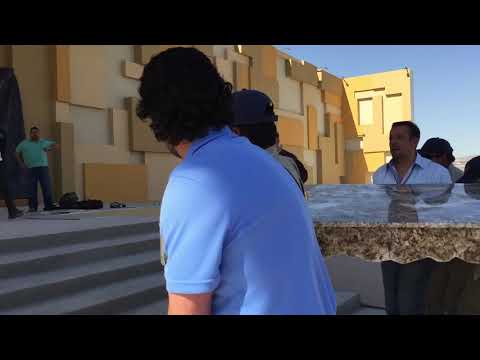 Stonemason Pedro Campos, a U.S. deportee, fashioned the granite altar for Pope Francis' cross-border Mass in Ciudad Juarez, Mexico.
Reporting from CIUDAD JUAREZ, Mexico —
A deportee fashioned the rough-hewn altar for Pope Francis' cross-border Mass on Wednesday, a stonemason born here but raised in Texas who hopes to one day rejoin his three children and other family in the U.S.
On Saturday, as Pedro Campos prepared to transport the massive granite slabs he had chiseled from his workshop, across from the Jardines Eternos cemetery, to the old fairgrounds, he was thinking about his future, but also his past.
"It wasn't right what they did to me," said the burly stonecutter with a shaved head and goatee after helping load the granite onto a truck. "I lost everything."
Campos, 48, met his wife here, then left with her in 1992 to settle and have children in Amarillo, Texas, and eventually Phoenix.
FULL COVERAGE: Pope Francis in Mexico >>
"Back then, it was pretty easy to cross," he recalled — they just walked over.
In Arizona, he learned his trade and found work making kitchen counters for wealthy families.
Then, in 2002, he was picked up for unpaid traffic tickets. Officials discovered he had a felony record for a burglary conviction when he was 18, and he was ordered deported.
His wife left him. His tools vanished during his years in lockup. Campos fought the order, but after five years in detention, he ended up back in Ciudad Juarez.
It was 2007, and the local drug cartel war was heating up. Most of his family had left town.
"I was scared," Campos recalled. "I'd walk around, and I could hear somebody getting shot. At night, I couldn't go out."
At first, he worked at making kitchen counters. But with thousands dying each year — nearly 11,000 between 2007 and 2013 — he soon found more work making headstones for a local funeral home.
With the drug wars in Juarez, Perches Funeral Homes had to hire additional staff, including grief counselors and security guards. Wakes that once stretched to 24 hours were shortened, death announcements eliminated. Once a funeral home was shot up, and although no one was injured, the building was scarred with bullet holes.
Many of those being buried died violently, their corpses mutilated.
"It was tough mentally on our employees," recalled the owner, Salvador Perches, 46. Two fellow funeral directors were killed for refusing to pay extortion fees, he said.
In recent years, however, they have seen fewer violent deaths, and Perches said "our people are feeling safer."
Campos and eight fellow workers loaded the two altar slabs onto a truck and drove it gingerly to the fairgrounds — bumps can trigger cracks in granite.
Once there, they used a metal brace to lift the slabs up the cement steps to the platform and set them atop three boulders from the Samalayuca region of surrounding Chihuahua state.
Campos checked the surface with a level: "Perfect."
Then he pointed across the fairgrounds to another cement platform that workers were completing at the foot of a massive new cross near the Rio Grande, facing El Paso. Before the Mass here Wednesday, the pope is expected to ascend the platform to bless immigrants on the other side of the border fence.
In two years, Campos will have spent a decade in Mexico. His daughter, now 22, plans to sponsor him to return to the U.S. legally. Campos hopes the pope's message of empathy will be heard by immigration officials, and that they will give him a second chance.
"Maybe that will open their hearts," he said.
But despite the cross tattooed on his hand, he doesn't have much faith. "The years go by, and it gets harder."
Twiiter: @mollyhf

MORE ON THE POPE IN MEXICO
5 major themes of Pope Francis' trip to Mexico
'This place is terrifying': Pope visits one of Mexicos's most troubled cities
Los Angeles man traveling with Pope Francis will offer a simple gift - a shoeshine box
Pope in Mexico live updates: Francis gets his wish for a moment alone with iconic image of Virgin of Guadalupe
Sign up for Essential California for news, features and recommendations from the L.A. Times and beyond in your inbox six days a week.
You may occasionally receive promotional content from the Los Angeles Times.