In Irma-devastated Virgin Islands, resolve blends with worry of being forgotten
On the hill above Cruz Bay on St. John Island, the house where Eugenio Santana Santana, age 61, was living was completely blown away by Hurricane Irma. He and four other people took shelter crammed in a bathroom. Originally from Dominica, Santana says he will stay and help rebuild the island because there is no work in his own country.
(Carolyn Cole / Los Angeles Times)
Battered sailboats are piled on top of each other in downtown Cruz Bay on St. John.
(Carolyn Cole / Los Angeles Times)
Laila Penn, 9, waits at the ferry terminal in Cruz Bay to evacuate to Puerto Rico. She said she was very scared during the hurricane, and she is glad to be leaving the island of Jost Van Dyke for a while.
(Carolyn Cole / Los Angeles Times)
An impromptu church service was held on a street corner in Cruz Bay on St. John island one week after Hurricane Irma.
(Carolyn Cole / Los Angeles Times)
Once a lush tropical island, St. John is now completely bare after Hurricane Irma. Some 90% of all the boats on the island were destroyed and litter the coastline.
(Carolyn Cole / Los Angeles Times)
On the east end of St. John island, Athena Swartley, 64, originally from Philadelphia, hangs up her clothes to dry. Despite the new tropical storm approaching and calls for evacuations, she plans to stay. "I learned so much" from Hurricane Irma, she said.
(Carolyn Cole / Los Angeles Times)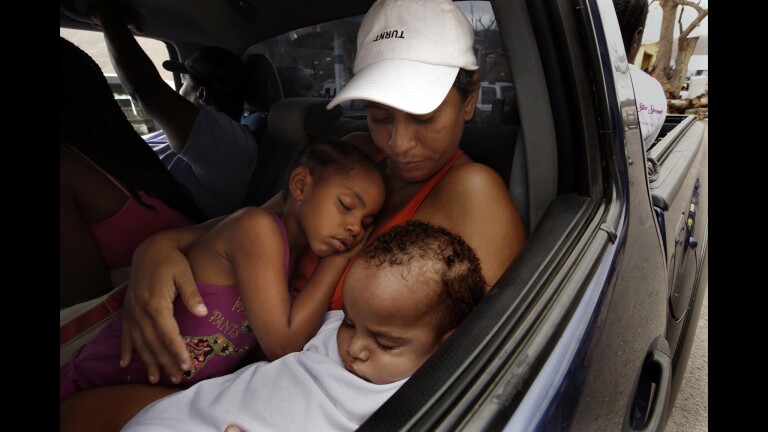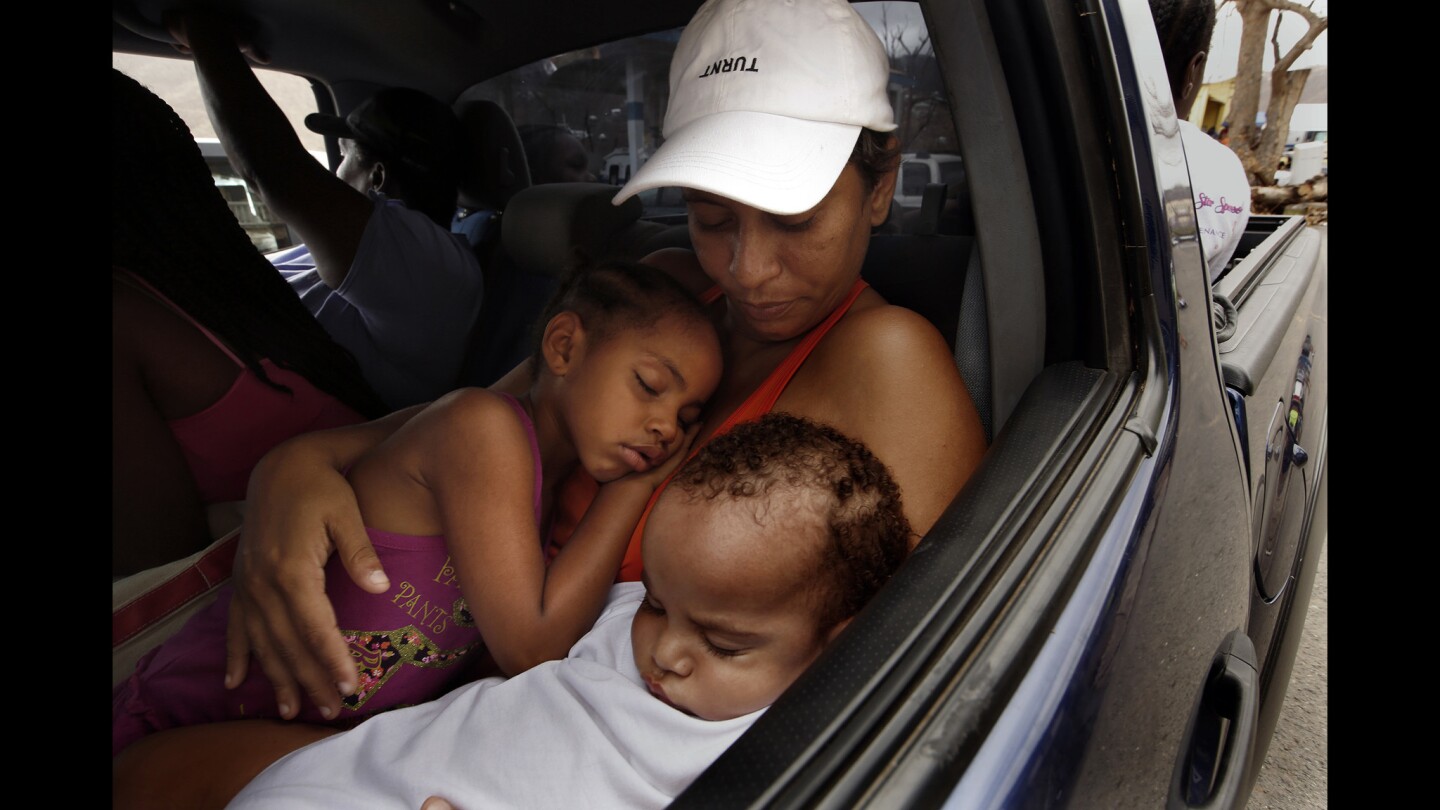 Catika Wa Richards rests in the car with her children in Coral Bay, where she has lived her whole life.
(Carolyn Cole / Los Angeles Times)
In Coral Bay, on St. John, many of the residents are semi-retired, some of them exhausted from the events surrounding Hurricane Irma. They are now facing a tropical storm and are being told to evacuate as soon as possible.
(Carolyn Cole / Los Angeles Times )
Elliot Hoober, 64, lost the mast on his boat but says he will stay in Coral Bay on St. John.
(Carolyn Cole / Los Angeles Times)
Adele Thomas is grateful that her family survived Hurricane Irma after it roared through her house, ripping the roof off and destroying all the contents as she and her three children hid in a cellar. She is working to cover the roof with plastic, but the bathroom hasn't been covered yet, nor is there running water or electricity.
(Carolyn Cole / Los Angeles Times)
Sgt. 1st Class Dave Looby, of St. Croix, left, helps unload relief supplies that arrived Sept. 15 on St. John as part of Task Force Bravo.
(Carolyn Cole / Los Angeles Times)
Doc Thomas, age 71, climbs down to the house where he was living during Hurricane Irma, which is now mostly destroyed.
(Carolyn Cole / Los Angeles Times)
Reporting from CORAL BAY, U.S. Virgin Islands —
Sharon Coldren, standing on the balcony of the Coral Bay Community Council building, raised a megaphone to give a warning to about 100 of her fellow islanders.
"There are tropical storms on the way that could become hurricanes," she said to a crowd gathered Saturday outside the town hall. Evacuate, she said. Their last chance to leave their island of St. John would probably be a free ferry the next day to San Juan, Puerto Rico.
Even members of the military deployed to aid disaster relief were withdrawing from St. John ahead of the storm to avoid being stranded. The entire island was still largely without power, running water and phone service. Gasoline was being rationed by the National Park Service.
"We don't know what kind of help we're getting from the government," Coldren said after the meeting, and acknowledged that many islanders wouldn't flee, even the elderly and infirm who had lost homes to Hurricane Irma.
Irma killed dozens of people in the Caribbean. Some are also still missing, including at least one captain in Coral Bay who attempted to ride out the storm on his boat. Yet many here feel their plight was ignored after the storm reached Florida, their experience as Americans forgotten, as if landfall here didn't count.
Among the three Virgin Islands that President Trump plans to visit, St. Croix was largely spared by Irma. Portions of St. Thomas and St. John were devastated. Then came Tropical Storm Jose, which was still dumping rain on the islands Friday.
The smallest of the islands, St. John is just 5 miles wide and 9 miles long, and its 5,000 residents have a reputation for friendliness, which explains the island's nickname of Love City.
After surviving Irma, the strongest storm to hit the region in their lifetimes, and living for a week without access to the outside world — including weather reports — many of the 3,000 who remained wondered where they could run that would feel safer than home.
Coldren couldn't give them any information about the latest marine weather forecasts — emergency managers were not providing them to her, and she didn't have cellphone or Internet access.
"Our tarps are not up. I don't know who's going to put them up. I want it done before the storm. But how much more ruined can a ruin get?" she said as residents vied for her attention, asking about weather reports, emergency generators and water pumps.
In the British Virgin Islands, a few miles away, officials had several cellphone networks running, and residents praised the government response. Here Federal Emergency Management Agency managers were absent, Coldren said, though they had contacted her.
Her own home had the roof peeled off. Her boat was destroyed. She's president of the community council, and there's too much to do.
Coldren hoped the military withdrawal would not include military police, who had restored order after days of looting following the recent storm.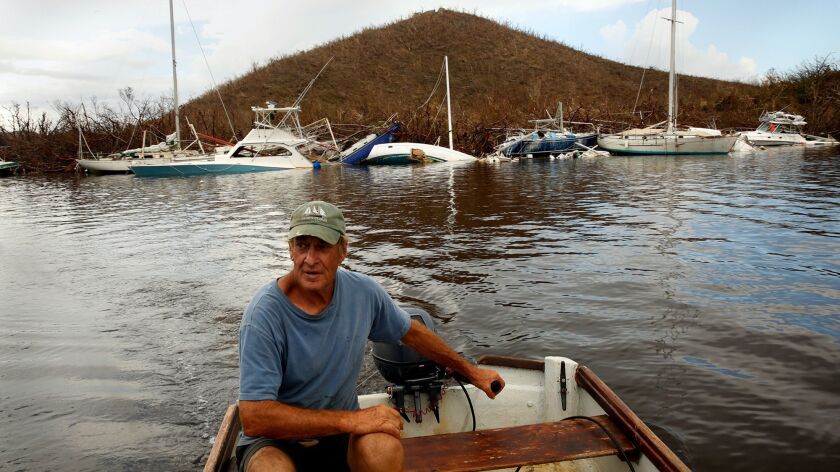 A group of looters confronted Coral Bay denizen Elliot Hooper, 64, when he tried to stop them from stealing T-shirts he had saved from the storm at his store, Tall Ship Trading.
Hooper said he brandished a machete and shouted, "I've been here 30 years, and you're going to take my T-shirts?"
Then he stepped on a nail, and also realized there were about 10 men in the group, some probably with guns. So he retreated to his damaged black-and-white schooner, Silver Cloud, built in 1899.
He lost his business and home, neither of which were insured. He felt betrayed by the young men who stole from him. But he would not evacuate.
"This is my island," Hooper said. He pointed to a couple of dozen boats Irma had cast into the shallows among a twist of mangrove roots, bashed and broken.
"Each one of those is a friend," he said.
Captain Karl Pytlik, 42, hiked back across the island after evacuating with his wife and two sons, ages 4 and 2, before Irma. He wanted to check on his pets, home and business.
His house was destroyed. But what really moved him was seeing the snapped masts on Hooper's vintage sailboat.
"I saw Silver Cloud, and I lost it," he said.
Pytlik's charter boat survived, along with at least one of the family's three cats, Noah, who rode out the storm in a mattress box spring.
Pytlik had no plans to evacuate.
Neither did Sloop Jones, 69, a local artist who sheltered in a neighbor's compound after his home and rental studio were ripped apart.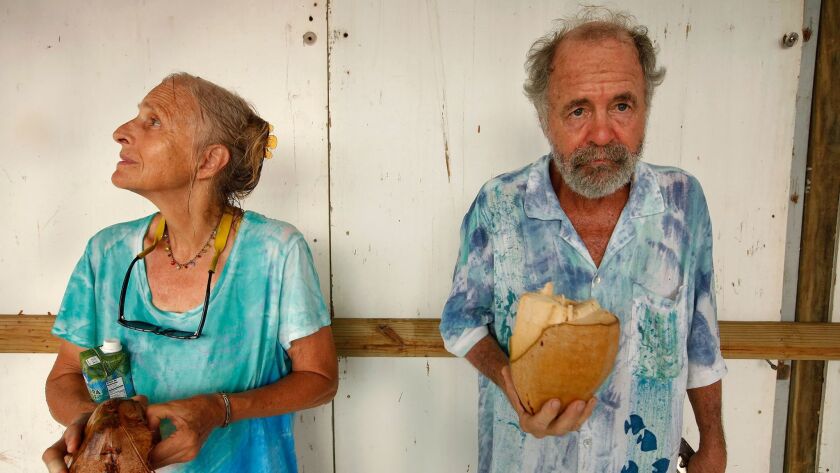 The studio roof and tile floor were wet but sound, he said as he inspected them Saturday. Three guests had already canceled, but he hoped to have the place repaired by December. He and his partner, Charlotte Seashore, had cleared the road themselves of downed power lines, telephone poles and other debris. The tamarind trees, banana palms and bamboo grove would grow back.
Then the sky unleashed a torrent of rain, and the roof began leaking. It was as if he were standing outside. He grabbed some pillows and stuck them in a dry corner of a closet, then spread his arms wide in frustration before exclaiming to the skies: "Just stop!"
It was a sentiment shared by those gathered at the emergency management office across the island near Cruz Bay, where a work crew was racing to replace the roof before the next storms. They still didn't have power or phone service either, said Abigail Hendricks, who was in charge of feeding and sheltering those displaced by the storm.
Her neighbors had considered evacuating, but worried about getting stranded in Puerto Rico. One-way ticket prices to the U.S. from there during the next few days had reached $1,500.
Hendricks had no plans to leave. "If the island goes down, we are going down with it," she said.
Neighbor Adele Thomas wasn't leaving either. She already ran for her life once, during Irma.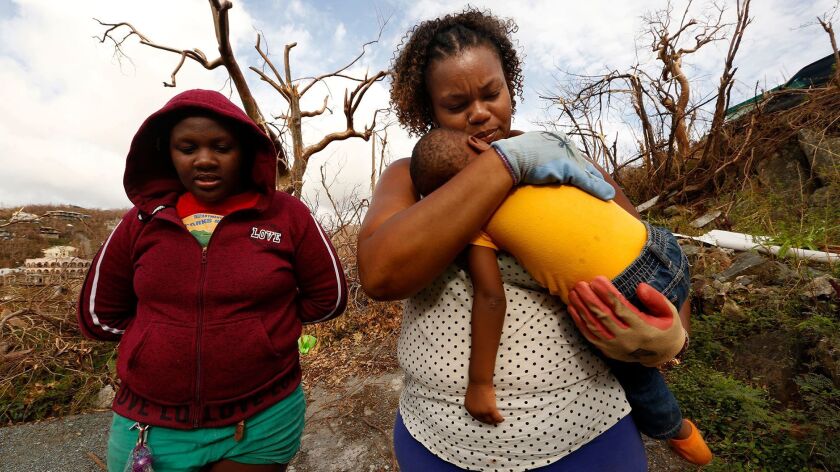 When Thomas and her children went outside to reach a windowless cellar under their house, they were confronted by a small white whirling tornado.
"All I saw was light, this bright light, like those stories they tell about when you are about to die," she said.
They got inside the cellar, but the wind pushed in the door. Thomas barricaded it with a freezer. The wind tossed that aside. She propped a spare door against it. That held.
In the same hillside neighborhood known as Contant, educator Ditra Powell, 26, cradled her 3-year-old son, Nemoi Williams. She had given him his tablet computer, keyed up his favorite alphabet game, plugged in his earbuds and draped a towel over his head. She was determined that he survive untraumatized.
At first, it worked. Nemoi was calm, unaware of the storm raging outside. Then as he sat relaxed in her lap, she watched the storm rip their roof off.
"All I could do was drop to the floor," she said.
She froze. She didn't think she had time to get to her Jeep outside, or even under the nearby coffee table. Then she heard a neighbor knocking, and fled with her son out the back door.
On an island with a long history, residents mourned the destruction of landmarks almost as much as their own homes — in some cases, more.
General contractor Dan Boyd, 59, lost his house in the storm, but he didn't get choked up until he saw that the roof had been ripped off the historic Governor's Mansion, a whitewashed beacon at the mouth of Cruz Bay.
Walking past the building, he stopped to greet local Virgin Islands Sen. Brian Smith.
What got to Smith, 52, wasn't the damage to the mansion, but rather outside.
He pointed to what was once a row of 10 coconut palms that had withstood hurricanes during the past 50 years, bending in the wind like resilient islanders. Irma swept away all but two.
Military helicopters buzzed overhead, ferrying in supplies in from St. Croix. A local restaurant, the Longboard, was working with the American Red Cross to serve 1,000 meals a day. Police were enforcing a curfew from 6 p.m. to 10 a.m., the town largely dark and humming with generators.
The coming storms would delay further aid. The recovery would only be slowed if more military forces arrived now, said Clay Covel, a former Marine at the incident command center in Cruz Bay working with the Charleston-based nonprofit Global Dirt, who also responded in Houston after Hurricane Harvey last month and in New Orleans after Hurricane Katrina. "As much as we want the extra military and assets, if all their supplies get destroyed, you have more mouths to feed" after the new storms, he said.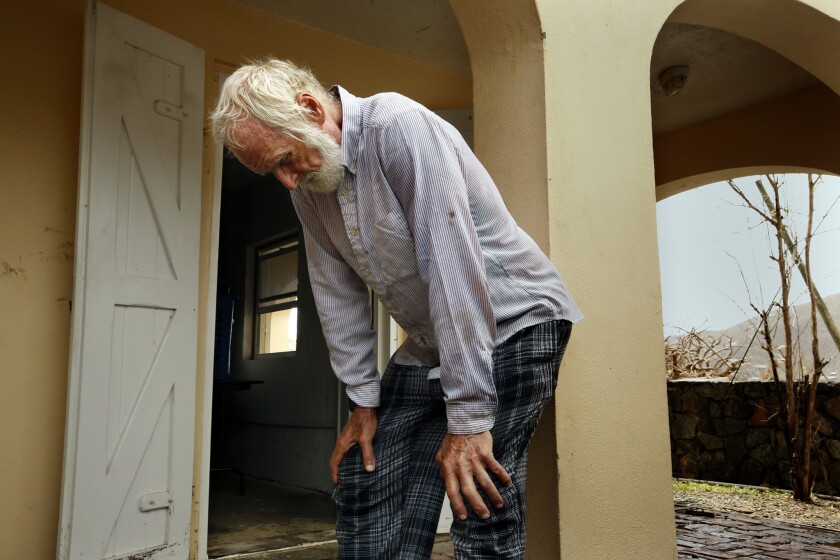 Order was being imposed on the chaos left in Irma's wake. But for islanders accustomed to a casual sort of disorder, that, too, was disconcerting.
"We hate schedules but we love routines, and this is the opposite of that," said Boyd's partner, Fiona Powell, 41, a freelance editor.
Former island residents have come back to help, some from as far as California.
Raised on St. John, Mia Dixon, 28, returned Friday from San Diego with donations gathered at the charter school where she works: everything from chainsaws to baby formula. Her father had lost his home, but he, too, was staying to help. All he asked her to bring him were clean socks and wet wipes.
As the volunteer boat ferrying Dixon and a former elementary school classmate reached Cruz Bay in the rain Friday, they spotted the ghostly outline of Governor's Mansion and what was left of the waterfront: the skeletons of broken ships washed up on shore, others upended and floating like corpses.
But Boyd the contractor saw something else. Beyond the broken boats, past the mansion with its missing roof at the downtown park where 100-year-old mahogany trees had been stripped bare, a few West Indian almond trees had survived. And they were budding.
molly.hennessy-fiske@latimes.com
Twitter: @mollyhf
ALSO
After Irma, calls for help from the Caribbean: 'The island is debris, that's all it is'
Fearful of Trump's America, asylum seekers from across the globe stream into Canada
Hurricane Katia strikes Mexico, killing at least two, as the nation still reels from a massive earthquake
---
Must-read stories from the L.A. Times
Get all the day's most vital news with our Today's Headlines newsletter, sent every weekday morning.
You may occasionally receive promotional content from the Los Angeles Times.