Popping wheelies with the Knights of Baghdad, Iraq's not-quite-outlaw motorcycle club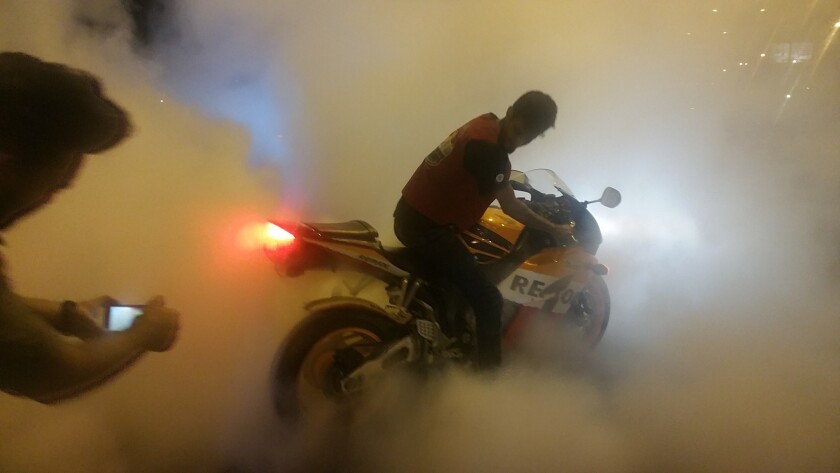 Reporting from Baghdad —
It's a lazy Friday afternoon, and you, a Baghdad-based thrill seeker, need an adrenaline fix that decades of relentless wars haven't provided. Where do you go?
If you're 28-year-old Ammar Kathem Sahem and his merry band of motorcycle enthusiasts, the answer, it seems, lies in a large, empty lot under this city's Jadriya bridge.
They call themselves the Knights of Baghdad, and here, under the watchful eye of the soldiers manning a checkpoint nearby, they congregate every Friday evening to put on a heart-stopping show with their souped-up Japanese racing bikes.
"Three years ago, we started out with just two or three bikers. Now we have more than 50," says Sahem, who goes by the nickname Qersh, meaning "shark," a reference to a beloved 400-cubic-centimeter Suzuki motorcycle he once owned.
For bored Baghdadis seeking a thrill, daredevil motorcycle tricks are the way to go.
His words are occasionally drowned out by the wails of revving engines as bikers zoom past, before careening into a graceful slide.
One rider gives a quick jerk to the handlebars and coaxes his bike up on its back tire. He moves the bike in controlled bursts of speed on the tarmac, using his weight on footrests welded to the wheel to balance the machine. He teeters to a stop, deftly hopping off the footrests to bring the bike back on two wheels.
This, Sahem explains, is taaleeq, or hanging.
"It's fantastic. There's no feeling like it," he says, nodding with approval as two bikers standing on their motorcycles circle each other as if in a stately dance.
"These are young guys. They need some way to release the energy…. So why go somewhere else?"
There are members of the Knights who have been doing tricks on their bikes for years, Sahem says. It's a puzzling thought, considering some of the riders' ages; many seem as if they just graduated from training wheels on their bicycles.
But one particularly fearless performer, a 21-year-old who goes by the nickname Assad, which means "lion," says he took his first motorcycle ride when he was 10.
"A year later was the first time I saw someone do taaleeq. I immediately thought, 'Sure, I could do this, it's easy,'" he says.
Soon he was popping wheelies, slides and other tricks that make him and his green Kawasaki one of the Knights' most recognizable icons. (Despite his minor celebrity status here, he demurred from giving his real name for fear his mother would find out and put an end to his daredevil activities.)
Perhaps the most important trick club members must learn is how to sneak their motorcycles from abroad to Baghdad.
Motorcycles, Sahem explains, are virtually banned here, unless you're willing to pay exorbitant customs fees that render any two-wheeled vehicle prohibitively expensive. Those in the know order their motorcycles from Canada or elsewhere, have them dismantled and their parts shipped in as part of a large container of other products.
"It takes two months for them to get here, but we can at least have them for a good price," Sahem says.
Mechanics or the riders themselves assemble the motorcycle, but not before they take a trip to Palestine Street, a shambolic market where vendors hawk used parts out of oil-stained crates.
There, the Knights modify their motorcycles into taaleeq machines. They install a wider sprocket for the chain to help lift the bike more easily; footrests are added to the back wheel; crash bars are incorporated on the bike's sides in a rare nod to safety. (Helmets and other protective gear, however, aren't de rigueur.)
The results of the modifications can be seen now in the waning Baghdad sunset as riders form a large circle with their motorcycles while some foray inside for a "dance-off."
Some lift up their bikes for another bout of taaleeq, moving carefully among a group of riders hurling their bikes into ever-tighter corners. One of the Knights dismounts, cranking the throttle to top speed while he brakes with his other hand, the engine snarling as a furious billow of smoke kicks up from the tires. The tires soon explode from the sheer stress.
Sahem takes it all in, raising his hands up like a maestro — a sign to the other riders to rev their bikes in a flourish of high-speed whines.
He turns to a visiting reporter and flashes a toothy grin.
"An Iraqi, if he wants something, he will find a way to do it. Simple as that," he says.
ALSO
One family's tale of life under Islamic State: 'We were living in a big prison'
Iraqi Prime Minister Haider Abadi faces big obstacles on road to rebuild war-torn nation
Pache, a stew of sheep and cow innards, may not look appetizing, but the people of Mosul adore it
Bulos is a special correspondent.
Twitter: @nabihbulos
---
Must-read stories from the L.A. Times
Get all the day's most vital news with our Today's Headlines newsletter, sent every weekday morning.
You may occasionally receive promotional content from the Los Angeles Times.