28 killed in attack on bus carrying Coptic Christians in Egypt
Reporting from Minya, Egypt —
A bus carrying Coptic Christians to a monastery south of Cairo was targeted in a bloody attack by gunmen Friday, killing 28 people, officials said.
Egyptian state television reported that 25 others were wounded in the attack in Minya province, a Christian enclave about 140 miles south of the capital.
"Militants attacked a bus and a car — they shot them, 28 persons were killed at least," including women and children, said Ishak Ibrahim, a researcher at the Egyptian Initiative for Personal Rights, a Cairo-based think tank.
A group of laborers and volunteers from a village in Minya had boarded a bus to St. Samuel Coptic Orthodox Monastery about a dozen miles away Friday at about 8 a.m. Two white SUVs stopped them, said Anba Aghason, the Coptic Christian bishop in the area.
Aghason recounted what survivors told him happened next.
Armed men emerged, faces covered, and asked the passengers, "Are you Christian?"
The passengers said yes.
The armed men then distributed a 10- to 15-page pamphlet of Koranic verses that explained fasting during Ramadan, the Muslim holiday that started Friday. Then the armed men told the group to recite the Shahada, the Muslim profession of faith.
"They refused, and said, 'No, we were born Christian and will die Christian,' " the bishop said. "So they killed all the men. They killed some of the women, injured others and stole what they had."
The attack prompted President Abdel Fattah Sisi to announce in a televised address that Egypt had struck training bases for militants and would continue to do so. Egyptian officials said separately that a half dozen bases had been struck in the northeastern city of Derna, Libya.
"We will strike against these camps inside and outside Egypt and I hope that message is clear to everyone. We will not hesitate to protect our people," said Sisi, who turned his attention to the international community and President Trump in particular regarding the fight against terrorism.
"I trust you, your word and your ability to make fighting global terror your primary task," he said of Trump.
Trump, who was attending a summit in Sicily Friday, issued a statement saying the U.S. stood with the Egyptian people and condemned the attack. He blamed "evil organizations of terror" and "thuggish ideology" for the "merciless slaughter of Christians" and said Friday's attack should bring nations together to crush "evil organizations of terror."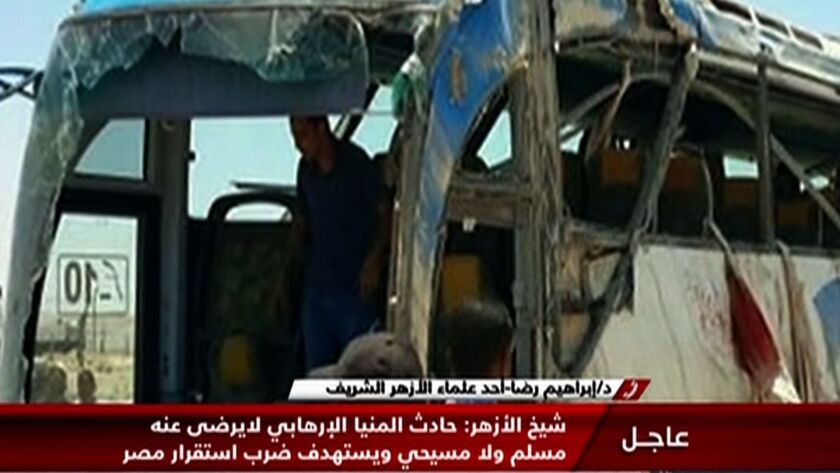 In Maghagha, a city on the banks of the Nile in northern Minya province, more than 5,000 Coptic Christians gathered late Friday at Virgin Mary Church to mourn, sobbing and wailing in a crowd so large it spilled into the streets. Some, upset with the government, chanted, "Sisi, Sisi, go away!" others "We are willing to die for the cross."
Yusuf Debabwy came to mourn his uncle, Aid Hanin, 45, a farmer who was going to serve at the monastery farm, as he does every week.
"We have no rights. We are targeted. We feel no safety in Egypt," said Debabwy, 21, a pizza deliveryman in Cairo who complained there's no police checkpoint on the desert road between his uncle's village and the monastery. "We blame the police."
Mina Samuel lost a cousin, Lamelanei Tawadros, 55, also a farmer who volunteered at the monastery.
"I'm very upset and angry at the government and the president because we are not protected, we feel no safety in Egypt," said Samuel, 31, who works at a medicine company in Cairo. "There is no justice.
Those outside the church said at least one child survived.
Some of the victims were taken to Nasser Institute Hospital in Cairo for treatment. A crowd of relatives and others eager to donate blood formed outside.
Wael Mahrous said he came for news of his uncle, Bushra Kamel, 62, who had been shot and was in surgery. He said the shooting injured a handful of people from their village, El Fashem.
"As soon as we found out, we went to the site and helped carry the injured and dead," said Mahrous, 36. "There were children everywhere. We brought them out to Minya hospital and then we came here to Cairo."
He said attackers robbed bus passengers of money and valuables before they opened fire, striking his uncle in the chest and leg.
"If it weren't for the fact that my uncle pretended to be dead already, they would've shot him again and killed him," Mahrous said.
Christians make up about a tenth of Egypt's population of 92 million people. As Islamic State's influence has expanded in Egypt, Minya — home to the country's largest Coptic Christian community — has been a flashpoint in recent months for attacks by Muslim extremists against Coptic Christians.
After twin suicide bombings by Islamic State militants killed 47 worshipers at Coptic churches in the northern cities of Alexandria and Tanta on Palm Sunday, Minya's Coptic bishop announced that they would curtail Easter celebrations to avoid further violence.
Before Christmas, a bombing at a chapel beside St. Mark's Coptic Orthodox Cathedral in Cairo killed 29 churchgoers, marking the start of an Islamic State campaign against Christians in Egypt. Coptic Christians have been displaced from their homes in the Sinai's city of Ismalia and harassed in Minya, their houses burned.
Sisi announced a three-month state of emergency after the Palm Sunday bombings in an effort to reassure the country — and Coptic allies — that terrorists would be rooted out and quickly prosecuted. Easter passed without bloodshed. Pope Francis visited soon after, appearing with the Grand Imam at Al Azhar University, the seat of Sunni Muslim learning, to urge an end to the violence.
The leadership of the Coptic Church in Egypt has supported Sisi, who came to power four years ago. That has also made Copts a target for the outlawed Muslim Brotherhood. After security forces killed hundreds of Muslim Brotherhood demonstrators in Cairo in 2013, Islamists attacked hundreds of Coptic churches and homes, especially in Minya.
After Friday's attack, Sisi issued a statement calling for an emergency security meeting and instructed authorities to tend to the injured and arrest those responsible.
Egypt's Grand Mufti Shawki Ibrahim Abdel-Karim Allam, the country's Muslim religious leader, issued a statement saying he "condemned the lowly terrorist incident which has been carried out by extremists."
Grand Imam Ahmed Tayyeb, leader of Al Azhar Mosque, the Cairo-based seat of Sunni Muslim learning, was in Germany giving a speech when he learned of the attack, and observed a moment of silence for the victims. Tayyeb, who hosted Pope Francis during his visit to Cairo, also posted a statement online condemning the attack.
"Neither Muslim nor Christian approves of the Minya incident," he said, asking "Egyptians to stand united in facing this brutal terrorism."
But many remained skeptical that even Sisi, a former general, could stop Islamic State's advance from Sinai strongholds into the country's interior.
Ibrahim said no group had claimed responsibility for Friday's attack.
"Although the government applied the emergency law, terrorists succeeded again to target Coptics and kill them." he said.
He said Sisi's administration must do more to protect Coptic Christians against Muslim extremists.
"They need to impose security against terrorist action, a short-term and long-term plan to address the atmosphere and the problem that created the sectarian incidents that target Christians," Ibrahim said. "They need to take serious steps to deal with the culture and social problems, to send a message that the state protects all of the citizens."
Special correspondent Medhat reported from Cairo and special correspondent Makarios Nassar from Minya. Staff writer Hennessy-Fiske reported from Riyadh, Saudi Arabia.
ALSO
Suicide bomber's father arrested in widening Manchester terrorism investigation
Pentagon investigation into deadly airstrike in Mosul says U.S. bomb ignited Islamic State explosives
Death by stoning: Battered Syrian city offers a window into life under the thumb of Islamic State militants
---
UPDATES:
3:10 p.m.: This article was updated with more description of the attack and a statement by President Trump.
1:10 p.m.: This article was updated with more comments from residents and details about the attack.
7 a.m.: This article was updated with eyewitness accounts and more information about the leadership of the Coptic Church in Egypt.
This article was originally published at 4 a.m.
---
Must-read stories from the L.A. Times
Get the day's top news with our Today's Headlines newsletter, sent every weekday morning.
You may occasionally receive promotional content from the Los Angeles Times.