As Egypt's Coptic Christians celebrate Christmas, they also mourn church bombing victims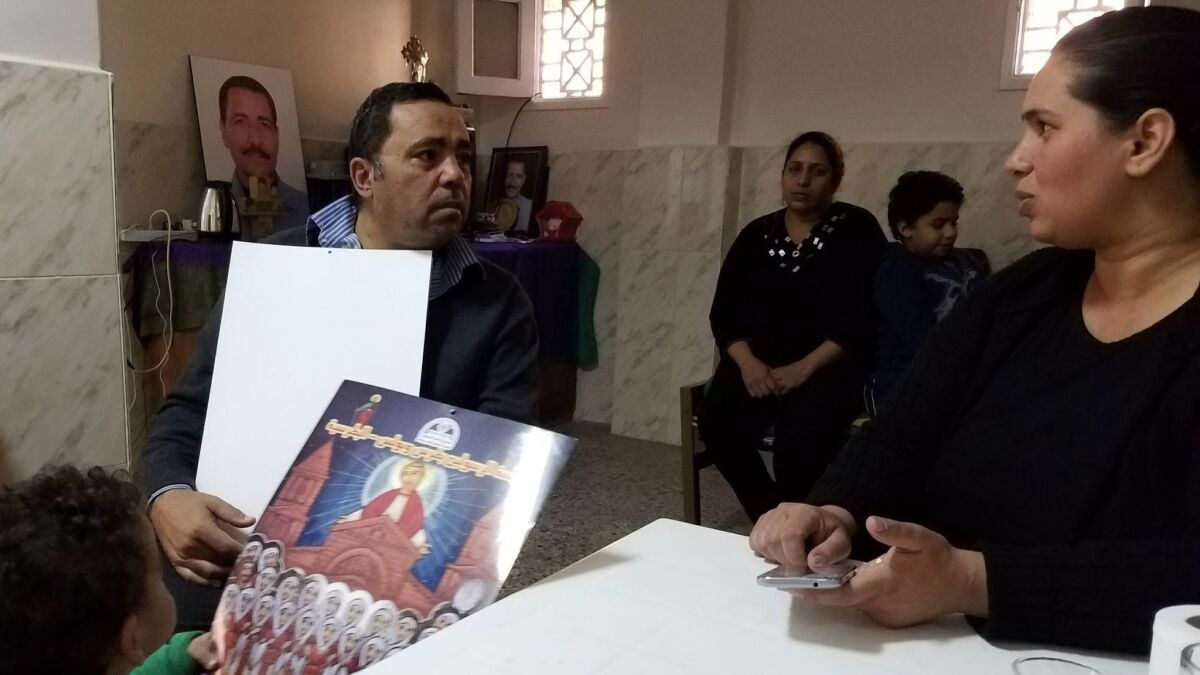 Reporting from Cairo —
Emad Tawil on Thursday returned to the church where he survived a bombing that killed his wife and daughter last month, determined to celebrate Christmas even as he mourned.
St. Mark's Coptic Orthodox Cathedral in Cairo is the mother church for Egyptian Copts, who celebrate Christmas on Jan. 7, based on the ancient Julian calendar.
"Every time they bomb a church or attack us, they increase our faith," said Tawil, 53.
The bombing during Mass in a chapel next to the cathedral Dec. 11 fatally injured nearly 30 people, including Tawil's 19-year-old daughter, Verena Emad Amin, and wife, Madlen Tawfiq, 48.
Tawil and his son attended a funeral Thursday for fellow church member Lorise Naguib, 62, the latest victim of the bombing to succumb to her wounds. As workers decorated the nearby cathedral's altar with red and white flowers, mourners dressed in black filled St. Peter and St. Paul chapel, chanting and praying.
Shattered windows and damaged pillars had only been partially restored, and Tawil remained haunted by memories of the attack.
Tawil's 21-year-old son, Peter, said he saw the attacker approach the altar before detonating a bomb concealed under a long coat. Afterward, the younger Tawil ran to his mother, who was already dead, then his sister, who was mortally wounded.
"I was carrying my sister and she was saying, 'Help me!' and I couldn't help," he recalled.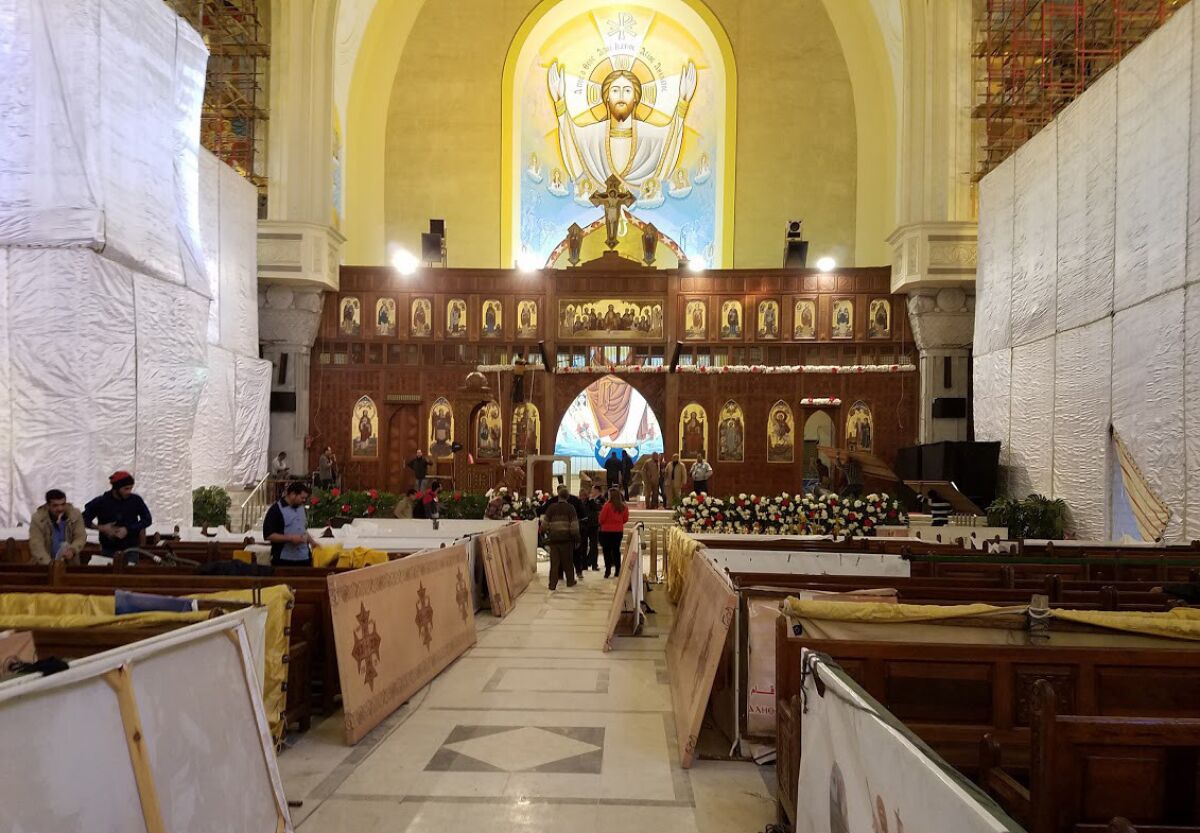 The day after the bombing, President Abdel Fattah Sisi attended funeral services at the cathedral for the victims, and he is expected to attend Christmas Eve Mass late Friday.
The militant group Islamic State claimed responsibility for the bombing by 22-year-old Egyptian Mahmoud Shafiq Mohamed Mostafa. Late Wednesday, Egypt's Interior Ministry announced the arrest of three additional people, and said investigators were still searching for more suspects.
Christians, mainly Copts, make up about 10% of Egypt's mostly Muslim population of more than 90 million, and found themselves increasingly under attack after Islamist President Mohamed Morsi came to power in 2012. Sisi, a military leader, became president after Morsi was ousted, and he has reached out to the Coptic community, in part by attending Christmas services at St. Mark's, but sectarian attacks have persisted.
After the funeral Thursday, the Tawils made their way across the chapel courtyard to a small apartment, home to the widow of a church guard killed in the attack, Nabil Habib, 48.
Nadia Salah, 33, was caring for the youngest of her three children, 18-month-old Fadi, who still calls for his father. All she can do is point to Habib's portrait, set up in the corner of the room they shared for 15 years.
Salah's 15-year-old daughter was with her father the day he died. He had sent her to fetch tea before the explosion, and she returned to find his body.
Salah's brother-in-law Zarif Habib, 42, was in the kitchen making lunch, having come to help from the city of Minya, where about 40% of the population is Christian and officials reported more than three dozen attacks on Copts in the last three years, including houses set afire and street assaults.
"It's normal for the Coptic people," said Emad Tawil, who runs a plastic factory.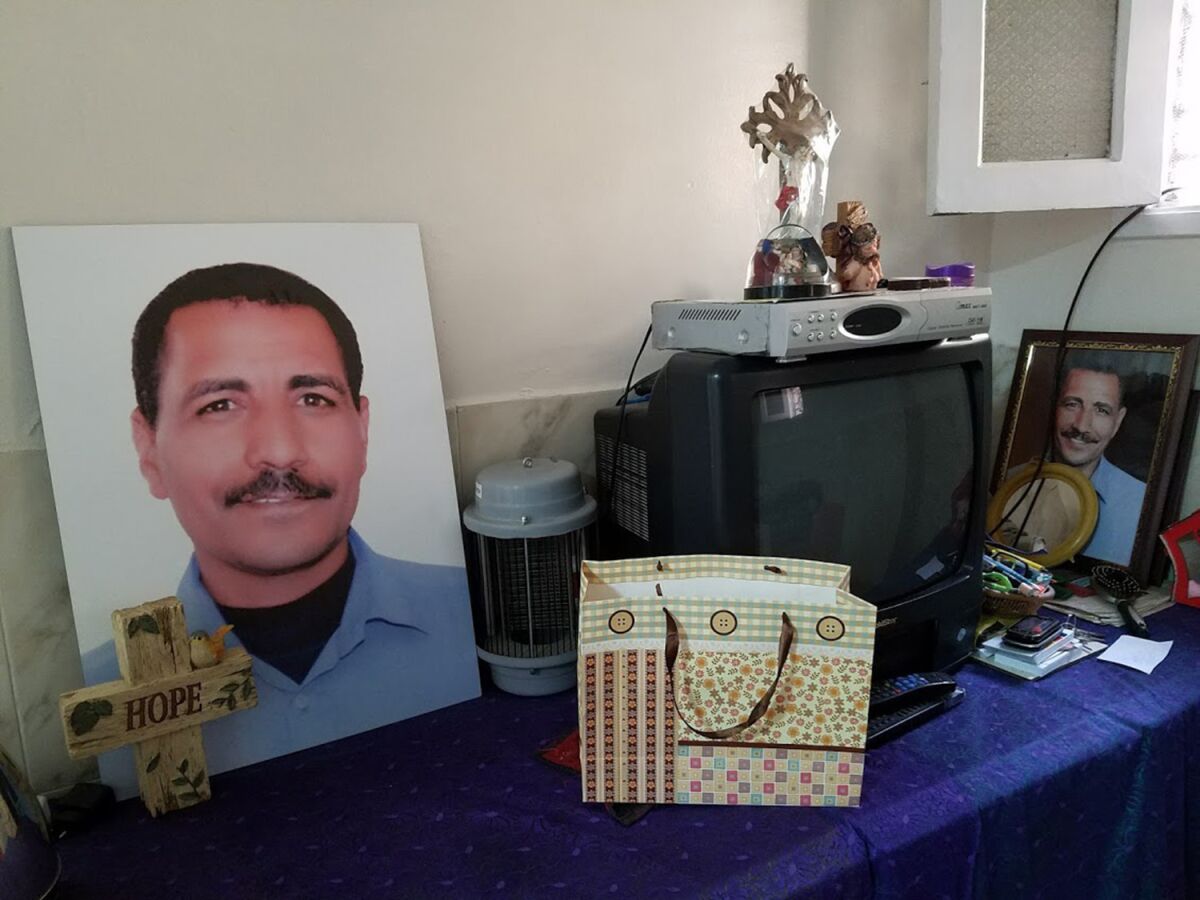 He and his son have struggled, thinking of his wife and daughter every time they eat or do the dishes or laundry alone. They play back a voice message his daughter left a month before the attack in which she described a dream, a premonition in which she boarded a "train of death."
His son fears the dark, where his thoughts return to that bloody day in the chapel, to the body of a girl he saw dismembered.
But they have also received support from the Coptic community and Muslim neighbors, who visited and made them food. Tawil smiled, insisting the family would enjoy Christmas just as their loved ones would in heaven.
Salah started to cry. She doesn't have much faith these days, she said. Sometimes she blames God for taking her husband and leaving her to care for their children.
"I have weak faith. He was everything to me," she said of her husband, before gesturing to the men and adding, "I see strong faith in their eyes."
Emad Tawil told her to cheer up. He would return Sunday so she could cook him a holiday meal, he suggested, and she grinned.
As he rose to leave, Tawil grimaced and placed a hand over his heart. He had been having pains since the attack, but did not want to see a doctor. He did not want to cry, either, but his eyes were brimming with tears. Suddenly, he did not feel strong at all. He missed his wife and daughter.
"I want to go," he said, and pointed skyward.
molly.hennessy-fiske@latimes.com
Twitter: @mollyhf
---
Must-read stories from the L.A. Times
Get the day's top news with our Today's Headlines newsletter, sent every weekday morning.
You may occasionally receive promotional content from the Los Angeles Times.