In Iraq, pro-government forces close in on Fallouja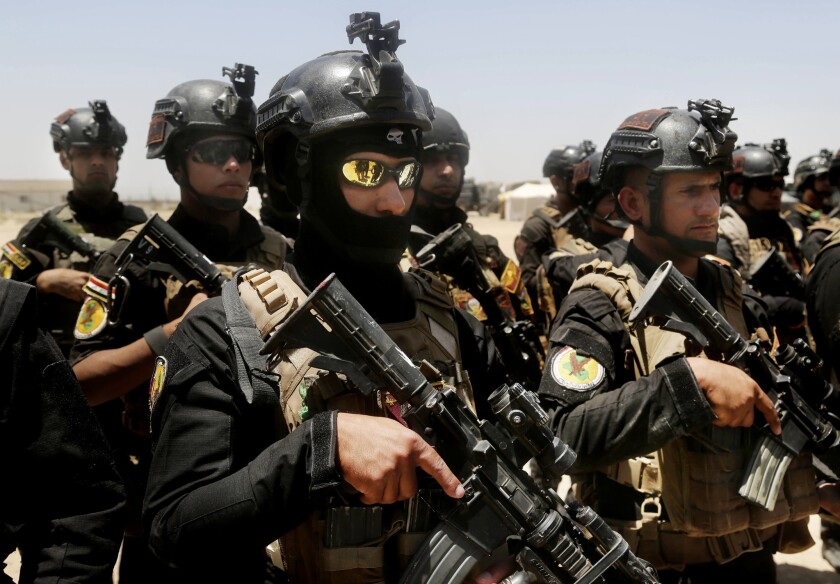 Reporting from AMMAN, Jordan —
Iraqi pro-government forces surrounded Fallouja on Sunday and took control of almost all entrances to the city, in preparation for the next phase of their week-long effort to seize it back from Islamic State.
Retaking Fallouja is seen as an important step toward rolling back Islamic State's presence in Anbar, Iraq's largest province. The offensive has been supported by dozens of airstrikes by the U.S.-led coalition.
Iraqi army soldiers advanced alongside special forces, police and Shiite paramilitary units to the northern and western outskirts of Fallouja, some 35 miles west of Baghdad, according to a statement released by the government's Joint Operations Command.
Fighters said that Karma, a town nine miles northeast of Fallouja long used by the Islamic State as a forward line of defense, was almost completely under government control.
"Karma is almost finished. The Popular Mobilization Forces have left it and given it over to the government. Now only Saqlawiyah remains before us," said Taleb Hilfi, spokesman for the Risaliyoon, a Shiite faction that is part of the Popular Mobilization Forces, in a phone interview on Sunday from Baghdad.
The Popular Mobilization Forces are paramilitary units first activated in 2014 to bolster the ranks of the Iraqi army. The groups are organized around religious lines and often supported by Iran, and Iraqi and Western leaders have insisted they take a secondary role in the Fallouja offensive.
The retaking of Saqlawiyah, roughly five miles northwest of Fallouja, would complete the noose around the city, Hilfi said, and would mark the end of what Iraqi Prime Minister Haidar Abadi described on Sunday as the second phase of the offensive.
Fallouja, a city that once boasted a population of 300,000, has long been viewed as a flashpoint of Sunni extremism. It became a symbol of Iraqi defiance during the U.S. invasion of Iraq in 2004, most notoriously after a mob killed and mutilated the bodies of four workers with Blackwater, a private company contracting with the U.S. military.
More recently, its fall to the Islamic State in January 2014 served as a harbinger of the Iraqi army's stunning collapse six months later during the extremist group's assault on the northern Iraqi city of Mosul.
Speaking in a televised parliamentary session on Sunday, Abadi added that the third phase to take the city was expected to begin within 48 hours.
However, counterattacks by Islamic State on Sunday demonstrated that the fight would not be an easy one. The group responded with suicide attacks northwest and south of Fallouja, according to local media outlets. It also launched an attack in Hit, a city approximately 43 miles west of Ramadi where the militants had been ousted last month.
The offensive comes as part of a wider regional push to excise Islamic State. Iraq's Kurdish fighters, a militia known as the Peshmerga, made further gains near the city of Mosul, in what they said was "one of the many shaping operations expected to increase pressure" on Islamic State "in preparation for an eventual assault on the city."
Kurdish fighters in Syria also pressed on with their own U.S.-backed offensive set to pave the way for an assault on Raqqah, Islamic State's de-facto Syrian capital.
Prime Minister Abadi reiterated his call to Fallouja residents to "either exit [the city] through safe passages or remain in their homes until the city is liberated." Earlier this month, Iraqi warplanes dropped leaflets imploring citizens to stay away from Islamic State buildings in the city, and to put a white sheet over their homes.
Hundreds of civilians have already escaped as government troops have closed in, but an estimated 50,000 people are thought to still be trapped in the city. Both the U.N. and the Anbar governor's office have prepared tent cities to deal with the influx of refugees fleeing the city.
Fallouja residents contacted via social media, however, said it was difficult to leave.
"Daesh is preventing civilians from leaving the city," Izz din Kabeesi, a Fallouja resident contacted via Facebook on Sunday, said, referring to Islamic State by its Arabic acronym.
"The safe passages are also more than seven kilometers [roughly four miles] away from the city and there is no transportation. Besides, the roads are not secure and are full of mines."
Kabeesi added that there was also fear of sectarian-fueled attacks by government troops — a notion that was echoed by other activists with relatives in the city.
"Many people want to escape but especially the men are afraid of being accused of being part of Daesh and assassinated by the security forces," said Abu Majd, an activist with the "Fallouja of Peace" Facebook page who goes by a nom de guerre for reasons of privacy.
"People are now stuck between the hammer of Daesh and the fear of being killed."
ALSO
Mexican soccer star Alan Pulido kidnapped in northern Mexico
As many as 900 migrants feared dead in a week of Mediterranean shipwrecks
Surge of migrant sailings has Italy scrambling to house thousands of new arrivals
Bulos is a special correspondent.
---
Must-read stories from the L.A. Times
Get all the day's most vital news with our Today's Headlines newsletter, sent every weekday morning.
You may occasionally receive promotional content from the Los Angeles Times.