Iraqi troops drive into Fallouja in offensive to retake it from Islamic State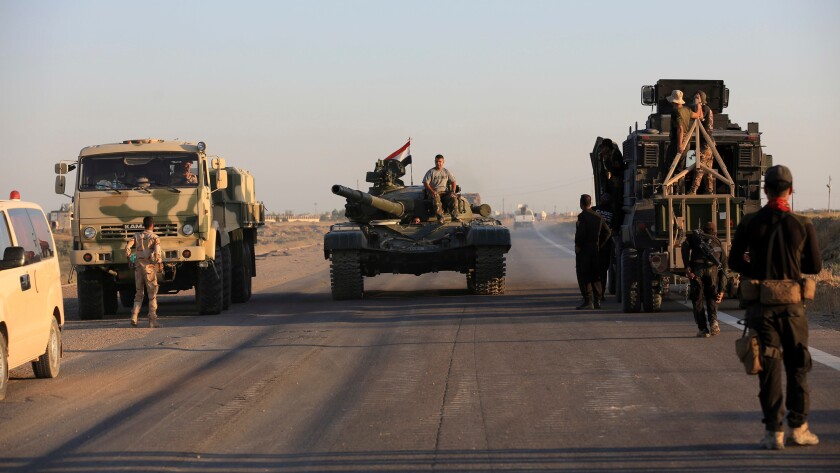 Reporting from Amman, Jordan —
Iraqi government troops began storming the Islamic State-held city of Fallouja on Monday, army officials said, even as the jihadist group waged suicide attacks in the nearby Iraqi capital, Baghdad.
"Security forces from the counter-terrorism and army and … Anbar police units began at dawn this morning a wide-scale military operation to breach the center of Fallouja city," Lt.-Gen. Abdul Wahab al-Saaidi said to Iraq's Sumariyah News.
He added that government troops had achieved "notable progress" in the attack, which came from south of the city.
Media pages associated with the Iraqi special forces posted images depicting dozens of black-clad troops wearing full combat gear preparing for the offensive, while video uploaded on YouTube showed army soldiers running in disparate groups toward the front line as sounds of gunfire could be heard.
Activists with relatives inside Fallouja said the attacking forces had entered through the Nuamiyah neighborhood, home to a small army barracks on the south side of the city. They had progressed through the adjacent Shuhadaa neighborhood on their way to the city's center.
"Shuhadaa neighborhood is one of the important Daesh centers in the city," said Ali al-Jumaili, a member of the "We are all Fallouja" Facebook community page, in an interview on social media from Baghdad. He referred to Islamic State by its Arabic acronym. The group is also known as ISIS or ISIL.
The long-awaited assault comes as the culmination of a weeklong offensive that saw a combined force of government troops and auxiliary Shiite fighters work with warplanes of the U.S.-led coalition to surround Fallouja. It followed similar campaigns elsewhere in Sunni-dominated Anbar province, in the cities of Ramadi, Hit and Rutbah, all of which were restored to government control this year.
Yet Fallouja, a city of about 300,000 in 2010 once known as "The City of the Mosques," is considered to be the hardest campaign undertaken by the armed forces in Anbar. The jihadists, who consider themselves Sunni Muslims, have been bunkered in the city for more than two years and are thought to have the support of many of its Sunni residents.
See more of our top stories on Facebook >> >>
During the U.S. invasion of Iraq in 2003, Fallouja was the site of punishing clashes between the U.S. military and insurgents. It gained notoriety in 2004 after four contractors with the U.S. private military company Blackwater passing through Fallouja were dragged out of their cars, beaten to death and then set on fire. Their mutilated corpses were then hung from a bridge over the nearby Euphrates River.
Over the last decade, it became known as a bastion of antigovernment fervor during the vicious sectarian bloodletting that was one legacy of the U.S. invasion of the country, which overthrew the Sunni-dominated government of Saddam Hussein.
Fallouja residents often joined hands with militant groups such as Al Qaeda and Islamic State's progenitor organization, the Islamic State in Iraq, to battle what was perceived as a Shiite-controlled central government that replaced Hussein's.
Government troops finally abandoned the city to the jihadists in January 2014, in what was seen as a prelude to a larger breakdown of the Iraqi army less than six months later, when Islamic State militants blitzed virtually unopposed through large swaths of territory in Iraq and Syria, including Mosul, one of Iraq's largest cities.
That advance pushed the U.S. to forge a wide-scale air campaign to roll back the group's presence in the country. Religious leaders in Baghdad, fearing the jihadists were poised to snatch the capital, activated paramilitary factions, known as Popular Mobilization Forces, largely made up of Shiite Muslims.
Although Islamic State still holds Mosul, the crown jewel of Iraqi cities under its control, Fallouja's loss would nevertheless be a significant blow to the extremist group.
Its proximity to Baghdad, 35 miles to the east, have made it an ideal staging area from which militants prepare and mobilize suicide attacks on targets inside the capital - a fact highlighted once again on Monday morning by two suicide bombings in northern Baghdad that killed at least 30 people, according to local media.
Islamic State media claimed responsibility for the attacks, which it said targeted "apostates from the Shiite security services."
The group, which adheres to a harsh interpretation of Sunni Islamic law, brands Shiites as well as other religious groups as apostates or infidels who must be killed.
The Fallouja campaign is also seen as an opportunity for Iraq's often-maligned army to redeem itself after its 2014 collapse. The U.S. and other Western countries have since ramped up their training and support for Iraqi troops.
Western leaders have also insisted that the Popular Mobilization Forces, which spearheaded government offensives in other Sunni-majority cities such as Tikrit last year, should be relegated to the sidelines in the battle for Fallouja, in what was seen as a nod to sectarian sensitivities in the city.
Over the last week, the Shiite factions have given fire support to advancing government forces but have not entered Fallouja, which is thought to have at least 50,000 Sunnis trapped inside.
Earlier last week, Iraqi Prime Minister Haider Abadi exhorted residents to either leave the city through safe passages set up by security services or to stay indoors during the offensives.
But civilians trying to escape the city put "their lives at grave risk in the attempt," according to a report released by the U.N. on Friday, facing a gantlet that involved "traveling on foot hours at night, moving across fields and hiding in disused irrigation pipes."
The report added that a number of people trying to depart had "been executed or whipped" and those men and older boys who refuse to fight alongside the extremists also have been executed.
The difficulties have meant that only about 800 people have been able to flee Fallouja, "mostly from outlying areas," according to the U.N.
Yet activists contend that those civilians who do succeed in escaping Fallouja face sectarian-fueled reprisal attacks.
"Civilians are besieged inside from Daesh, and if they manage to escape they fall into the clutches of the [Shiite] militias that are surrounding Fallouja," said a member of the "Anbar Youth Union," who refused to give his name for security reasons.
"This means that the young men are executed while those who are old are imprisoned," he said.
Bulos is a special correspondent.
ALSO
Mexican soccer star rescued several hours after abduction
'We can't go on like this': Shortages, economic crisis make Venezuela a nation of lines
'Mohamed was a good pilot,' father of EgyptAir captain says. 'And he knows God'
---
UPDATES:
2:42 p.m.: This article has been updated with details, quotes, background.
4:28 a.m.: This story was updated with new details.
This story was originally posted at 4:06 a.m.
---
Must-read stories from the L.A. Times
Get all the day's most vital news with our Today's Headlines newsletter, sent every weekday morning.
You may occasionally receive promotional content from the Los Angeles Times.