Israel reportedly launches strike on Syria as tensions rise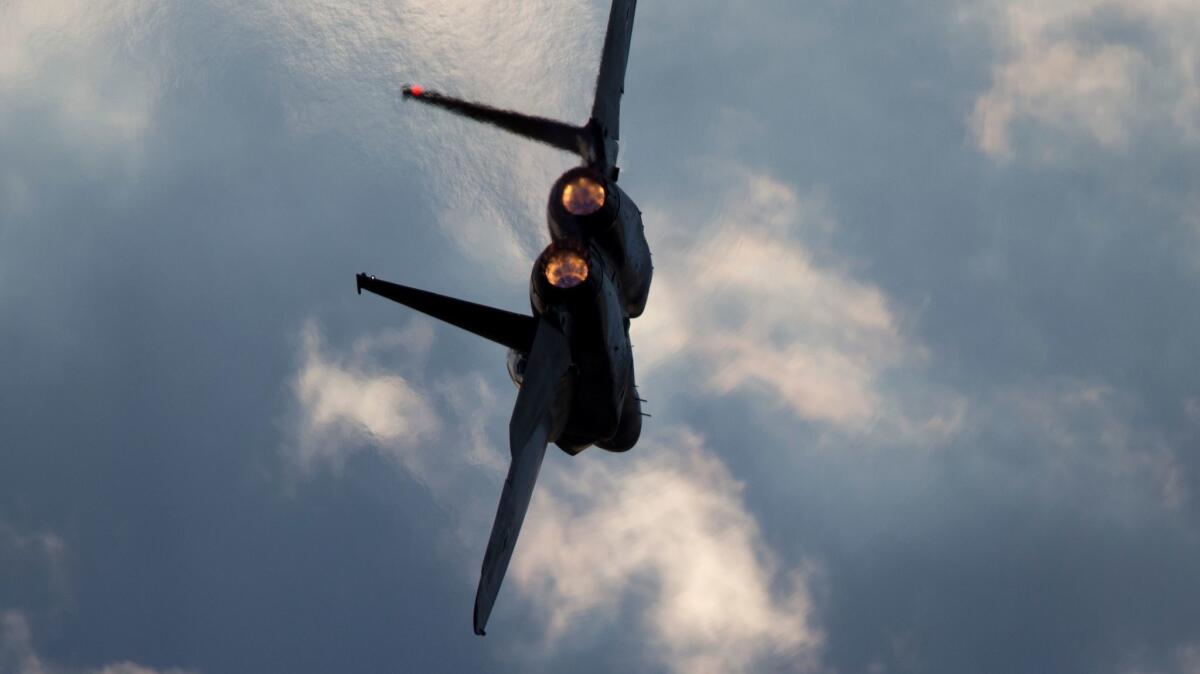 Reporting from TEL AVIV —
An Israeli aircraft reportedly launched a strike into Syria on Sunday that left one person dead, in what appeared to be the second cross-border attack in three days as tensions between the neighbors escalated over the weekend.
The Israeli attack was reported by the British-based Syrian Observatory for Human Rights, which said that the strike targeted a car traveling on a road between Damascus and Quneitra, a town in the Golan Heights near the border with Israel. An Israeli army spokesman declined to comment on the report.
The Lebanese news service Al Mayadeen said the attack killed Yasser Hussein Asayeed, whom it described as a member of a militia aligned with the Syrian government. It said he was based in Golan.
Just two days earlier, Syrian forces shot several surface-to-air missiles at Israeli jets that were carrying out an attack in Syria against what Israel said was a weapons shipment bound for the Lebanese Shiite militant group Hezbollah.
Israel fired its Arrow interceptor missile to knock down one of the surface-to-air rockets headed for its territory, forcing the nation's army to issue a rare confirmation that it had carried out an attack inside Syria. It marked the first time Israel had used the Arrow missile, which has been jointly developed with the U.S. over years to defend against long-range missiles from Iran.
After the incident, Russia's Foreign Ministry summoned the Israeli ambassador to Moscow to protest the attack. Russia is a close ally of Syrian President Bashar Assad.
Israeli Prime Minister Benjamin Netanyahu, meanwhile, vowed to continue to carry out attacks in Syria against weapons shipments that it believes to be bound for Hezbollah.
On Sunday morning, Israeli Defense Minister Avigdor Lieberman responded to the incident with a saber-rattling warning. "The next time that the Syrian air defenses fire at us, we will destroy them completely without thinking twice,'' he said in an interview with Israel Radio.
The heightened tension highlights how Russia's assistance to Assad has raised the stakes along the border with Israel. For most of the Syrian civil war, Israel has watched from the sidelines, except for occasional strikes against Hezbollah weapons shipments that it says could be strategic game changers in the balance of power. Those attacks haven't been challenged by Syria, for the most part.
Since Russia's entry into the war, Israel and Moscow have come up with an understanding mechanism to avoid clashes between their militaries.
But as the fighting tips in the Assad government's favor, Israeli officials have expressed concern that Iran and Hezbollah may gain a permanent foothold in Syria and possibly establish a presence along the border in the Golan Heights. This month, Netanyahu traveled to Moscow to try to convince Russian President Vladimir Putin that Iran shouldn't be strengthened by the war.
Putin is unlikely to be persuaded by Israel's entreaties to rein in one of his allies, said Eyal Zisser, a professor of political science at Tel Aviv University. The attacks over the weekend highlight the question of whether Moscow will continue to tolerate Israeli forays into Syria against its Shiite allies, he said.
"We need to ask: Will Russia accept the continuation of Israeli activity in Syria, or will it decide to put an end to it?" he said.
Mitnick is a special correspondent.
ALSO
Ryan predicts House will pass Obamacare repeal, but with changes to help older consumers
Syrian fighters start evacuating from last rebel-held neighborhood in Homs
Tillerson wraps up Asia trip on hopeful note, but uncertainties over North Korea remain
Sign up for Essential California for the L.A. Times biggest news, features and recommendations in your inbox six days a week.
You may occasionally receive promotional content from the Los Angeles Times.