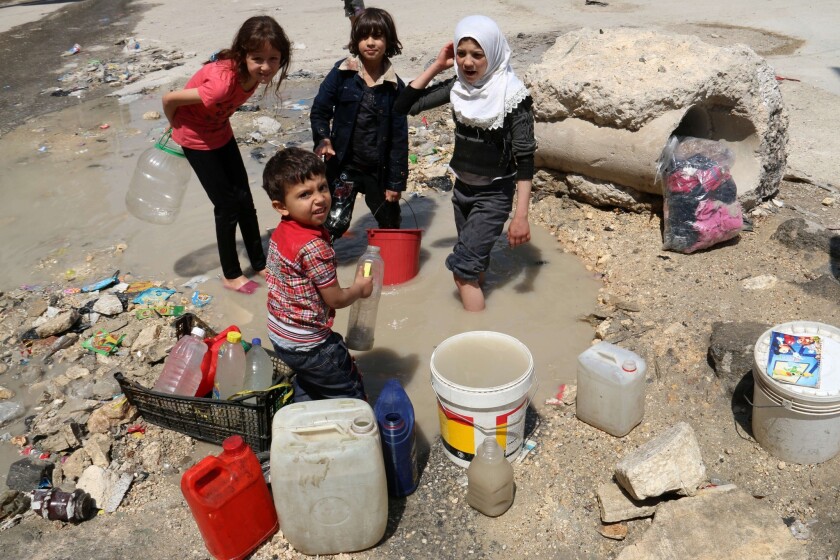 The Syrian city of Aleppo is suffering an extreme water shortage days after an antigovernment Islamist faction shut down two pumping stations, government officials and a pro-opposition monitoring group said.
The shutdown has left more than 2 million residents struggling to find water in the city, which is divided between sections loyal to President Bashar Assad and those controlled by opposition forces in the country's civil war.
Aid organizations and the government have been scrambling to find alternative water supplies. Some people, including children, have resorted to scooping up murky water alongside roads. Residents turned to social media for discussions of where clean water could be obtained.
Al Nusra Front, an Al Qaeda-affiliated rebel faction, shut down the two major water pumping stations serving the city more than a week ago, according to various official and news media accounts. The action caused hundreds of gallons of water to be lost into the nearby Quwayq river, which is normally used for sewage, activists said.
Activists claimed that an Al Nusra Front commander ordered the move in an attempt to deny water to government-held areas of the city.
The Syrian government, which is regularly accused of targeting civilians in Aleppo and elsewhere with massive bombardment campaigns, denounced the water cut-off as a crime and a severe human rights violation.
The Syrian Observatory for Human Rights, a Britain-based pro-opposition group, also called the water cutoff a crime and warned of a looming humanitarian disaster.
"It is shameful that they would commit the same practices as the regime, cutting off water from residents," Rami Abdul-Rahman, head of the Observatory, said Monday in an interview with France 24 News.
Al Nusra Front maintained its characteristic media silence and did not comment on the issue.
Differences of opinion have emerged on the cause of the water shutoff, with some people saying the government's bombardment of the city ultimately resulted in the damage to the pumping stations and others maintaining that unauthorized tampering with the equipment seemed to be the cause.
The water crisis comes after an electricity shutdown that had crippled the city for more than a week in April. That incident brought a rare moment of detente between opposing sides in the war, when the government agreed to stop its barrel bombing campaign if rebels would continue to provide power to areas under its control.
The government had also provided diesel fuel required to power the pumping station under the monitoring of the Syrian Red Crescent in Aleppo, although it was unclear whether that deal remained in place when the water problems began.
Activists early Tuesday reported a gradual return of water pressure in areas close to one of the water pumping stations. It was unclear why.
---