Trump's call for safe zones for Syrians would require buy-in from other countries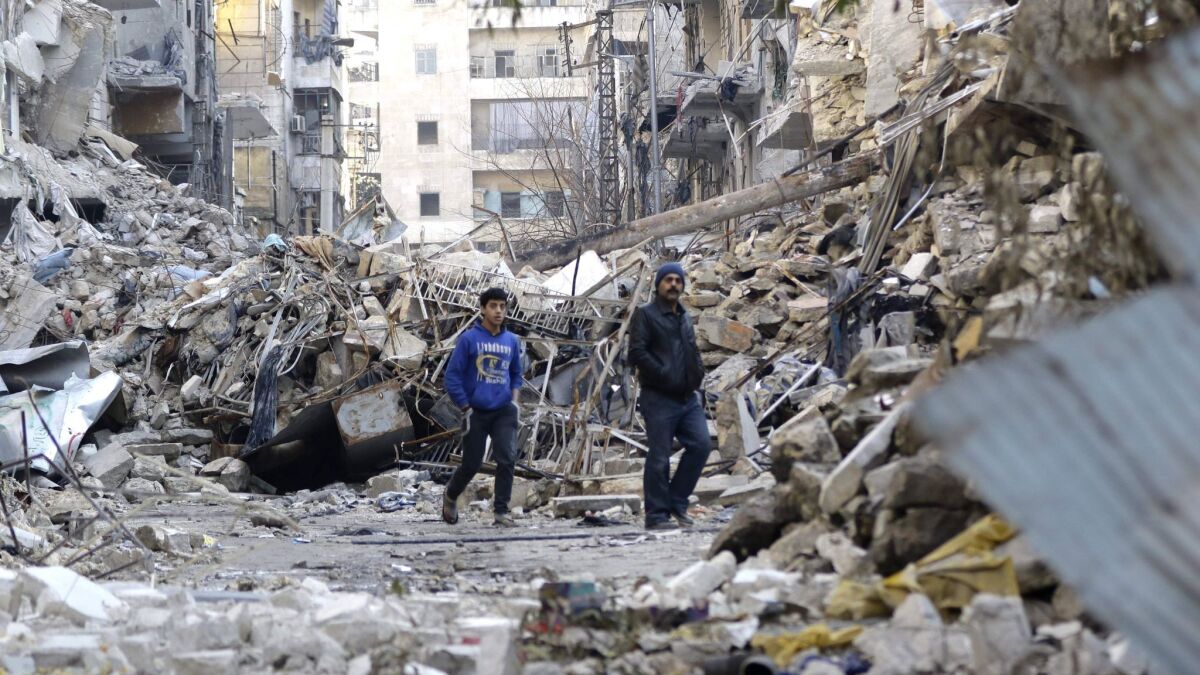 Reporting from Amman, Jordan —
President Trump apparently wants to pursue safe zones for millions of Syrians fleeing the nation's civil war or unable to leave the country as part of a plan to keep them out of the U.S.
State Department and Pentagon officials are expected to produce within 90 days "a plan to provide safe areas in Syria and in the surrounding region" where Syrians "can await firm settlement, such as repatriation or potential third-country resettlement," according to a draft of an executive order.
The plan would come on the heels of a cessation of "refugee processing" and admittance of Syrian nationals as refugees until "such time as I have determined that sufficient changes have been made to the [Refugee Admissions Program]," according to the draft.
Details regarding the proposed safe zones remain unavailable and Trump has yet to outline his administration's Syria policy. He has, however, indicated that he would expect safe zones to be paid for by other nations in the region, not the United States.
Russia, Syrian President Bashar Assad's top ally, had not been consulted, and the U.S. should make sure not "to worsen the situation with the refugees," said Dmitry Peskov, spokesman for Russian President Vladimir Putin.
"All the possible consequences should be considered," he stressed, according to a report Thursday by Russian state news operator Tass.
Qatar's Foreign Ministry spokesman Ahmad bin Saeed Rumaihi said that "the ministry welcomes the U.S. intention to sign an executive decision to draw a plan for the establishment of safe zones in Syria," according to a statement by the state-run Qatar News Agency.
The Syrian opposition and its main ally, Turkey, have long clamored for a safe zone, although boundaries have never been established.
Rebels have asked their international backers for shoulder-fired surface-to-air missiles they would use to defend against Syrian government airstrikes — in effect creating a no-fly zone.
That proved to be a non-starter for U.S. military planners, who feared missiles provided to the rebels would fall to more extremist elements of the opposition.
In July 2013, Gen. Martin Dempsey informed the Senate Armed Services Committee that a no-fly zone over Syria would cost $500 million initially and average "as much as a billion dollars per month over the course of a year."
"It may also fail to reduce the violence or shift the momentum," Dempsey wrote, "because the regime relies overwhelmingly on surface fires — mortars, artillery and missiles."
Russia's entry into the war in September 2015 to bolster Assad's flagging troops, meanwhile, raised the prospect of a direct confrontation with Moscow, further dashing any hope of a U.S.-led no-fly zone.
The issues go beyond controlling airspace: A large number of troops would be needed to defend havens, pitting them against pro-government forces as well as rival rebel groups.
Failing to provide sufficient troops, many observers warn, could bring about a repeat of the Srebrenica massacre in 1995, when the U.N. declared a safe zone and then saw Serb militias slaughter thousands.
Former Secretary of State John F. Kerry, in an address to a Senate panel in February, estimated that providing an adequate force in Syria would call for "upwards of fifteen to thirty thousand troops."
"Now are we ready to authorize that? Are we ready to put them on the ground?" he asked.
Safe zones also would give the opposition a much-needed respite from the relentless airstrikes waged by Russia and Syrian warplanes. Air power has been instrumental in Damascus' strategy to claw back opposition bastions throughout the country.
The largest beneficiaries of such a move, however, would be the Islamist factions that have come to dominate the rebels' ranks. This includes the Front for the Conquest of Syria, the one-time Al Qaeda affiliate formerly known as the Nusra Front, as well as other groups whose ascendance would be inimical to U.S. interests.
The problem is further complicated by the different aims of the Middle Eastern countries needed to enforce such a zone.
Turkish President Recep Tayyip Erdogan last week said his forces would fight to clear an area "from all terrorist organizations," according to Turkish local media outlet Daily Sabah. But Ankara counts the Syrian Kurdish militia, known as the People's Protection Units or YPG, as a threat equal to Islamic State.
Meanwhile, nations in the region are dealing with financial shortfalls from the plunge in oil prices over the last year.
Even Saudi Arabia and the Emirates, traditional U.S. allies who have lobbied for more assistance to the rebels, are bogged down in costly fighting in Yemen.
In Jordan, which already is hosting hundreds of thousands of Syrians in refugee camps and elsewhere, some analysts focused on the part of the draft of the executive order, which proposed setting up havens in the surrounding region.
"Jordan is not a battlefield for one to create a safe zone, and the way Trump defines it, as a place where Syrians wait for resettlement, exists here already," political commentator Fahd Khitaan said in a phone interview in the Jordanian capital of Amman. "This is all hot air."
Bulos is a special correspondent.
---
UPDATES:
4:08 p.m.: This article has been updated with a statement from Qatar.
This article was originally published at 2:15 p.m.
---
Must-read stories from the L.A. Times
Get the day's top news with our Today's Headlines newsletter, sent every weekday morning.
You may occasionally receive promotional content from the Los Angeles Times.