Little optimism as new round of Syria peace talks set to open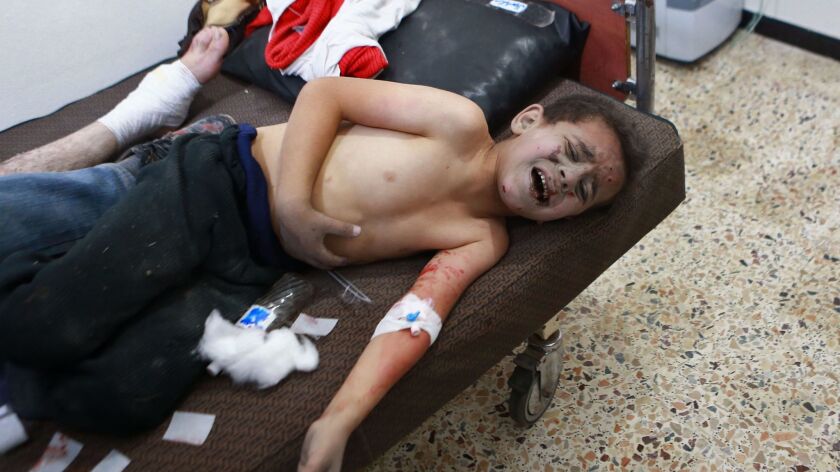 It doesn't usually bode well for peace talks when the attendance of one of the principals is still up in the air on the eve of the gathering.
An eighth round of United Nations-backed talks aimed at finding a political solution to Syria's grinding civil war was to convene Tuesday in Geneva, but by late Monday, the world body was still expressing hopes that the Syrian government would send representatives, while acknowledging it had not obtained a commitment from Damascus to take part.
"This is a moment of truth for the Syria talks," said U.N. spokesman Stephane Dujarric. "We obviously think the participation of the Syrian government is important."
The nearly 7-year-old war, which has left hundreds of thousands dead and seen millions driven from their homes, is at an impasse: Syrian rebel groups have been unable to dislodge President Bashar Assad, and even their international allies are acknowledging there is no prospect of an opposition military victory.
Despite having little leverage, negotiators from the rebel factions are demanding that Assad step down. A Syrian newspaper has suggested that the government delegation would not come to Geneva until that demand is dropped.
The tide of the war turned in 2015, when Assad's powerful patron Russia intervened militarily in the conflict. Since then, rebel forces have lost their footholds in all major Syrian cities.
The United Nations has sought to defer decisions on Assad's future in hopes of bringing a halt to fighting and taking the first steps toward a political transition. The U.N.'s special envoy for Syria, Staffan de Mistura, has called for U.N.-supervised elections under a blueprint backed by the Security Council.
The bitter divisions between Damascus and much of the international community flared into the open Monday at a meeting in the Netherlands of the Organization for the Prohibition of Chemical Weapons, a global monitor of the banned weaponry.
Syria's deputy foreign minister, Faisal Mekdad, repeated angry denials that Assad's government used a nerve agent in April to attack Syrian villagers in a rebel-held area, killing dozens. Russia has used its Security Council veto to block an extension of a joint investigation by the U.N. and the monitoring organization.
Even as the U.N.-backed Geneva talks appear to founder, conditions grew more desperate in Ghouta, a rebel-held Damascus suburb under government blockade. Activists reported more than a dozen deaths in weekend airstrikes by government forces, and the U.N. says shortages of food and vital supplies have left about 350,000 people in critical need in the enclave.
Moscow, meanwhile, is hosting parallel talks in the Kazakh capital, Astana, meant primarily to carve out "de-escalation zones" in Syria. But in a signal of its broader ambitions as a Mideast power broker, Russia, together with Iran and Turkey, is calling for talks in the Russian city of Sochi aimed at reaching an overall political settlement in Syria.
---
Must-read stories from the L.A. Times
Get the day's top news with our Today's Headlines newsletter, sent every weekday morning.
You may occasionally receive promotional content from the Los Angeles Times.