Journalism is under siege in Turkey as trial begins for 17 defendants from leading newspaper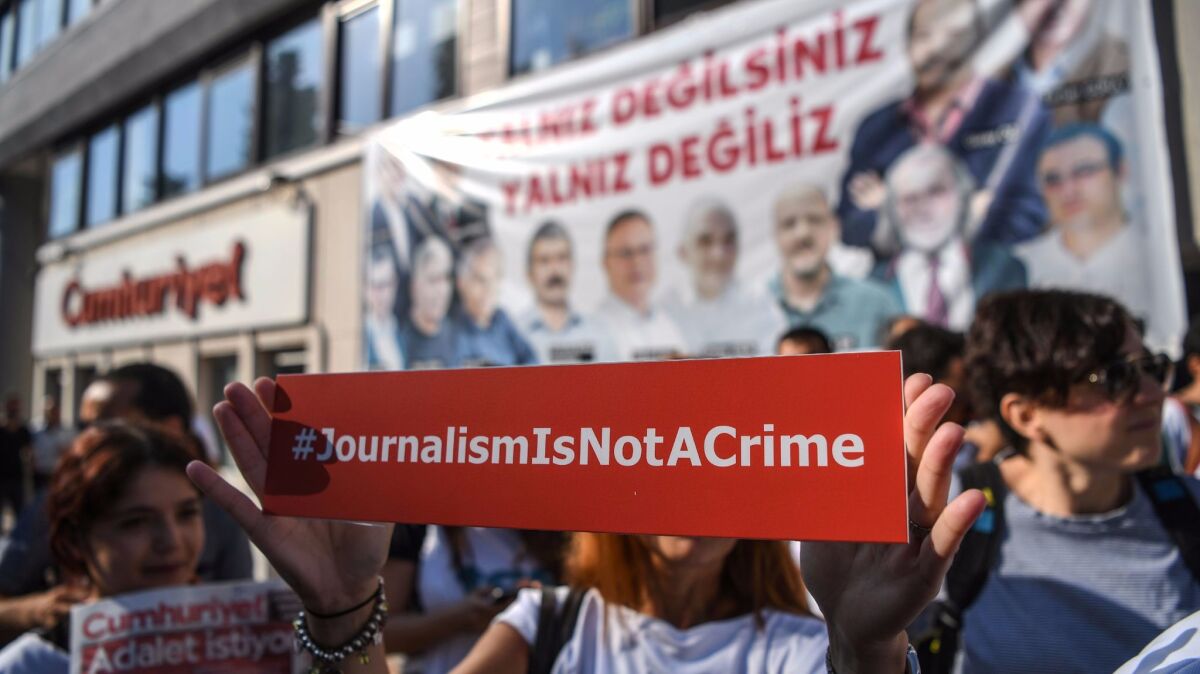 Reporting from Istanbul, Turkey —
Hundreds of activists, lawyers and observers packed an Istanbul courthouse Monday as prosecutors began laying out an indictment against 17 people from Turkey's leading secular newspaper, Cumhuriyet, including its senior editorial staff.
The defendants are alleged to be a part of various terror organizations, but the majority of the evidence hinges on editorial policies at the newspaper, which the government says portrayed the ruling AK Party in a negative light. The case is part of a broader crackdown by President Recep Tayyip Erdogan on independent journalism in Turkey.
The defendants were cheered by supporters as they entered the courtroom, which was standing-room-only for most the day-long hearing. Representatives from Reporters Without Borders, the International Press Institute, PEN International and a slew of other international rights groups were in attendance. The hearing is expected to continue through this week.
Police began detaining Cumhuriyet's top staff in October, but it took six months before prosecutors produced an indictment against the group, which includes columnists, reporters, a cartoonist, and executives from the foundation that owns the paper. Cumhuriyet has continued to publish — with blank spaces marking the spots where work from the detained writers would normally have appeared.
Prosecutors are seeking sentences of seven-and-a-half to 43 years for a range of terror-related charges, with some being accused of membership in an armed terrorist organization and others of helping a terrorist organization without being a member of it.
Articles published by Cumhuriyet, the indictment says, have gone beyond the "heavy criticsm" allowed under the country's press freedom laws. Instead, it says, they have "paved the way for illegal politics and for targeting of Turkey's President Recep Tayyip Erdoğan in asymmetric war methods."
While the newspaper has a reputation for being staunchly secular and equally distrusting of Erdogan and his arch-foe, Fethullah Gulen, the cleric who has been accused of being behind last July's failed coup, prosecutors allege that over the past four years Cumhuriyet shifted away from its "founding principles and philosophies" and was "seized" by Gulen's organization, Hizmet, in 2013.
Turkey refers to Hizmet as the "Fethullah Terror Organization." The defendants are also accused of allegiance to the Kurdistan Workers Party, known as the PKK.
At the time of the alleged crimes, Erdogan and his closest advisers were facing corruption allegations. The case was built on surreptitious recordings of phone calls, which Turkey now claims were doctored and part of a conspiracy that included media outlets including Cumhuriyet.
"Examining the editorial policy is not up to the prosecution," Akın Atalay, the chair of the executive board that owns Cumhuriyet, told the panel of three judges. Atalay and several other defendants told the judges that the books and documents they had prepared for their defense had been taken away by authorities before the hearing.
Prosecutors presented a record of Atalay's communications over the last several years and said he had communicated with Gulen followers on five occasions using an encrypted messaging app known as Bylock, an allegation that has been used to detain thousands in Turkey over the past year.
At the hearing, Atalay went through each instance of communication and said they were for journalistic purposes. Other defendants also charged with communication with Gulen's organization, which once ran one of the country's most widely read newspapers and largest writers' union, said any communication was one-way, and was part of efforts by the cleric's followers to reach out to Cumhuriyet.
Much of the indictment included social media posts and news clippings of articles that alleged corruption in Erdogan's party, or collusion with Islamist rebels in the Syrian war.
"My arrest has become a punishment showing I was right when I wrote that Turkey moves toward authoritarianism," said Kadri Gursel, an executive board member of the International Press Institute who is charged with being a part of the "Fethullah Terror Organization."
Gursel told the court it was "illogical and against good sense" to allege that he was in contact with the group's members. He said his views of the organization "were categorically negative," even when Gulen and Erdogan were allies.
Erdogan has faced mounting criticism that his campaign against Cumhuriyet is an attempt to silence the last remaining major newspaper that criticizes his government, and the allegations of collusion between the journalists and Gulen are manufactured.
One of the defendants is investigative journalist Ahmet Sik, who in 2011 was prosecuted for ties to Gulen. The previous case against Sik was based on a book, "The Imam's Army," which alleged a wide-ranging conspiracy by Gulen to control the government, much like the allegations Erdogan now makes. Sik and another colleague spent a year in prison before the charges were dismissed, and the prosecutors in that case are being tried for membership in the Gulen organization themselves.
Reporters Without Borders currently ranks Turkey 155th in the world in terms of press freedom, and rights groups have said more than 150 journalists are currently behind bars facing charges that include insulting Erdogan and membership in a terror organization.
Since a state of emergency was imposed last July, scores of television and radio stations, newspapers and websites, and other outlets have been banned over allegations they support either the Gulen organization or the outlawed PKK. Erdogan has insisted that only two of the journalists behind bars today are actually journalists.
Turkey's judiciary itself is facing a shortage of manpower to try the cases. About 3,000 judges and prosecutors have been fired over the last year over allegations they are affiliated with terror groups. Shortly after the detentions of the Cumhuriyet journalists in October, the prosecutor preparing the indictment in the case, Murat İnam, was himself fired and charged with being a member of the Gulen organization.
Farooq is a special correspondent.
ALSO
Turkey marks anniversary of failed coup attempt
Warriors, dreamers and just plain crazy: U.S. civilian volunteers fighting Islamic State in Syria
Iran's latest culture battle: Should women in cars keep their heads covered?
---
Must-read stories from the L.A. Times
Get the day's top news with our Today's Headlines newsletter, sent every weekday morning.
You may occasionally receive promotional content from the Los Angeles Times.