In Yemen, Houthi rebel missile strike kills dozens in Saudi-led force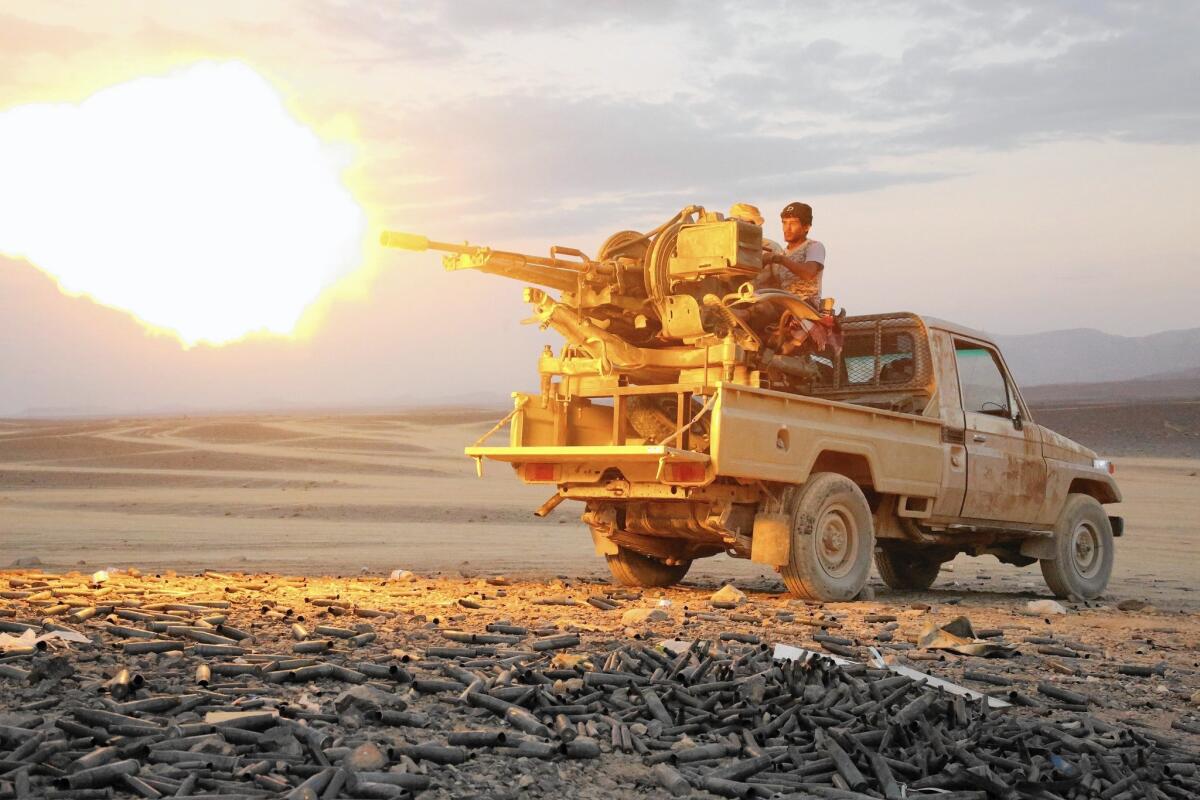 Reporting from SANA, Yemen —
A missile strike Monday by Houthi rebels in southwestern Yemen claimed the lives of dozens of pro-government forces, including senior military commanders from Saudi Arabia and the United Arab Emirates, according to official and media accounts here.
The strike, which appeared to be one of the deadliest attacks to date on the Saudi-led coalition fighting in Yemen, came just before a cease-fire between the two sides was delayed by 12 hours until noon Tuesday. The reason for the delay was not immediately clear.
The cease-fire was supposed to be a prelude to United Nations-brokered peace talks on Yemen that are slated to begin this week in Switzerland.
Gen. Sharaf Ghaleb Luqman, a military spokesman for the Houthi rebels, said in a telephone interview Monday that 146 "enemy soldiers and mercenaries in Bab al Mandab, including foreigners," were killed when a Houthi rocket struck the "enemy operations command" in Taizz province.
The slain troops included 23 Saudis, nine Emiratis and 12 Moroccan officers, according to Houthi news outlets. There was no independent confirmation of the death toll.
The dead included Saudi Col. Abdullah Sahyan, according to the official Saudi Press Agency. Two days earlier, the official website of Saudi-backed Yemeni President Abdu Rabu Mansour Hadi released images showing Sahyan receiving a medal of courage.
The accompanying text described him as commander of Saudi Arabia's special forces contingent in the southern port city of Aden, where Hadi's government is now based.
The slain fighters were part of the Saudi-led alliance that has been fighting the Houthis since March in a punishing conflict that has cost nearly 6,000 lives, half of them civilians, ravaged the nation's infrastructure and brought much of the country's population of 21 million to the edge of starvation. Yemen is the poorest country in the Middle East.
Last week, U.N. special envoy to Yemen Ismail Ould Cheikh Ahmed expressed hope that the cease-fire would be the beginning "of what we call long-term and lasting peace."
The conflict began in September 2014 after the Houthi minority, clamoring for a greater role in Yemen's government, seized the capital, Sana, forcing Hadi and his ministers to flee to Saudi Arabia.
Six months later, Saudi Arabia forged a loose, U.S.-supported alliance of Arab countries and separatist militias based in Yemen's southern provinces. The alliance tried to push the Houthis out of Sana using air power and allied ground forces. But the Houthi opposition has put up fierce resistance.
The Saudi air campaign, especially, has been heavily criticized by human rights groups for what they describe as indiscriminate targeting of civilians.
"Deliberately attacking schools that are not military objectives and directly attacking civilians not participating in hostilities are war crimes," an Amnesty International official, Lama Fakih, said in statement last week accusing the coalition of unlawful airstrikes.
Meantime, the fighting in Yemen has been a boon to extremist groups such as Al Qaeda in the Arabian Peninsula and Islamic State, which have taken advantage of the chaos to mount increasingly audacious attacks across the country.
This month, Islamic State forces claimed credit for the assassination of the governor of Aden after a car bomb ripped through his motorcade.
Special correspondents Bulos and Al-Alayaa reported from Beirut and Sana, respectively. Times staff writer Patrick J. McDonnell in Beirut contributed to this report.
Sign up for Essential California for news, features and recommendations from the L.A. Times and beyond in your inbox six days a week.
You may occasionally receive promotional content from the Los Angeles Times.